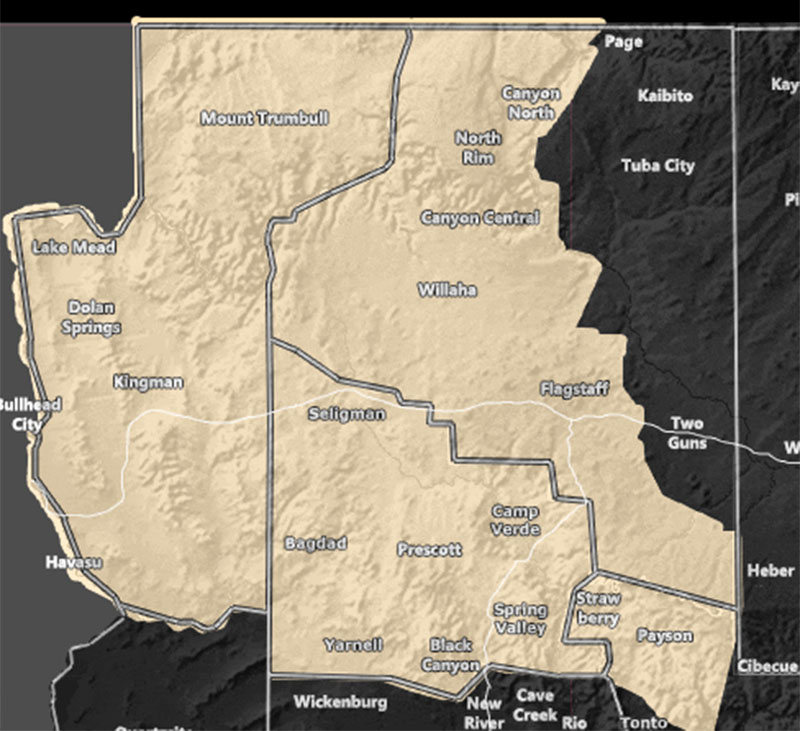 Issued Zones:  Mohave/Yavapai County … Payson/Strawberry zones … Western half of Coconino County, including Flagstaff and The Grand Canyon … 
Site:  Arizona Weather Force has issued a Special Weather Statement effective now for Wednesday …
Date:  11/6/22 at 3:45pm local 
Forecast: A powerful storm system that will hit Southern California starting Monday and peaking Tuesday will move into the northwest part of Arizona by Wednesday morning, spreading eastward through the statement area.  This will bring a round of rainfall then.  Anywhere from 0.25 to 0.50″ of rain will be expected, but around an inch for Northwest Mohave County near the UT/AZ Border will is in my forecast.  
Given the higher snow-levels, 2-4″ of snow is really only expected for the North Rim of the Grand Canyon, around the Kaibab Plateau, above that 8500 FT mark.   We could see a dusting along the rim like Flagstaff, but for the most part this is a warmer type system.  
On Wednesday though, the cold air aloft will be reserved for areas around Bullhead/Laughlin/Dolan Springs and of course areas nearby those zones.  This means that there will be a chance of some thunderstorm activity in that small section of the state then.  I will be updating the rainfall maps this week in the member section for those curious about it, but for now this statement looks good.
---
WANT THESE DELIVERED? JOIN THE PATREON COMMUNITY TODAY FOR ALL THOSE PERKS INCLUDING BEING ON THE MICRO-CLIMATE ALERT SYSTEM BECAUSE NOT EVERY ALERT IS POSTED ON SOCIAL MEDIA FROM THIS WEATHER OFFICE – https://www.patreon.com/weatherforce
Join the Facebook Page for Further Updates If You Have Not Yet!
ARIZONA WEATHER FORCE MAIN:
Join The Main Arizona Weather Force Facebook Group (50 percent delivery time) – You can join the main AZWF page as well through that group.
Click Here To Join The Page Today
10 mile rule:  These alerts issued on this site
means that within your zone and 10 miles from you will see the event
forecast for.  You may or may not see the event but it means you are in
the zone or 10 miles from where someone will.
Master Meteorologist:  Raiden Storm