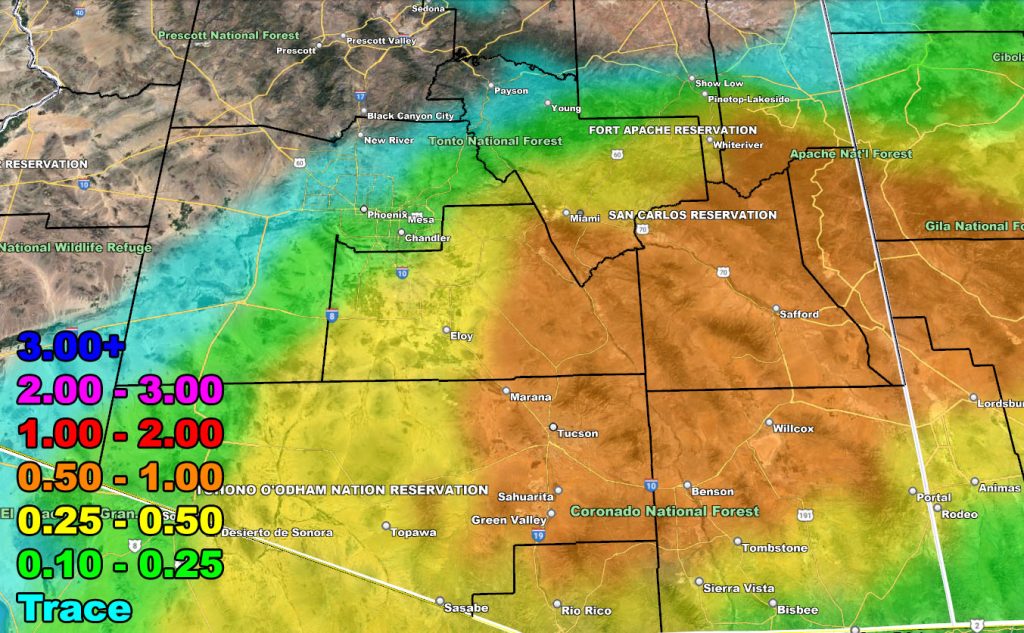 Issued Zones:  Santa Cruz, Cochise, Graham, Pinal, Pima County … South and East half of Maricopa County … Globe …  
Site:  Arizona Weather Force has issued a Special Weather Statement and Short Term Forecast effective this weekend …
Date:  12/1/22 at 1:25pm local
Forecast: A storm system moving across California will dip to the south on Friday.  This will scoop up tropical moisture and send it into Arizona on Saturday and Sunday.  Rainfall within this looks the highest within Eastern Pinal/Pima County, east through the Northern half of Cochise County, and all of Graham and Greenlee County.   
The outskirts of the rain will across the Phoenix zones as well … 
Rain Model – VALID SATURDAY AND SUNDAY – 12-3 TO 12-4-2022
SUPPORTING MEMBERS:  Click Here To See The GPS Version Of This Model In Your Member Section Tab.

---
WANT THESE DELIVERED? JOIN THE PATREON COMMUNITY TODAY FOR ALL THOSE PERKS INCLUDING BEING ON THE MICRO-CLIMATE ALERT SYSTEM BECAUSE NOT EVERY ALERT IS POSTED ON SOCIAL MEDIA FROM THIS WEATHER OFFICE – https://www.patreon.com/weatherforce
Join the Facebook Page for Further Updates If You Have Not Yet!
ARIZONA WEATHER FORCE MAIN:
Join The Main Arizona Weather Force Facebook Group (50 percent delivery time) – You can join the main AZWF page as well through that group.
Click Here To Join The Page Today
10 mile rule:  These alerts issued on this site
means that within your zone and 10 miles from you will see the event
forecast for.  You may or may not see the event but it means you are in
the zone or 10 miles from where someone will.
Master Meteorologist:  Raiden Storm