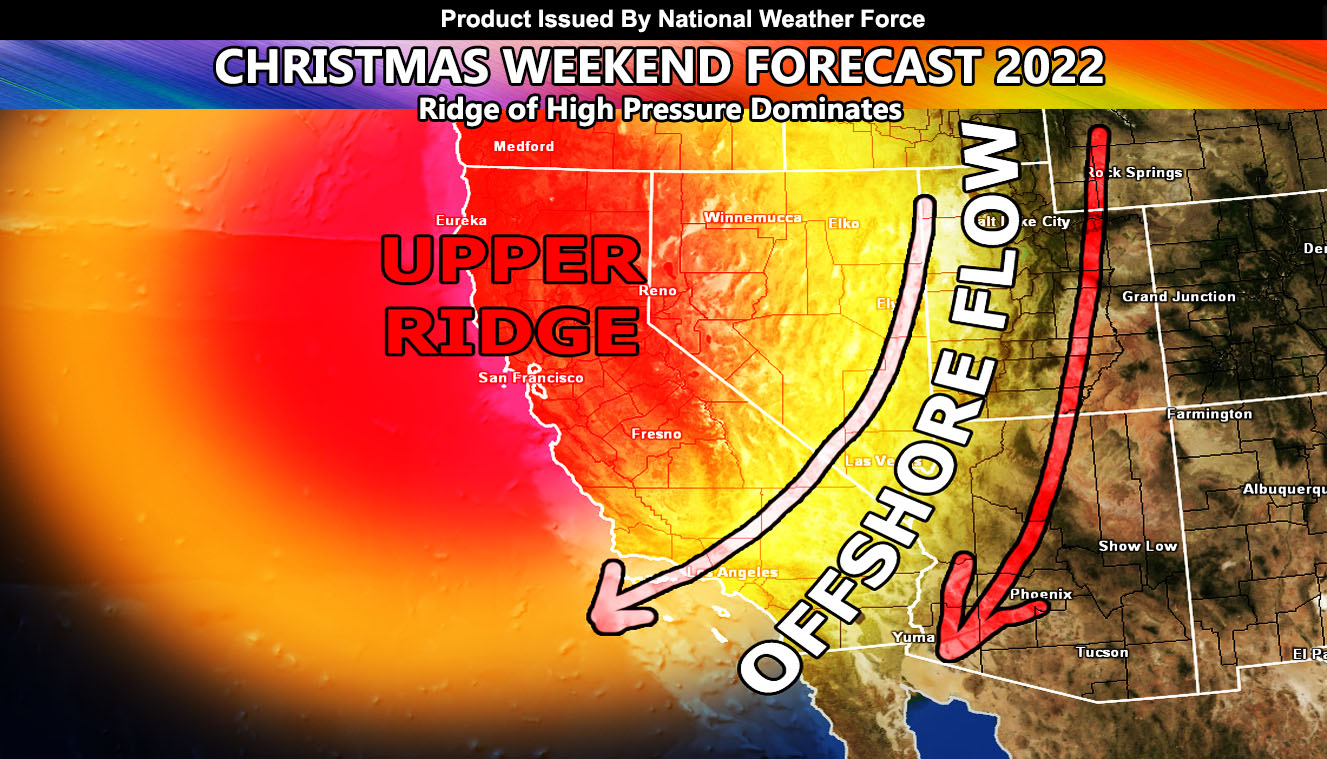 With the latest storm system having been departed, the weather has become calmer.  These calmer conditions will continue through the next couple of weeks due to the polar jet stream retreating north again.  This was expected within the December 2022 forecast I put out (Click here).
---
WANT THESE DELIVERED VIA THE APP? JOIN THE PATREON COMMUNITY TODAY FOR ALL THOSE PERKS INCLUDING BEING ON THE MICRO-CLIMATE ALERT SYSTEM BECAUSE NOT EVERY ALERT IS POSTED ON SOCIAL MEDIA FROM THIS WEATHER OFFICE – https://www.patreon.com/weatherforce
Join the Facebook Page for Further Updates If You Have Not Yet!
ARIZONA WEATHER FORCE MAIN:
---
The December 2022 forecast quoted that it would be colder and wetter for areas west of Los Angeles and colder and drier east of there.  Los Angeles would need 2.79″ of rainfall for December to be an average month in those terms.  We are at 1.23″ of rainfall for this month thus far.  This is about in line with the thinking that December in that area would not be as active as normal.  This actually looks to lead to opposite changes for January and afterwards.
But what about Christmas in the Southwest United States.  The only thing I can say is very uneventful weatherwise with 70s in the Southern California Metros and 60s in the Arizona low terrain areas.  All higher terrain areas of course in both areas would see cooler temperatures.
So, like this year's Thanksgiving, there are no travel concerns at all.
One thing I will be watching is the fact that the ridge could bring offshore flow (Santa Ana Winds) sometime around Christmas Weekend.  This means that if you plan on cooking at home and live in California, those power shutoff restrictions will need to be monitored due to Christmas Dinners being cooked, which otherwise would easily change your plans.  Offshore flow in Arizona for Christmas Weekend will be present, but Arizona law does not have a power shutoff during such.
As stated, we will start to see the jet stream come back again, but it will take a bit of time.  La Nina will start to weaken during January and there is a good chance that El Nino will take over the Summer.  But that does not mean the rest of Winter 2023 into Spring will be dry.  This will turn around again.  We have had far less major Santa Ana Wind Events in Southern California to say this will continue and the jet stream will return south again for stronger storms, even stronger than we have seen this year.
---
WANT THESE DELIVERED VIA THE APP? JOIN THE PATREON COMMUNITY TODAY FOR ALL THOSE PERKS INCLUDING BEING ON THE MICRO-CLIMATE ALERT SYSTEM BECAUSE NOT EVERY ALERT IS POSTED ON SOCIAL MEDIA FROM THIS WEATHER OFFICE – https://www.patreon.com/weatherforce
TWITTER: Join the AZWF Twitter For Articles By Clicking Here
Join The Main Arizona Weather Force Facebook Group (50 percent delivery time of micro-climate alerts not posted on the main AZWF page) – You can join the main AZWF page as well through that group.
Click Here To Join The Page Today