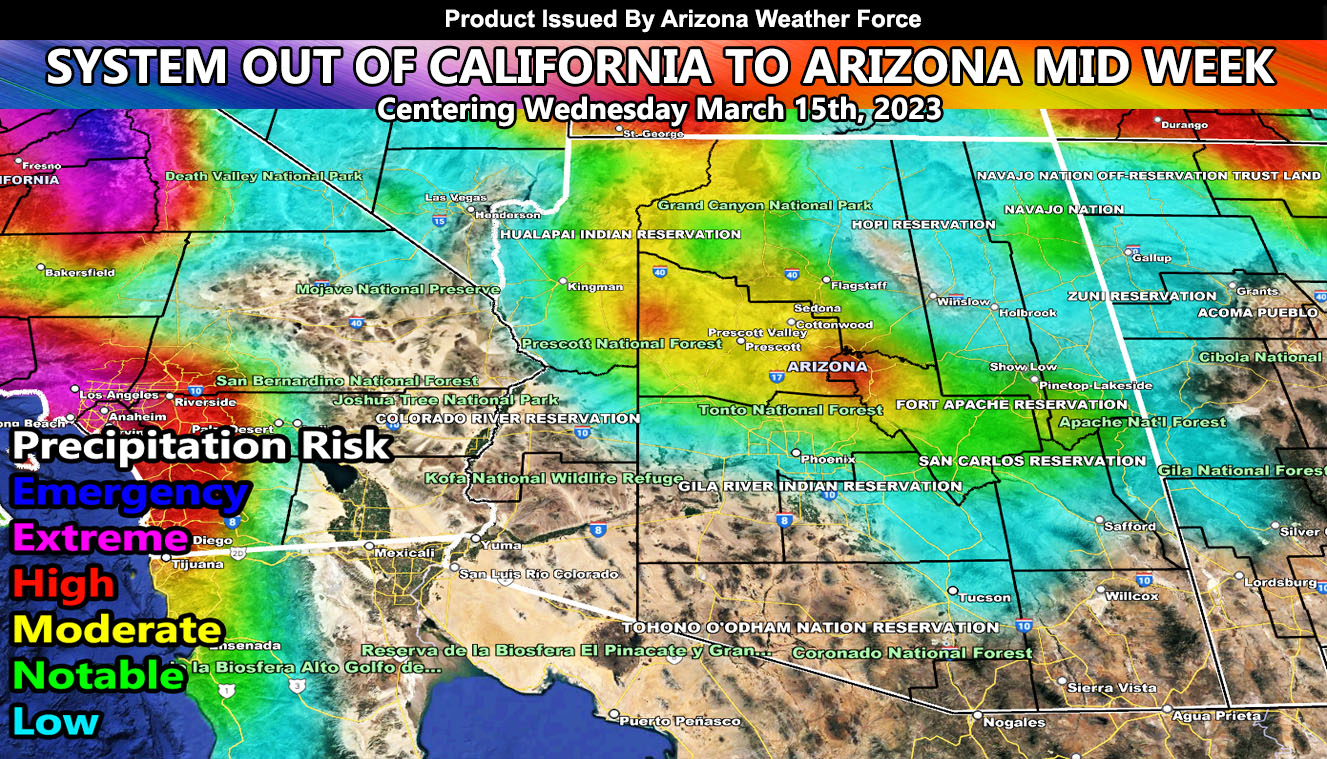 This is not really a long-range weather advisory or warning due to the fact it will not be much of an impact unless you have a higher snowpack along the mid/lower parts of the Mogollon Rim, but a system out of California will move into Arizona by mid-week so read on for details …
California has been hit hard with atmospheric river after atmospheric river.  For the most part, the mountains in California have kept a lot of this moisture away from Arizona, thus a rain shadow effect was happening.  This rain shadow effect will lessen some with the hit California will take on Tuesday and Tuesday night.
As Wednesday comes along, moisture moving over the desert will work with the upper-level dynamic coming in out of Southern California and thus a healthy dose of rainfall will be likely then.  The main front will affect the Mogollon Rim a lot more than anywhere else, but areas in the Phoenix forecast zones will be in for a bit of rain, going as far south as Tucson at the weakest point.
Thunderstorms will also be likely in mainly the Central and Western part of the state, including Prescott and Phoenix, even along the Colorado River Valley.
SNOW:  The snow-level will be considered high, and this will mostly be all rain, the exception is about 4″ of snowfall for the Mount Baldy Summit in Southern Apache County.
LONG RANGE:  More systems will move through the state between this system and the end of the month, likely about three of them.  All of them will be monitored and forecasts will be issues accordingly.
The Arizona Weather Force monsoon forecast update will be given toward the last week of April.
---
Join the Facebook Page for Further Updates If You Have Not Yet!
ARIZONA WEATHER FORCE MAIN:
TWITTER: Join the AZWF Twitter For Articles By Clicking Here
Join The Main Arizona Weather Force Facebook Group (50 percent delivery time of micro-climate alerts not posted on the main AZWF page) – You can join the main AZWF page as well through that group.
Click Here To Join The Page Today