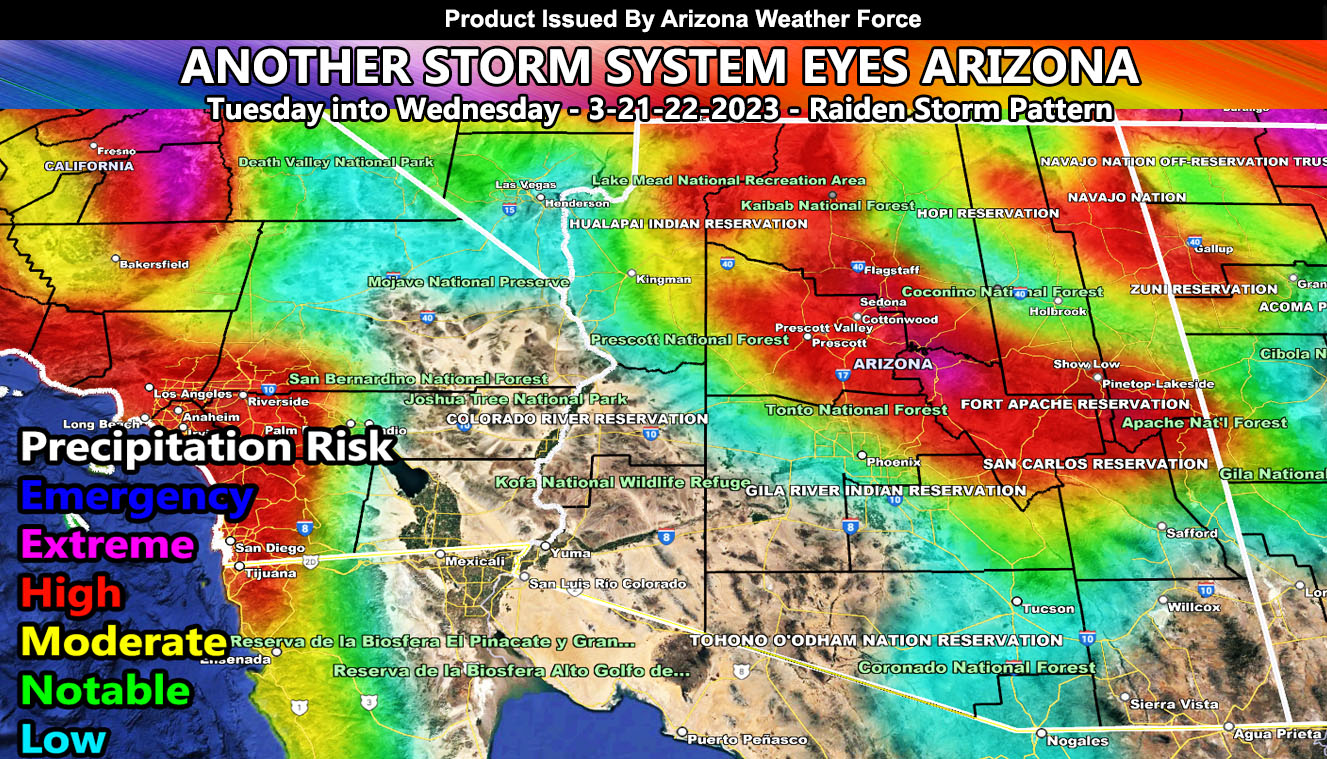 Arizona Weather Force has issued an update to the Long-Range Weather Advisory issued back on March 12th as a number of systems will enter the state starting Tuesday, going into Wednesday, calming a bit through the end of the week before returning this weekend so read on for risk assessment details …
California has been hit hard with atmospheric river after atmospheric river.  The last one brought the moisture and dynamics over the Southern California Mountains and into most of the state.  This looks to happen yet again as the next system will start on Tuesday and go through Wednesday.  This system will have high risk values along the higher elevation areas, some area being of extreme risk around Payson due to upslope duration.
There are a few things i need to look at, but right now it looks like the snow-level overnight on Tuesday into Wednesday will drop through 5,000 FT, likely even lower than that.  Should this happen, snowfall in the Prescott and Payson forecast zones will be in the cards, just how much is uncertain.  What I do know is Flagstaff will have over a foot of snowfall before Wednesday evening hits.
This is similar to the last storm, but colder.  There also will be the risk of thunderstorms yet again, upping both the snow and rainfall risks.
For now, use the risk assessment chart to find out what risk you are in for precipitation, be it rain or snow.
LONG RANGE:  There is a chance that April will once again have more storm systems moving through, given I already issued the Super Long Range Weather Watch for California due to such.
The Arizona Weather Force monsoon forecast update will be given toward the last week of April.
To find information on your membership, login details, current events, or the Arizona Weather Force Facebook and Twitter Pages, Use the 'Weather Center Support' AI feature on the bottom right of this page.
---
Join the Facebook Page for Further Updates If You Have Not Yet!
ARIZONA WEATHER FORCE MAIN:
TWITTER: Join the AZWF Twitter For Articles By Clicking Here
Join The Main Arizona Weather Force Facebook Group (50 percent delivery time of micro-climate alerts not posted on the main AZWF page) – You can join the main AZWF page as well through that group.
Click Here To Join The Page Today