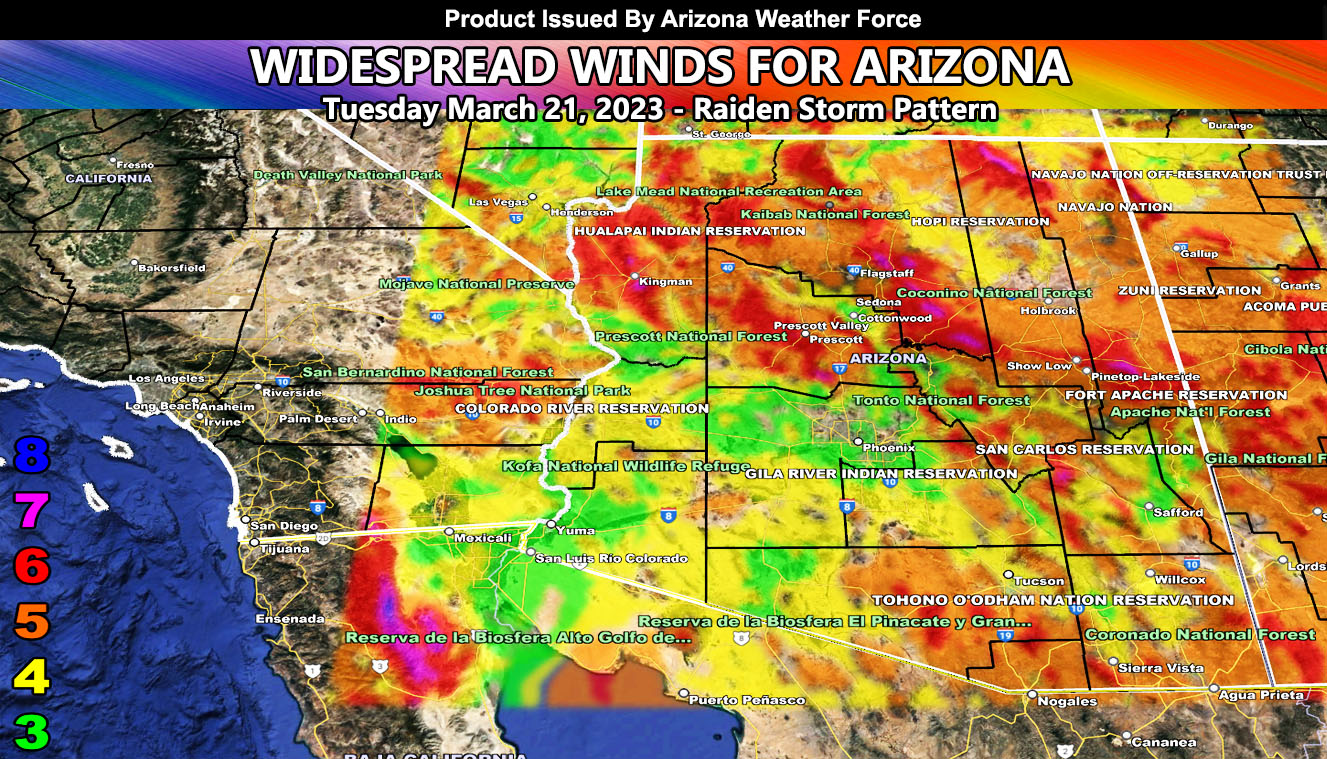 As stated in the previous update, this system will have widespread gusty and damaging winds across most of the Arizona Weather Force jurisdiction and this is the update to it, including the Raiden Storm Wind Intensity Maps for Tuesday March 21st, 2023.  Again, as noted in the maps, pay attention to where you are within the scale so read on for details …
---
Join the Facebook Page for Further Updates If You Have Not Yet!
ARIZONA WEATHER FORCE MAIN:
---
DISCUSSION:  This system does have a feature that will accelerate the wind damage across the region for your Tuesday.  On Tuesday morning, a surface low embedded within the storm system's 'exit region' of the upper-level jet will act like a mini bomb cyclone.  This deepening of this small but potent area of surface low pressure will move through the bight (island region) of Southern California and come during the morning hours.  This will bring in a strong gradient into it from all sides and thus you will have the winds rapidly increasing.
These winds will turn onshore overnight and weakening in all sectors as the surface low moves further inland and weakens.
This will be about 18 hours' worth of an event wind-wise.
WINTER STORM WATCH:  In the previous update I was monitoring the mountains and how the system would come in.  I did decide that the areas in the Flagstaff zones above 6,000 FT will see heavy snowfall Tuesday through Wednesday and thus the official Arizona Weather Force Winter Storm Watch is now in effect.  Those of you in the Pinetop forecast zones will have less snow with this system due to how it is tracking, but the Mt. Baldy summit will also be in the Winter Storm Watch
Use the information below for the Raiden Storm Wind Intensity Model effective from 6am Tuesday morning through 11pm Tuesday night.
FINAL RAIN, SNOW, WIND MAPS WILL BE OUT TOMORROW (MONDAY 3-20-2023) – CHECK BACK THEN
NOTE:  AZWF does not have customer service with a person.  If you need help with your accounts and/or signing up for this service, use the AI Bot in the 'Weather Center Support' feature on the lower right of this page.  
---
Wind Model – TUESDAY MARCH 21, 2023
SUPPORTING MEMBERS:  Click Here To See The GPS Version Of This Model In Your Member Section Tab.
Raiden Storm Wind Gust Intensity Scale –
8. Extensive widespread damage.
7. Trees are broken or uprooted, building damage is considerable. – High Profile Vehicle Roll-Over CERTAIN.
6. SOME Trees are broken or uprooted, building damage is possible. – High Profile Vehicle Roll-Over Likely, Do NOT recommend Traveling in this zone.  This zone also is the starting zone where trees and powerlines will fall and damage cars and even kill people near or in them!
5. Slight damage occurs to buildings, shingles are blown off of roofs. HIGH WIND WARNING CRITERIA – High Profile Vehicle Roll-Over Possible if weight is not corrected.
4. Twigs and small branches are broken from trees, walking is difficult.
3. Large trees sway, becoming difficult to walk. POWER SHUTDOWN THRESHOLD DURING FIRE WEATHER / WIND ADVISORY CRITERIA 
---
TWITTER: Join the AZWF Twitter For Articles By Clicking Here
Join The Main Arizona Weather Force Facebook Group (50 percent delivery time of micro-climate alerts not posted on the main AZWF page) – You can join the main AZWF page as well through that group.
Click Here To Join The Page Today