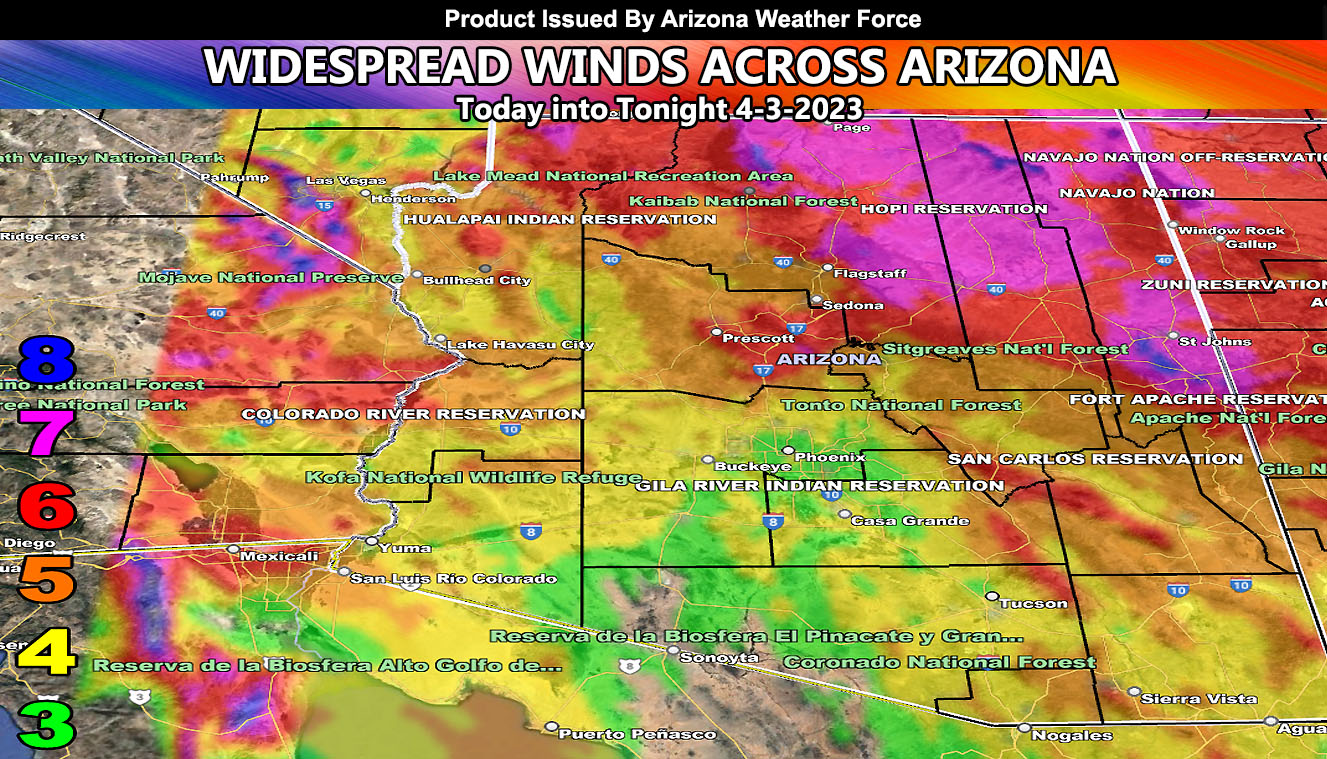 Strong winds are blowing across the Northern half of Arizona as an inside slider moves across the region.  I am back after a few days mourning period for a loss of a family member so let's get back to work.  Read on for details and see the wind maps …
---
Join the Facebook Page for Further Updates If You Have Not Yet!
ARIZONA WEATHER FORCE MAIN:
---
A strong 150 mph upper jet stream is leaving Arizona with a strong west to east flow.  The Northern half of Arizona has already started their winds, but they will fast move southward into all metro areas from Phoenix, Pinal, and into Tucson as today moves along.
The Raiden Storm Wind Intensity Models have been released and you may view the information below.
Winds this afternoon/evening/night through the metros will shift from west to east to a more northwest to southeast approach, with Phoenix, Pinal, and Tucson, and Cochise County pegging over 40+ mph in gusts, with Flagstaff in at over 50+ mph in gusts.
The winds will wan by Tuesday morning.
Wind Model – TODAY INTO TONIGHT STARTING 4-3-2023
SUPPORTING MEMBERS:  Click Here To See The GPS Version Of This Model In Your Member Section Tab.
Raiden Storm Wind Gust Intensity Scale –
8. Extensive widespread damage.
7. Trees are broken or uprooted, building damage is considerable. – High Profile Vehicle Roll-Over CERTAIN.
6. SOME Trees are broken or uprooted, building damage is possible. – High Profile Vehicle Roll-Over Likely, Do NOT recommend Traveling in this zone.  This zone also is the starting zone where trees and powerlines will fall and damage cars and even kill people near or in them!
5. Slight damage occurs to buildings, shingles are blown off of roofs. HIGH WIND WARNING CRITERIA – High Profile Vehicle Roll-Over Possible if weight is not corrected.
4. Twigs and small branches are broken from trees, walking is difficult.
3. Large trees sway, becoming difficult to walk. POWER SHUTDOWN THRESHOLD DURING FIRE WEATHER / WIND ADVISORY CRITERIA 
---
---
TWITTER: Join the AZWF Twitter For Articles By Clicking Here
Join The Main Arizona Weather Force Facebook Group (50 percent delivery time of micro-climate alerts not posted on the main AZWF page) – You can join the main AZWF page as well through that group.
Click Here To Join The Page Today