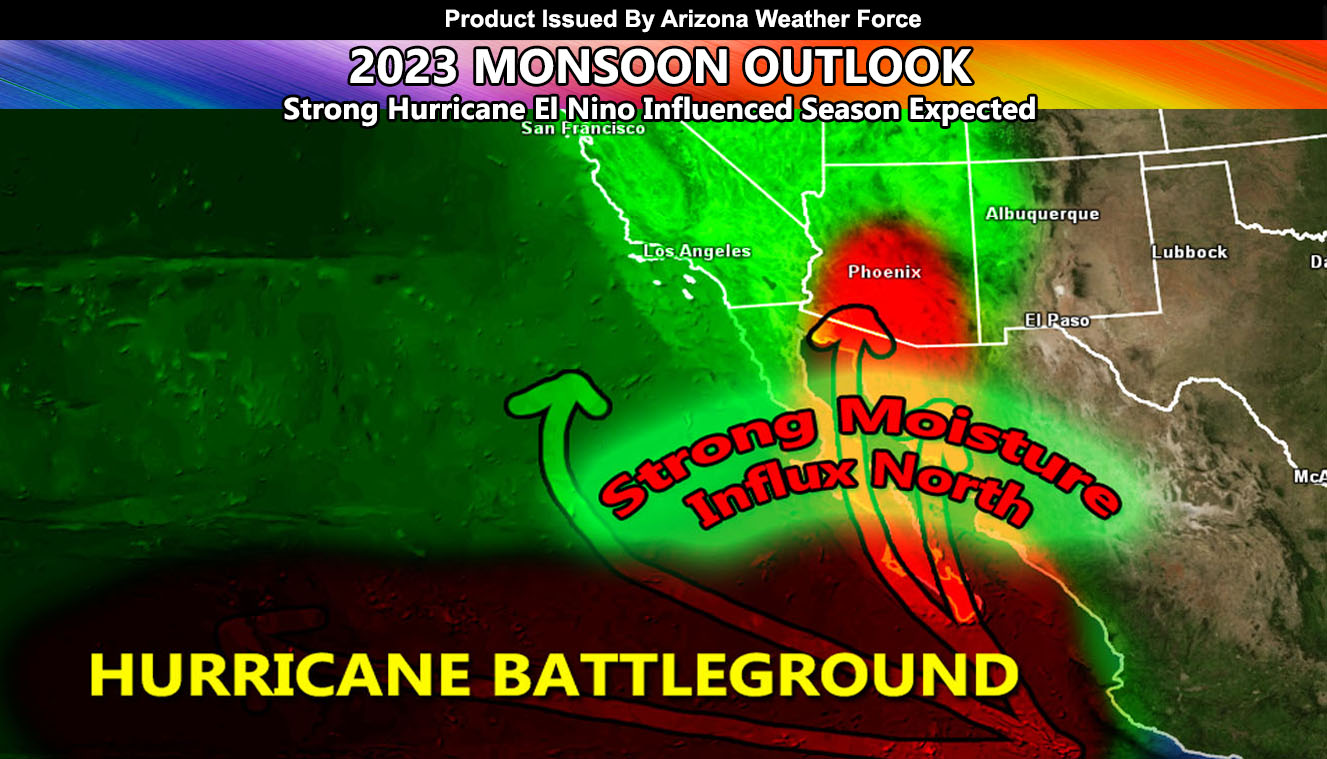 This summer, the La Nina has officially faded to neutral and heading straight for El Nino, which means the Eastern Pacific Hurricane Season will go down as one of the most active seasons on record, bringing up multiple shots of moisture and upper dynamics to the Southwest United States for active monsoon periods so read on for details …
What we are seeing now is not the monsoon.  Some have called it a Maysoon, but it is not a monsoon by definition.  Dewpoints have to be over 55F or higher for three days in Southeast Arizona to call it a monsoon, but not long ago they changed it where the monsoon dates are June 15th to September 30th with or without the dewpoint profiles.  The surface dewpoint is in the 40s down there with low 50s at Sky Harbor.  The pattern is a rare pattern with an amplified ridge and a low-pressure system to the south.  This blocking will be a prominent feature for the actual monsoon start.
I do expect June to have above-normal temperatures, especially in Central/Northern California and Nevada, including Death Valley.  But this is all set up for the four corners ridge to build early.  That's right, the four-corners ridge responsible for the Southwestern United States Monsoon will try to build in on time, mid-June.  We've seen this build in very late in the season, but this season will be different.  We should have a hot and dry start of June for most of the region.
We are in for an active season down there in the Pacific Hurricane Basin.  As hurricanes form west of Mexico, moisture within the outflow gets shoved northward towards our area and provide the dynamics for storms to form again, after a break in the activity from this month's weeklong storm event.  Due to the warming water in the Hurricane Basin shoving southward towards Southern California and Baja, Mexico, storms moving northward will weaken slowly, giving them a good chance at getting close enough to elevate the rainfall across the state.
The amplified ridging pattern is similar to the 2021 monsoon season, which was a very severe season in terms of how powerful the storms were.  Last year however, we did have severe storms, but it was not as severe in terms of destruction that the storms in July and August 2021 brought.  This year, an amplified ridge means that easterly waves coming out of the north will bring stronger upper dynamics, and therefore severe storms on the level that 2021 brought.
Based on the warm waters now, analog seasons for this year's monsoon will be 1972, 1982, and 1997, all of which had an above average monsoon.
NOAA is going dry for the monsoon yet again as per their latest summer forecast.   Hot and Dry yet again.  But remember, they did this the last couple seasons as well and what happened?  Opposite happened is what, and that will happen yet again.
TEMPERATURES:  With the lack of monsoon flow, temperatures in June will be above average.  As the flow is building, this above-average will actually wan down through the Summer.  As we get moisture, showers, storms, or clouds through the Southwestern United States I expect most of the region will see average to even below average Summer temperatures.  This will not be the hellish summer that 2020 brought, the exception of this would be Los Angeles, Ventura, Santa Barbara, San Luis Obispo County due to being further west of most of the monsoon flow intrusions.  Most of your days will be capable of heatwave level events, however, I will illiterate that this summer will not be as hot as summer 2020 and will go down as an average rank summer, neither the coldest nor the hottest.  The exception for the colder rank would be the Eastern half of Arizona from north to the south state.  These areas deep in the monsoon flow will make it that temperature ranks will bring a colder temperature average in those areas.
Join the Facebook Page for Further Updates If You Have Not Yet!
ARIZONA WEATHER FORCE MAIN:
TWITTER: Join the AZWF Twitter For Articles By Clicking Here
Join The Main Arizona Weather Force Facebook Group (50 percent delivery time of micro-climate alerts not posted on the main AZWF page) – You can join the main AZWF page as well through that group.
Click Here To Join The Page Today