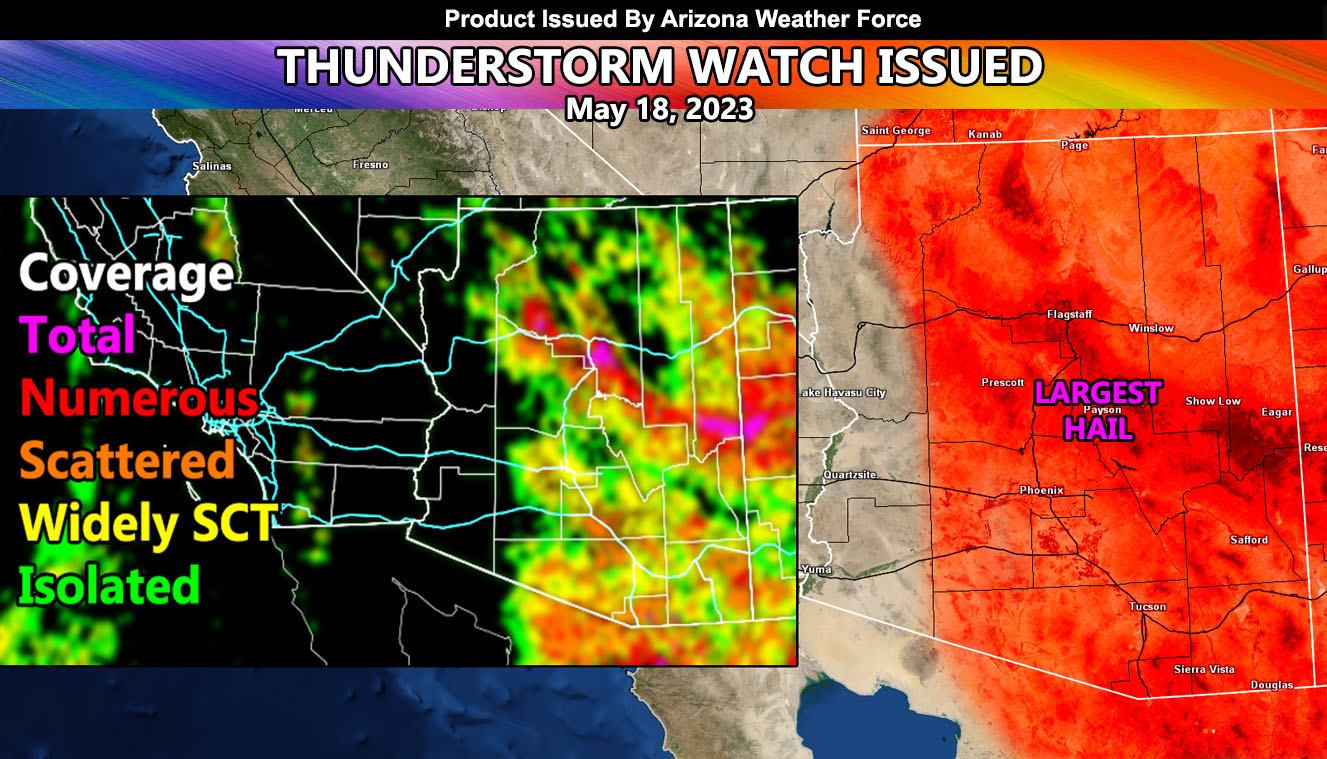 Arizona Weather Force has issued a Thunderstorm Watch that will cover most of Arizona, including all Metro zones from Phoenix, Pinal County, and into the Tucson areas, effective today into tonight so read on for details …
An upper-level low pressure center south of the area is being blocked by a ridge to the north.  The storms will once again fire in the higher terrain (Mogollon Rim) areas first.  The upper-level low is destabilizing the atmosphere in Sonora Mexico, which is going to also start storms south of the border.  These storms south of the border will surge into Arizona, pushing outflow boundaries through Santa Cruz, Cochise, and Pima County, including the Tucson metro zones.
The activity across the high terrain and Mogollon Rim will be a separate air-mass, which will work with the ridge of high pressure to the west.  This will ultimately shove the storms southward toward the Pinal/Maricopa County population zones, opposite of the ones coming from Arizona.  Given the direction of the storms and outflow collision from the south, the hardest hit areas will be the areas where it usually does not hit, be it Phoenix, Glendale, Surprise, Avondale, and the Buckeye forecast zones.  If you are there, you will certainly see these storms move in this evening, some areas around Phoenix or North Phoenix seeing between 1/2″ to 1″ of rain in that short period of time.
FRIDAY: A look into this day is when the ridge of high pressure finally shifts.  While activity will still be around, the focus shifts to the north to south flow out of Nevada, where the Bullhead City forecast area will be a target for storm activity, where you've missed a lot this time around.