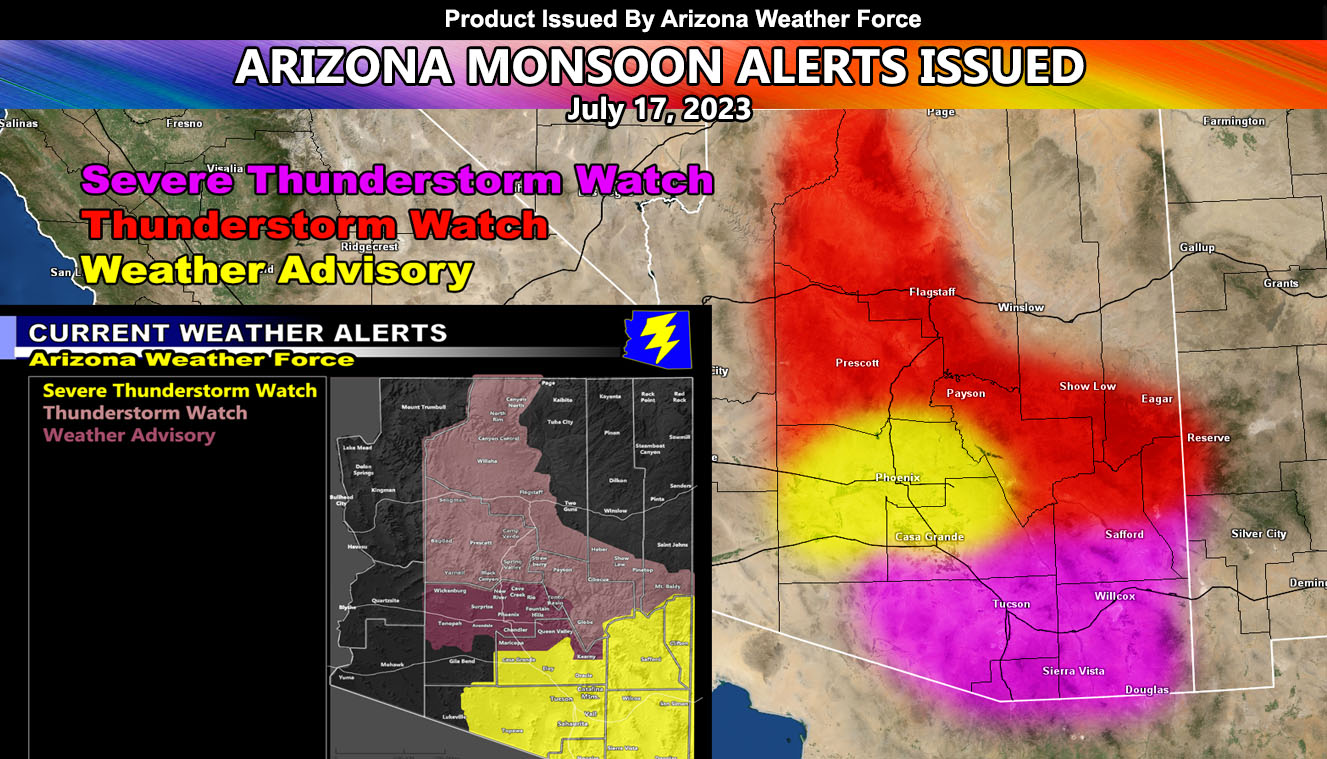 Arizona Weather Force has issued three alerts for parts of Arizona.  Those alerts are the Severe and Thunderstorm Watch, along with a weather advisory.
The ridge of high pressure will position itself today for more widespread storm activity.  Storms will form along the Mogollon Rim, and across Cochise, Pima, and Graham County first through the afternoon.
Storms within the Pima, Cochise, and Southern Pinal County regions will have the strongest instability.  A predominant storm motion out of the south and east is what we are looking at there.  Instability and shear suggest a strong chance of large hail and damaging winds, especially in the Pima County and Santa Cruz County Metro areas.  This is where the Severe Thunderstorm Watch is.
The thunderstorm watch is for along the Mogollon Rim mostly, with the central and southern parts of it, including Prescott having the thunderstorms through this evening.
The weather advisory is the last one issued here at Arizona Weather Force.  This is for the Northern half of Pinal County and most of Maricopa County.
Given the activity coming out of the Tucson AZWF Severe Thunderstorm Watch zone, outflow will surge up I-10 into the metros of the zones I listed in this paragraph.  Pop-up storms will be possible this evening within this zone.  Assuredly though, these can also bring a dust storm with it as strong winds within the outflow for those zones will be likely.
Use the map below for an idea on what areas have which AZWF Alerts Issued.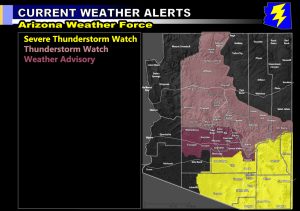 Get these alerts over the new Android and Iphone app and/or e-mail service by becoming a full member subscriber today and never miss an update from this office.  Remember, you cannot just make an account on the app and get notifications.  You must select your zones and then go through the payment process.
Click here to learn more.