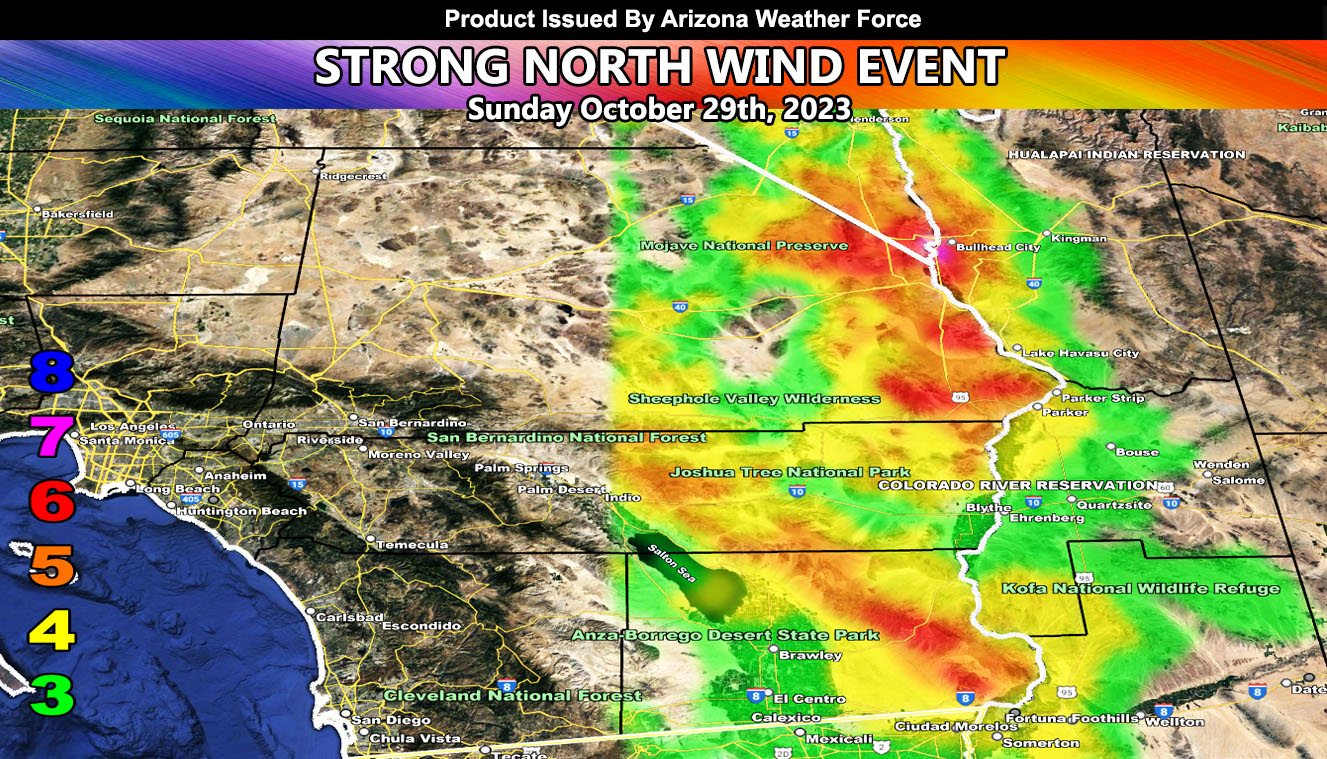 Arizona Weather Force has issued a High Wind Warning effective Sunday for the Colorado River Valley.
A strong arctic front is moving through the Pacific Northwest now.  This temperature gradient will strengthen with freezing temperatures in the Great Basin by Saturday night.  As early Sunday morning comes around, before sunrise, we can expect an increase in strong wind gusts out of the north for the warning area.
The strongest, as seen on the Arizona Weather Force wind intensity model in this article image, will be the Northern Colorado River Valley where Bullhead City will have some damage.
This will be the start of what will be a prolonged fall and winter of these wind events …
Raiden Storm Wind Gust Intensity Scale –
8. Extensive widespread damage.
7. Trees are broken or uprooted, building damage is considerable. – High Profile Vehicle Roll-Over CERTAIN.
6. SOME Trees are broken or uprooted, building damage is possible. – High Profile Vehicle Roll-Over Likely, Do NOT recommend Traveling in this zone.  This zone also is the starting zone where trees and powerlines will fall and damage cars and even kill people near or in them!
5. Slight damage occurs to buildings; shingles are blown off of roofs. HIGH WIND WARNING CRITERIA – High Profile Vehicle Roll-Over Possible if weight is not corrected.
4. Twigs and small branches are broken from trees, walking is difficult.
3. Large trees sway, becoming difficult to walk. POWER SHUTDOWN THRESHOLD DURING FIRE WEATHER / WIND ADVISORY CRITERIA