Advertise By Sponsoring Custom Alert Zones In Your Business Area
Arizona Weather Force – Phase Two
Why?  Costs are rising and in order to keep operational costs to the people at a minimum, advertising must be done to secure the service for seasons to come.  Your business will be sponsoring a fast growing weather service in zones you specify …
What is it?  Arizona Weather Force has almost 50,000 people on Facebook and many more who read the site not on the social media platform.  You are buying the cheapest advertising available on and offline today in your local area, and/or area you specify.  You can potentially reach thousands with this program.  AZWF has an alert system that issues products from wind, flood, thunderstorm, marine, snow, and many more.  These are issued via alert zones, and many exist.   You will be purchasing a radius around your city location you choose and you will get traffic and customers that way.
How is it done?  Spots are limited to zones, so you will be bidding the amount per month you will pay to advertise with this site within the radius you purchase.  It works like this.  If you are in Corona and purchase the minimum monthly of $100/month, you will get 10 miles of a radius around the city.  When an alert goes out and includes your zone, you will have your advertisement in the alert stating "sponsored by" and your information linked from your website, Facebook Page, and small intro.  Alerts are posted on the AZWF photos and videos group so you will be linked there as well.  If you purchased again, Downtown Phoenix and an alert goes out for Fountain Hills and you are only on the 10 mile radius block, you do not get advertisement from an alert issued for Fountain Hills.  You'll need to go 30 miles, which is $300/month.   The further you want to advertise, the more it will be.   It will go by x10 so example 50 miles of a radius is $500/month and so on …
This is static for all areas.  This means even purchasing $100 in the Greater Phoenix area potentially can reach tens of thousands of people within the allotted monthly time, unless outbid by someone else.
BIDDING:  Zones only can hold so many so first come first serve meaning if you bid $100/month and someone wants the zone and goes higher in bid, you'll need to bid higher to continue the next month or they would take over your spot.  Should this happen, you will be given a refund of the amount of days you have left in the month.  So if you came in at $100/month and halfway in someone bids higher, you'll receive $50 back as a refund and the service for advertising would terminate right there as the new advertiser starts theirs.  This is done in order to not overcrowd the advertising spots and allow for advertisers to be seen.
---
The following graphic below is an example for Downtown Phoenix.  So if you have a business there, this is what would happen.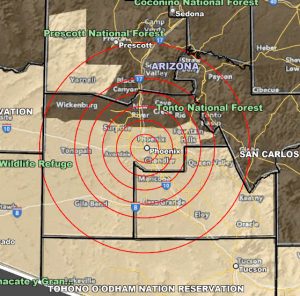 Bidding $100/month – The first ring is 10 miles around Phoenix.  You would get All of Phoenix, Glendale, Tempe and Scottsdale.
Bidding $200/month – The second ring is 20 miles around Phoenix.  You would get all of the above line but since you went 10 more miles out, you would get as far west as Goodyear, some of Surprise, all of Mesa and Gilbert to Chandler.  You would fall short of Fountain Hills and Cave Creek as they are over 20 miles from Downtown Phoenix.  You'd need to expand your budget to get that far.
---
And so on … YOU set how much you want to spend per month on the bid.  When inquiring, put the amount you are willing to spend per month around the city your business is in.  The minimum is 10 miles or $100/month.  If you bid $170/month then you get 17 miles around your business.  You choose what bid you want below.  Once that is done, the inquiry will be reviewed on if someone outbid you for the spot… and if not, you'll be given a separate page to purchase your spot.  Once received along with the form contract stating what to expect from me and what I expect from you … you'll be entered into the system.
How Is This Cheaper than other options?  Do you know how many people reside in some of the most populated areas?  Billboards alone would be $5000/month and when Newspapers were a big thing you would be over $500/month just in your local area.  AZWF Advertising means you advertise for a cheap rate to thousands, tens of thousands of people.  Keep in mind that the service is growing very quickly so more viewers are coming in with each weather event that comes.
WHAT I DO NOT ALLOW:  I do not allow anything porn or other conflicting weather websites.  If you have a bar, restaurant, food truck, etc … that is more than fine.  In the Summer, people go out for Ice Cream as well … so if you own such a shop, this will pay for itself with customers, especially if the alert is a Heat Warning alert.  The choice is yours on how you spend your advertising budget, I only provide the portal and traffic to do so.  If you think your business would fair well and in heating/cooling then by all means go for it.  If reality, go for it.  It is up to you if you think you will benefit from this program.  It cannot guarantee returns, but it will reach a lot of people in the zones you buy to.
The form below is how you inquire that you are interested in this advertising program.  You get your ad on Facebook Posts when your zone(s) are included, and on the alert itself where thousands read it each time one is issued.