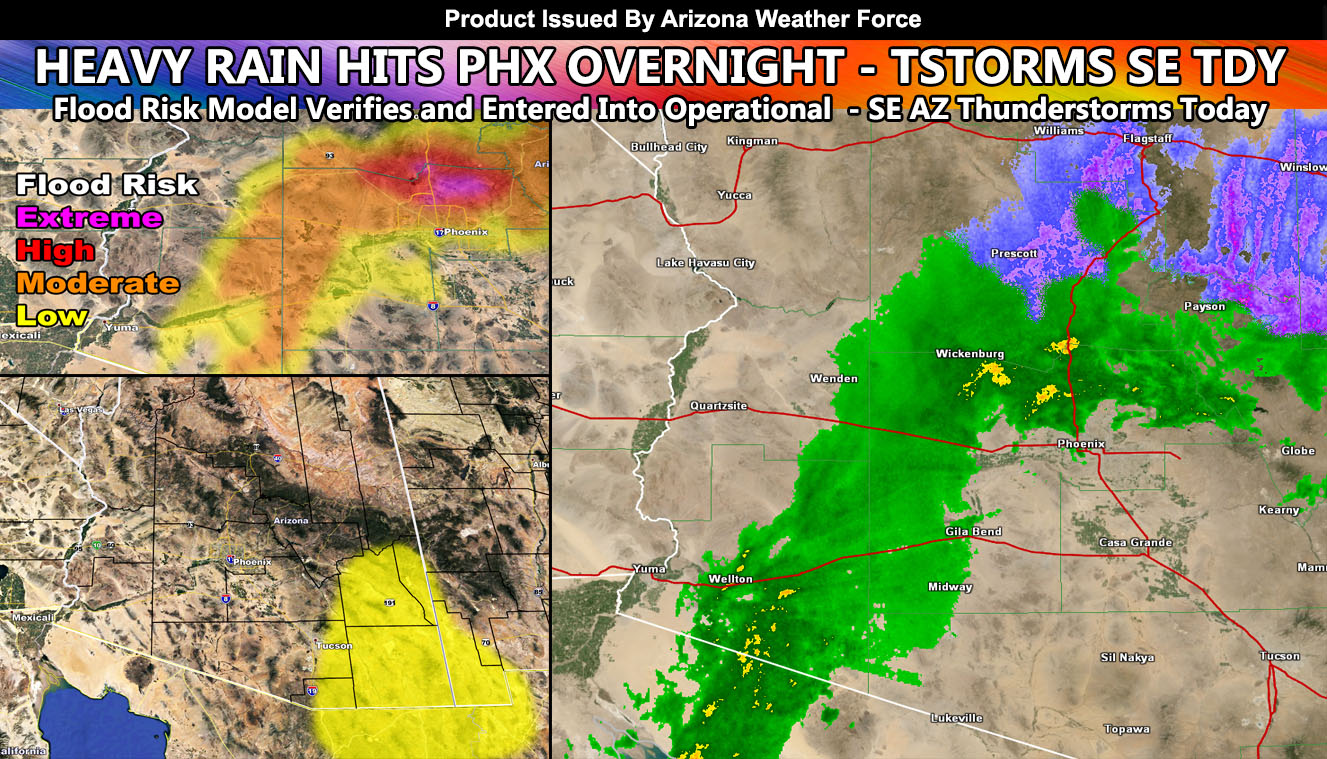 The image in this article shows radar overnight for Arizona with the heavy rain.  The upper left shows the flood risk model I issued for the event yesterday evening matching it, and the lower left is of today's thunderstorm zone so read on for details …
Details are coming in that over an inch of rain fell in the North Phoenix Valley areas overnight.  The quote from yesterday's article (click here) showed the event to come; "This area of strong lifting will head northeast along I-8 towards the Phoenix area and meet up with another system dropping out of Utah after midnight tonight.  When this happens, the two systems will merge and a deformation band will form over Phoenix.  Now this is very important.  Depending on where you are is what flood risk you will have.  That is the beauty of Arizona Weather Force flood risk models.  This one shows a high to extreme risk for the Cave Creek to New River areas, extending as far south as the Highway 101, the part running east to west.  The moderate risk, or flood advisory criteria, extends down to Peoria and Scottsdale with low risk along I-10, including the Sky Harbor Airport.  Use the model image below to know your location."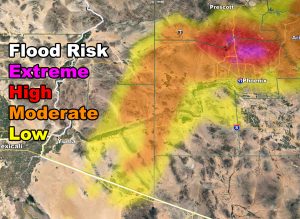 This is exactly how it unfolded so the Flood Risk Model used at Southern California Weather Force does indeed prove to work for Arizona so it will be in full operational mode from now on.
---
As for today, the upper system moves east and the impulse that dove in overnight will affect the East/Southeast Arizona zones today.  The focus is the thunderstorm area.  And while the area is small, a Thunderstorm Watch will not be issued.  I'll issue the Weather Advisory, which means convective showers with pop-up thunderstorms at times in the yellow-shaded zones, which includes the Sierra Vista, Willcox, and Safford forecast zones.  Storm activity will last 6 hours in the shaded area and then die off with the setting of the Sun as diurnal heating is lost.  Storms can contain small hail and brief gusty winds, but nothing severe.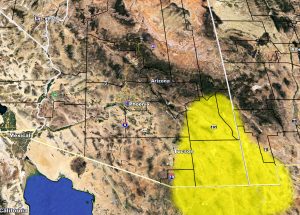 ---
The snow model has been updated and it looks like snow will pepper the upper elevation zones.  There's Sierra Vista showing up on the model as 2-6?"  With any-case if any of that falls in a thunderstorm it would be thundersnow.. if not .. just a regular thunderstorm.  The model is here.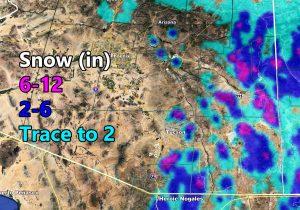 ---
For the rest of the week we will dry out.  A system comes in early next week for the state and this may only affect Central/Northern state.  However, I may do a post about it since it will be colder and this will plummet the temperatures in the metro zones, probably Tuesday morning… so a week from now.  Other than that, there are no major storm systems on the horizon.
As you know, just as Southern California Weather Force has a service for members with micro-climate alerts, Arizona Weather Force does as well and we do have some people already signed up getting those so it is seeming like it is helping.  The service helps businesses and persons, especially with ranches.  Click Here to read about it and even join.
NOTE: This is the SCWF Website but it is being used for national updates until ad placement is ready on the AZWF site. 
Your Facebook Page to join for this update is linked here – https://www.facebook.com/ArizonaWeatherForce