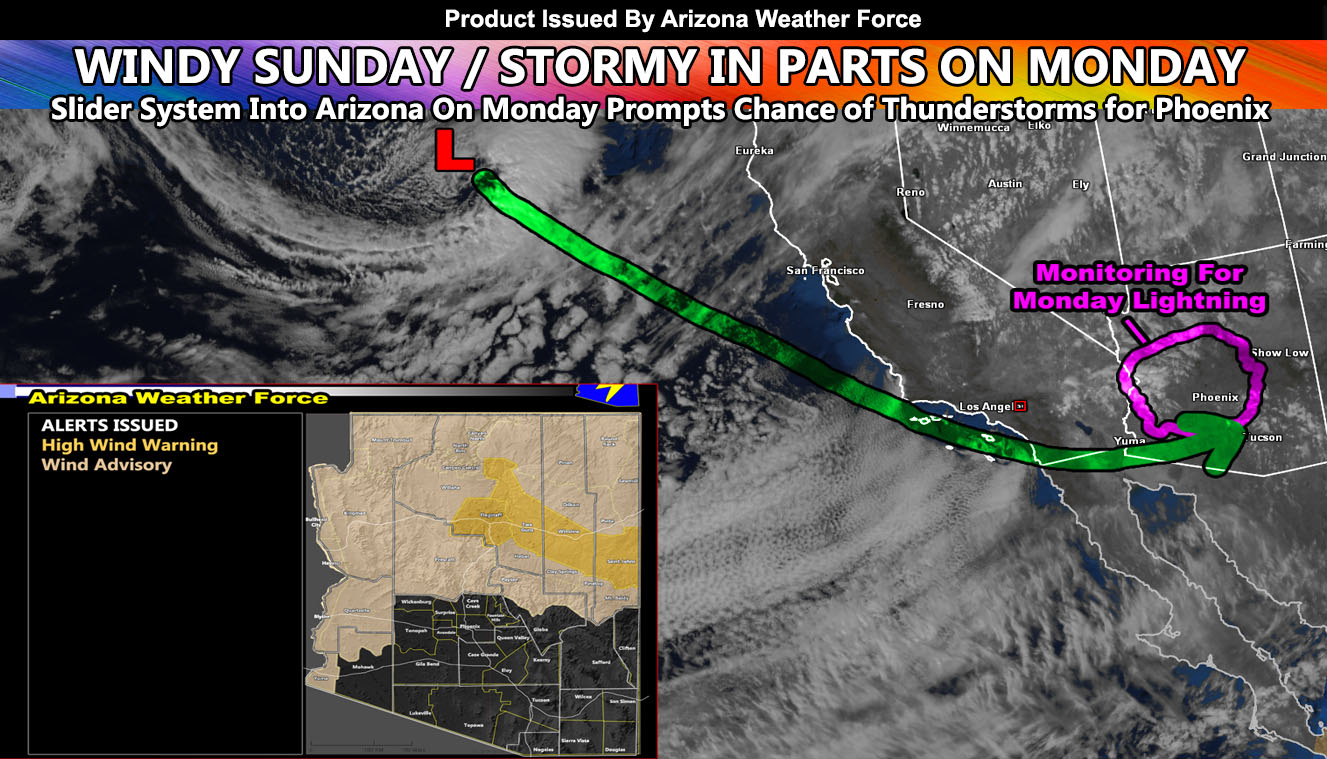 A pesky upper level low is going to enter California on Sunday, starting gusty winds across Arizona where I've issued a High Wind Warning and Wind Advisory for some.  This will be followed by the storm itself moving in, which will bring the risk of showers and even scattered thunderstorms to the Western half of the state, which includes the Phoenix areas so read on for details …
Over the Arizona Weather Force's micro-climate e-mail alert system I issued a a hybrid wind alert.  That would be the High Wind Warning + Wind Advisory.  Click Here to read it.  It reads; An upper level system will move near Southern California on Sunday.  This will provide Arizona with a strong onshore flow out of the west and wind gusts will start on the Rim zones by morning, and the low terrain in Western AZ by the Afternoon/Evening hours, ending after sunset with a quieter jet stream in the area.  35 to 50 mph wind gusts are likely.  Please use the AZWF Wind Gust Intensity Model below to know which area will be hit with what on your Sunday.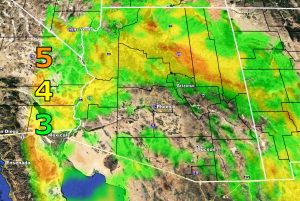 Martin Wind Gust Intensity Scale –
5. Slight damage occurs to buildings, shingles are blown off of roofs. HIGH WIND WARNING CRITERIA – High Profile Vehicle Roll-Over Possible if weight is not corrected.
4. Twigs and small branches are broken from trees, walking is difficult.  BLOWING DUST CRITERIA if in an area known for blowing dust.
3. Large trees sway, becoming difficult to walk. POWER SHUTDOWN THRESHOLD during any high fire risk. WIND ADVISORY CRITERIA
---
Now that's for the wind on Sunday ahead of the system.  This system will enter Arizona on Sunday night into Monday.  The destabilization of the atmosphere on Monday will bring the risk of thunderstorms to Western/Central parts of the state, which includes the Phoenix Valley zones.  These will be isolated to scattered.  The image within this article, the magenta outline … is where I am watching for those thunderstorm dynamics to develop.  It will highly vary where you are for what you can get, similar to when it hits Southern California on Sunday and Sunday night.  You either will see storms or you won't on Monday.  You either will see snow above 5,000 FT or you won't.  Given the trajectory of the system, the Rim Mountain areas of the state will see some snowfall between 5,000 and 6,000 FT, which does include the Prescott zones.
Basically anywhere in the state can have precipitation on Monday, with the most isolated chances in Southwest Arizona … and the most in Central/Eastern and Southeastern state.
So this was your first look.  As stated days ago, after March 1st we would see such a system move in.  As it gets closer then I will assess the rain/snow risk and produce those numbers to you.  Furthermore as stated in the previous article (Read here), and I quote it "MEDIUM RANGE: Our next system comes in After March 1st so yes… it will rain again across the state, and there are indications that MARCH 2020 will have above average rainfall for Arizona in my preliminary numbers … " and that happens just after March 8th, right on schedule for the rainy month forecast.
As you know, just as Southern California Weather Force has a service for members with micro-climate alerts, Arizona Weather Force does as well and we do have some people already signed up getting those so it is seeming like it is helping.  The service helps businesses and persons, especially with ranches.  Click Here to read about it and even join.
NOTE: This is the SCWF Website but it is being used for national updates until ad placement is ready on the AZWF site. 
Your Facebook Page to join for this update is linked here – https://www.facebook.com/ArizonaWeatherForce