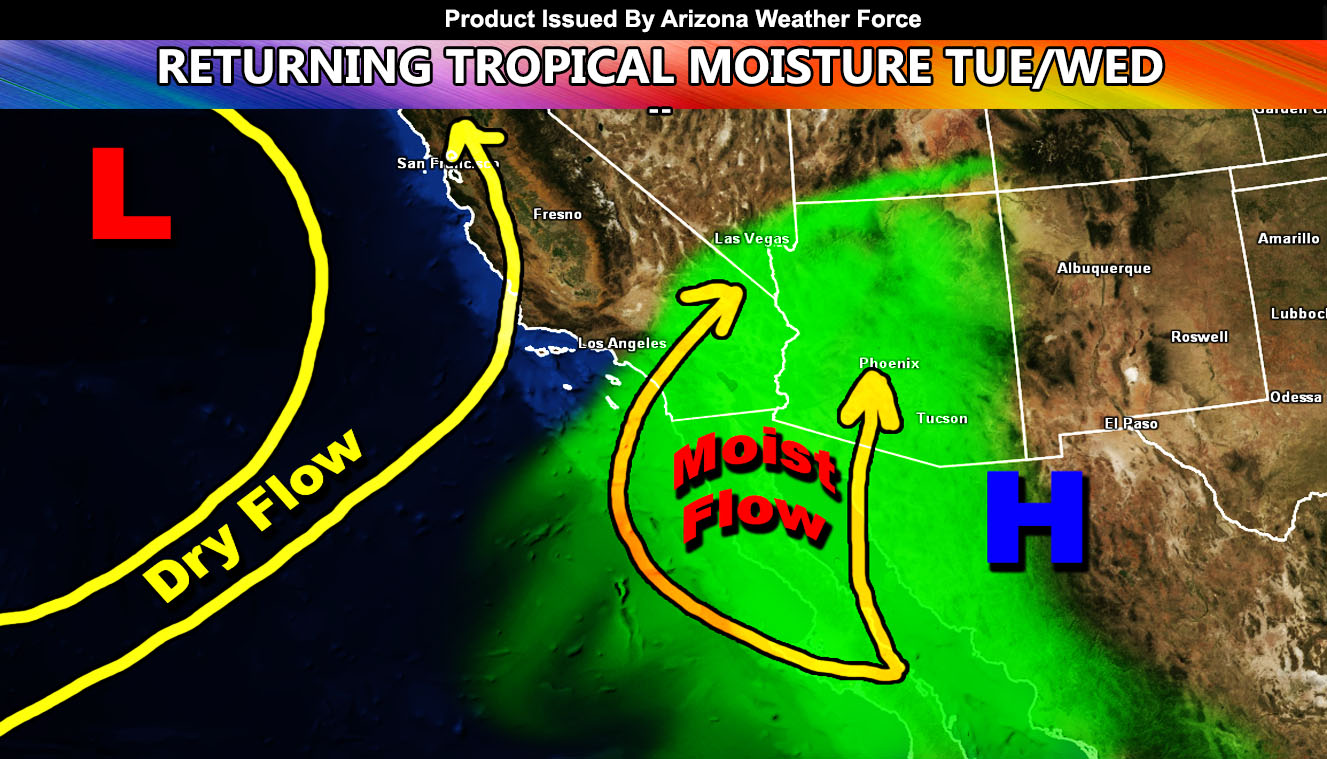 Arizona Weather Force has issued a Special Weather Statement effective Tuesday and going into Tuesday night and Wednesday as the outflow from a disturbance over Central Baja, Mexico will reach Arizona, upping the chance of showers or thunderstorms for the entire state so read on for details …
We are having yet another break from tropical moisture in what were 'surprise' events within the last week, but another one looks to be brewing.  A disturbance currently in Mexico will cross Central Baja, Mexico tonight into Monday.  Powerful thunderstorms will develop within it and the outflow from them will be sent northward towards Southern California and Arizona.  The last event came from the east, but this one will come from Baja, Mexico, which means that all of Arizona will be within the chance of showers or thunderstorms.
Depending on mid-level moisture, this could harbor a better chance of rainfall, not flooding type, however.  It also does give the risk of fires due to lightning strikes under little rainfall in some of the cells. We dry out mostly on Thursday, but towards and through the weekend, returning moisture in the state ups those showers and thunderstorm chances once again, including the metros.  As stated in my monsoon forecast issued on June 3rd, we will have many shots this season and it will make all the previous dry years look like nothing.  Click here for that forecast if you missed it.
Stay tuned to Arizona Weather Force on social media, your member e-mail alert service system, or however you follow for further updates.
---
THE OFFER EXPIRES FOR GOOD JUNE 22ND! – GET EMAIL ALERTS AND ENTER THE MEMBER SECTION ON THE SITE:  Both Southern California Weather Force and Arizona Weather Force have a cheap Summer 2021 discount to supercharge this service you already get on social media for free.  If you do not want to miss any articles this season because social media does not show you for hours or even days (common) and want to get custom email alerts such as thunderstorm, severe thunderstorm, flood, heat, or tornado alerts along with a controllable member section model for each during the events in YOUR area, sign-up for the premium member package, which is only $10 for the Summer.   Read below for details on how to join this offer.
---
REMEMBER… your continued want for this service is what keeps the server running and paid for.  A big bill is coming in the Fall and if I can get enough signed up this Summer, I can extend everyone's Summer 2021 package through September.  Thanks for your help!
---
ARIZONA WEATHER FORCE – Click here to Join Arizona Weather Force's package
---