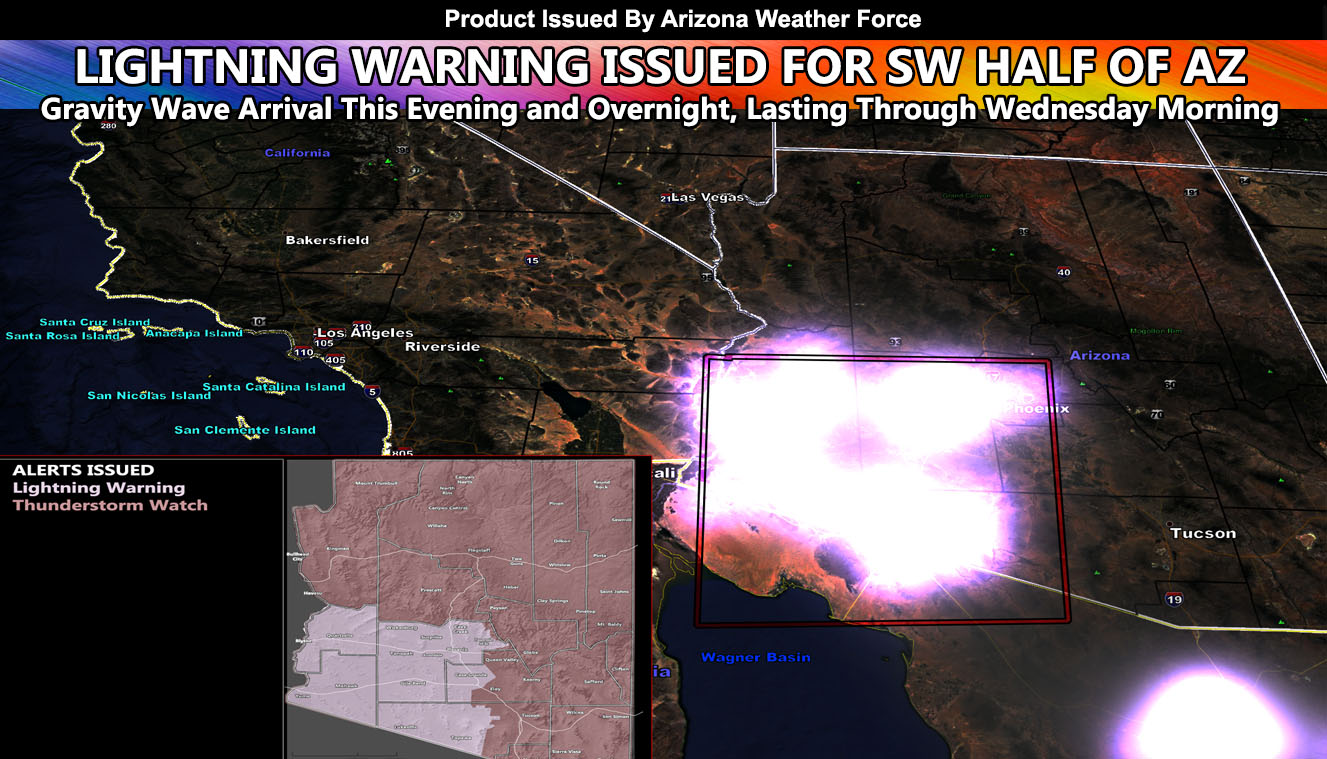 Arizona Weather Force has issued a Lightning Warning, the upgrade from Thunderstorm Watch as powerful thunderstorms in Northwest Mexico has sent a gravity wave to the northwest and will enter Arizona this evening, maximizing overnight through Wednesday across the southwest part of Arizona, including the Phoenix Metro areas so read on for details …
The earlier issued Thunderstorm Watch (click here) stated that thunderstorms would indeed be possible overnight tonight into Wednesday.  The entire state was put into the Arizona Weather Force thunderstorm watch alert through Wednesday.  As the hours go by, observations via satellite/radar and at the surface is allowing for additional alerts to zone in on timeframes and intensity of events.   As such, I've upgraded to an alert not issued since Fall 2019, the Lightning Warning.
A gravity wave has emerged from severe thunderstorms south of the border, in Northwest Mexico.  This gravity wave will meet with the mid-level moisture moving in from the Gulf of California and move over the Southwest half of Arizona this evening, overnight, and into Wednesday.  As it does so, it'll act like an ocean wave moving through, taking the mid-level moisture upwards.  The base, or bottom of the clouds; will be around 12,000 Feet.  With a freezing level calculated at 14-15,000 feet and a height of the cloud tops being 31-32,000 FT in the warning area, particles within the freezing column of over 15,000 FT thick will work with extremely sheared conditions.  These frozen particles crashing into each other is what charges the clouds to begin with, similar to static electricity on a large scale.  This is how lightning is forecasted here at Arizona Weather Force.
For this event overnight tonight, the elevated instability cuts off at the border of La Paz County so don't expect much if you are above that latitude line until over the day on Wednesday.
Counties affected by the Lightning Warning include; Maricopa, Pima, Yuma, La Paz, partial Yavapai, and Gila South
For the previous article for other areas in Arizona, CLICK HERE –
---
NOTE:  Go to the new AZWF FB Group and you can post photos and videos under admin approval on current events.  You can view other's posts as well and interact and get storm updates not posted on the main page… just follow the simple 8 rules set and you'll have a great time with everyone.
Click here to join the group
ADVISORY DEFINITION:  A lightning warning is issued when conditions are favorable in and around the watch area for numerous lightning strikes in a small sector of the state. This is especially dangerous because a number of fires will be started from lightning strikes in areas within this warning.
GRAVITY WAVE:  A gravity wave is when a strong thunderstorm punches through the stratosphere quickly, resulting in waves of pressure propagating outward from it.  Think of it like a rock in a pond, but backward.  This hits moisture and pushes it upwards like an ocean wave does swimmers.
---
The image below is clickable and shows what areas are in and around the Lightning Warning on the AZWF alert map –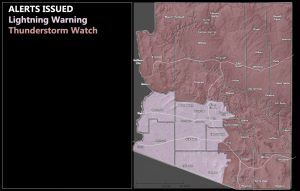 ---
THE OFFER EXPIRES FOR GOOD JUNE 22ND! – GET EMAIL ALERTS AND ENTER THE MEMBER SECTION ON THE SITE:  Both Southern California Weather Force and Arizona Weather Force have a cheap Summer 2021 discount to supercharge this service you already get on social media for free.  If you do not want to miss any articles this season because social media does not show you for hours or even days (common) and want to get custom email alerts such as thunderstorm, severe thunderstorm, flood, heat, or tornado alerts along with a controllable member section model for each during the events in YOUR area, sign-up for the premium member package, which is only $10 for the Summer.   Read below for details on how to join this offer.
---
REMEMBER… your continued want for this service is what keeps the server running and paid for.  A big bill is coming in the Fall and if I can get enough signed up this Summer, I can extend everyone's Summer 2021 package through September.  Thanks for your help!
---
ARIZONA WEATHER FORCE – Click here to Join Arizona Weather Force's package
---