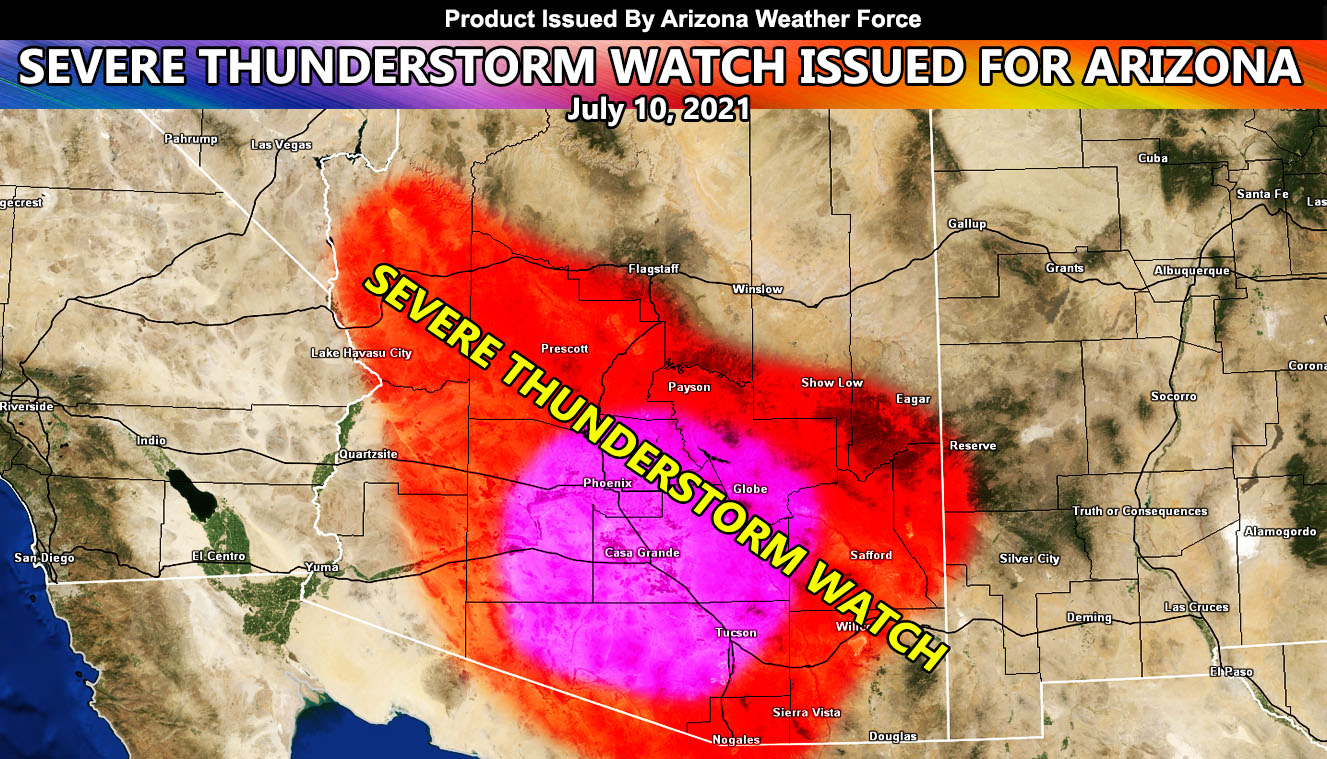 So say again who didn't believe my July 5th forecast article on where the severe storms would be between July 8th and 15th?  I hear cricks from non-believers… Arizona Weather Force has issued a Severe Thunderstorm Watch effective this afternoon, evening, and into some of the night for a good part of Arizona that goes from Kingman southeast through Yavapai, Maricopa, Gila, and into the Pima County areas, which includes the populated zones of Phoenix and Tucson so read on for details …
As per the article on July 5th (Click here), a good chunk of Arizona was shaded within the highest severe storm chance, which does include the risk of isolated tornadoes.  We are nearing the middle of the July 8th through 15th window set for it and we have seen those severe thunderstorms.  Yesterday was a prime example of that down in Tucson, Casa Grande, and a lot of Maricopa and Yavapai County.  My model indicates that a very large area of the state will see storms as they form north and east of the severe storm zones, shoving south and west into the metros, which includes Kingman yet again.  A good portion of you will see this as the 2021 monsoon is just starting to ramp up.  Large hail, damaging winds, and yes even isolated tornadoes are possible with this watch area today, including dust storms in spots.
Storms will weaken as they move toward Havasu to Yuma, BUT you still will feel the attended outflow winds from them as per my model below.  Storms will also affect Bullhead City out of the north/east so look for that if you live there.
---
The Martin Wind Gust Intensity Model below has values as followed; The map below is clickable.
8. Extensive widespread damage.
7. Trees are broken or uprooted, building damage is considerable. – High Profile Vehicle Roll-Over CERTAIN.
6. SOME Trees are broken or uprooted, building damage is possible. – High Profile Vehicle Roll-Over Likely, Do NOT recommend Traveling in this zone
5. Slight damage occurs to buildings, shingles are blown off of roofs. HIGH WIND WARNING CRITERIA – High Profile Vehicle Roll-Over Possible if weight is not corrected.
4. Twigs and small branches are broken from trees, walking is difficult.
3. Large trees sway, becoming difficult to walk. – WIND ADVISORY CRITERIA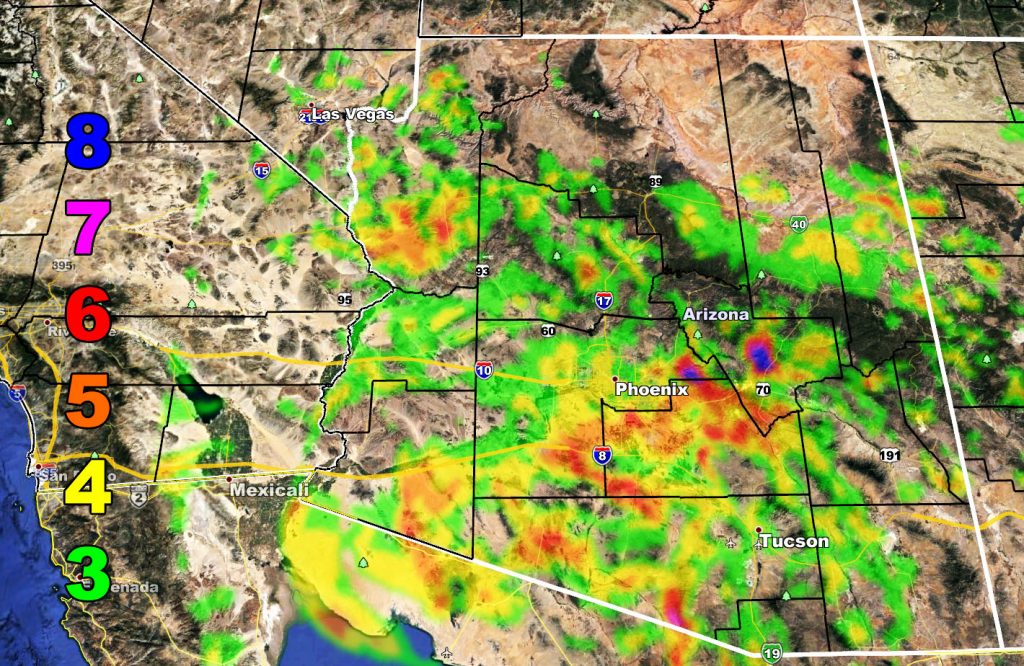 ---
As stated on the 5th, again, we ramp up after July 12th for the Phoenix/Tucson metro areas where more of you would see what is probably the first 'monsoon' look with widespread precipitation developing with numerous areas of lift and possibly an easterly wave moving through.  Like today, those details come the day of the event…
---
Join The Main Arizona Weather Force Facebook Group (50 percent delivery time) – You can join the main AZWF page as well through that group.
Click Here To Join The Page Today!
---
NEW FLAT RATE TIER PROGRAM – GET CUSTOM EMAIL WEATHER ALERTS IN YOUR AREA AND ENTER THE MEMBER SECTION ON THE SITE:  Summer 2021 rates – If you get in after June 1st it is only $10, if after July 1st only $6. If after August 1st only $3 to finish off the Summer Quarterly Tier.  Fall, Winter, and Spring will have their own tiers.
Both Southern California Weather Force and Arizona Weather Force have a cheap Summer 2021 discount to supercharge this service you already get on social media for free.  If you do not want to miss any articles this season because social media does not show you for hours or even days (common) and want to get custom email alerts such as thunderstorm, severe thunderstorm, flood, heat, or tornado alerts along with a controllable member section model for each during the events in YOUR area, sign-up for the premium member package, which is only $10 for the Summer.   Read below for details on how to join this offer.
---
REMEMBER… your continued want for this service is what keeps the server running and paid for.  Thanks for your help!
---
ARIZONA WEATHER FORCE – Click here to Join Arizona Weather Force's package