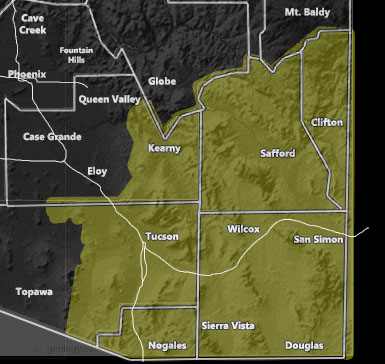 Issued Zones:  Graham, Greenlee, Cochise, and Santa Cruz County … Eastern Pima and Pinal County …
Site:  Arizona Weather Force has issued a Severe Weather Statement effective Sunday … This statement means that the area is pending a higher class alert such as a severe thunderstorm watch in the coming 18-24 hours …
Date:  7/10/21 at 12:25 pm PT
Forecast: A ridge that will bring storms to the Tucson and Phoenix Metros today will migrate west even more into California.  This will provide an almost due north to south flow over the statement area on your Sunday.  This does not include today's event.  For today's event (Saturday, July 10, 2021), refer to the Severe Thunderstorm Watch by clicking here.
Now, north to south flows generally form storms up in the Safford/Clifton areas.  These then shove south directly into Cochise County.  The attended vorticity feature around 18,000 FT will move overhead on Sunday later afternoon and into some of the night.  This will directly affect all of Cochise County and Tucson's Metro areas with a true midwest style line of severe thunderstorms capable of damaging winds, large hail, flooding, and isolated tornado potential. 

Most of Cochise County will not see the severe thunderstorms today (Saturday)… but SUNDAY is when you will get absolutely nailed

---
---
How to get these alerts with a premium subscription via e-mail by micro-climate zone? (100 percent delivery time)
Click Here To Join Through September 1st which takes you through monsoon season as well.
Join The Main Arizona Weather Force Facebook Group (50 percent delivery time) – You can join the main AZWF page as well through that group.
Click Here To Join The Page Today!

10 mile rule:  These alerts issued on this site
means that within your zone and 10 miles from you will see the event
forecast for.  You may or may not see the event but it means you are in
the zone or 10 miles from where someone will.
Forecaster: KM