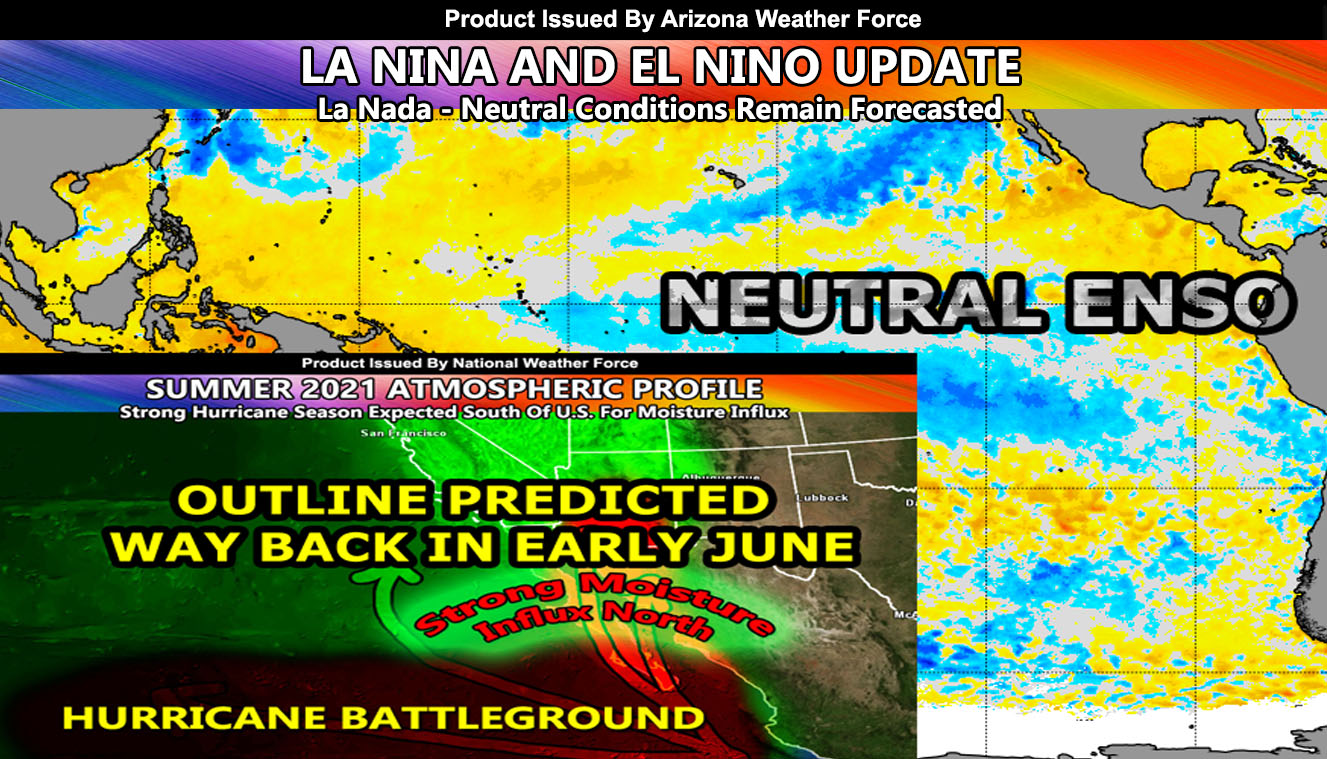 Yes, I have been hearing from many asking me about a La Nina Watch all over the news a couple of weeks back.  While 'the others' may have one out, officially I do not have one out nor plan to issue one this year like I did last year so read on for details …
Here at Arizona Weather Force, HellVision – the Equatorial Pacific Ocean is constantly monitored each week.  Each week a look at the trade winds and ocean temperatures happens toward the end of the weekend.  Models here have accurately predicted in the long term what the status of El Nino or La Nina would be like, sometimes even 6 months prior to the start of Fall.  La Nina has faded, and it is continuing to fluctuate.  However, La Nina is not going to come back.  If you want to say a weak La Nina value in meteorology starts at -0.5 and a moderate at -1.0, with a neutral (neither) near 0, then this year I predict the value in the fall to be between -0.2 and -0.5.  While -0.5 is a weak La Nina, it will not hold that number for long.  We will see warming down there as we hit toward December and the values will go back up near 0 and keep going into the start of an El Nino for Spring of 2022.  A brief one-month episode of -0.5 will not affect our weather and nor does it mean a La Nina Watch needs to go out.
So with all that being said, on average this Fall/Winter I am going with a 0.0 to -0.4, which means a neutral season.  A neutral season means the season can go either way in terms of how much rain we receive here in Southern California.  Neutral seasons tend to do well, however.  After the stronger La Nina last year, it would be pretty tough to beat that as that was a once in every 15-20 year event.
So no, in conclusion, officially… ignore this hype of a La Nina Watch … We are far from it, nor will I be issuing one.  Everything is going according to schedule this summer.  If you missed my Summer 2021 forecast, CLICK HERE.  Pay attention to the date it was posted and how June went as expected and same for July… and it quotes, "Of course, Arizona will always get the most activity, but the ridge shoving moisture eastward into Southern California will be in place this time, especially in July. This season however will be one where it fluctuates by month. I see July being active, but between then and September we will see a dry spell … then get whacked again towards the end of Monsoon Season. Monsoon Season goes from June 15th to September 15th."
So there you have it, there is no La Nina Watch nor do I expect a La Nina to develop.  Our rainy season will be a toss-up, but I'll do my best in September to figure out what kind we will have just like I have so far this Summer.
---
Get these alerts via your own e-mail control panel for your zone, or the closest to you as a full supporting member of this service that saves lives and property – here – https://arizonaweatherforce.com/azwf-discount-member-sign-up-page/
Join the Arizona Weather Force group for photos and pictures, and sometimes updates not posted on the main FB Page – here – https://www.facebook.com/groups/arizonaweatherforecasts
See ALL Active articles and alerts for Arizona here – https://arizonaweatherforce.com/
Arizona Weather Force is a custom weather alert service that began in September 2019 off of Southern California Weather Force and is regarded as the most accurate weather service in the state, offering custom alerts, maps, and models to help save life and property.  The work done here is never 100% accurate, but it comes pretty close.  Arizona Weather Force runs on zones, so if an event happens in a zone that is 10 miles from the border of your zone, the forecast is still valid to activate your zone's alert system.  A company quote to the public is that of "The Joker" and tells other agencies in weather this all the time… "This world deserves a better class of meteorologist… and I'm gonna give it to them"… out-forecasting even the National Weather Service with lead-time and precision, which makes this service a focus of ridicule and envy in the weather community due to having such accuracy. Alerts issued here are issued custom from this office and this office alone. You may not even hear it elsewhere, but if one is issued near or in your area, listen up because "if you do not wish to die in weather, follow, it'll save your life one day."
K.MARTIN
Meteorologist In Charge –
– is a consulting meteorologist for over 50 different companies, including large oil companies like BP. He has certs from MSU and PSU as a meteorologist.  Both short and long-range is very important to know in those jobs so you can bet on accuracy here. He is versed in fields like Western USA, Tornadoes, Floods, Hurricanes, High Winds, Fire Behavior, Snow and Blizzards, Short Range, Long Range, Seasonal, and Life-Threatening decisions with over 20 years experience, out-forecasting even the National Weather Service with lead-time and precision, which makes him a focus of ridicule and envy in the weather community due to having such accuracy.