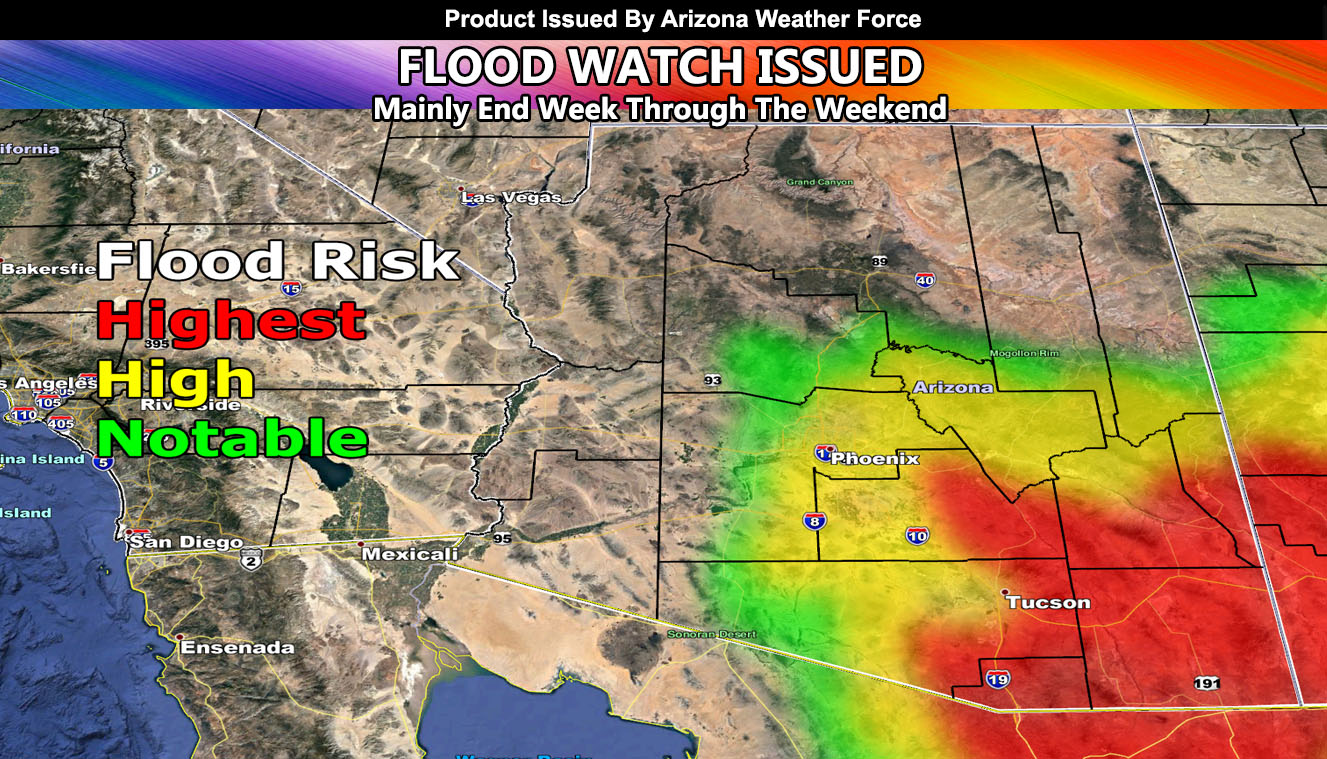 Arizona Weather Force has issued a flood watch effective now through end week into the weekend, with Friday having the strongest effects.  Storms are already happening across the state, but a flood watch is issued when more widespread rainfall events are in the forecast.
Until the end week, I will be issuing daily alerts for focus spots.  Today, the focus spots were Northwest and Southeast half of Arizona.  Severe Thunderstorms blasted through the Enhanced Severe Thunderstorm Watch I issued this morning for the Northwest/West half of the state.  A warning was given for damaging winds that may very well cause damage to boats surrounding Lake Havasu.   Now we move only the watch.
Tropical Storm Kevin has been what has been responsible for the upswing in the monsoon moisture across the state as of late.  Tropical Storm Linda has officially formed today and is poised to be a hurricane south of the region by Thursday, following directly the path Kevin did.  Both her and Kevin will continue to join forces across the state, bringing a strong upswing in deeper-layer moisture across the watch area.  This includes Phoenix, Payson, Tucson, and Cochise surrounding areas end week into the weekend.  There are indications that a similar severe thunderstorm event is in the cards such as the storms of August 2008 due to strong lifting along the Mogollon Rim, sending powerful storms southeastward, which should also hit the Tucson forecast area.  This is when I project the most severe of this event will be.
Stay tuned to Arizona Weather Force for updates on the daily when severe storm watches are issued.  An additional flood watch will likely be needed with Hurricane Linda's effects extending into this next week …
---
Get these alerts via your own e-mail control panel for your zone at 100% where social media IS NOT, or the closest to you as a full supporting member of this service that saves lives and property – here – https://arizonaweatherforce.com/azwf-discount-member-sign-up-page/
Join the Arizona Weather Force group for photos and pictures, and sometimes updates not posted on the main FB Page – here – https://www.facebook.com/groups/arizonaweatherforecasts
See ALL Active articles and alerts for Arizona here – https://arizonaweatherforce.com/
Arizona Weather Force is a custom weather alert service that began in September 2019 off of Southern California Weather Force and is regarded as the most accurate weather service in the state, offering custom alerts, maps, and models to help save life and property.  The work done here is never 100% accurate, but it comes pretty close.  Arizona Weather Force runs on zones, so if an event happens in a zone that is 10 miles from the border of your zone, the forecast is still valid to activate your zone's alert system.  A company quote to the public is that of "The Joker" and tells other agencies in weather this all the time… "This world deserves a better class of meteorologist… and I'm gonna give it to them"… out-forecasting even the National Weather Service with lead-time and precision, which makes this service a focus of ridicule and envy in the weather community due to having such accuracy. Alerts issued here are issued custom from this office and this office alone. You may not even hear it elsewhere, but if one is issued near or in your area, listen up because "if you do not wish to die in weather, follow, it'll save your life one day."
K.MARTIN
Meteorologist In Charge –
– is a consulting meteorologist for over 50 different companies, including large oil companies like BP. He has certs from MSU and PSU as a meteorologist.  Both short and long-range is very important to know in those jobs so you can bet on accuracy here. He is versed in fields like Western USA, Tornadoes, Floods, Hurricanes, High Winds, Fire Behavior, Snow and Blizzards, Short Range, Long Range, Seasonal, and Life-Threatening decisions with over 20 years experience, out-forecasting even the National Weather Service with lead-time and precision, which makes him a focus of ridicule and envy in the weather community due to having such accuracy.