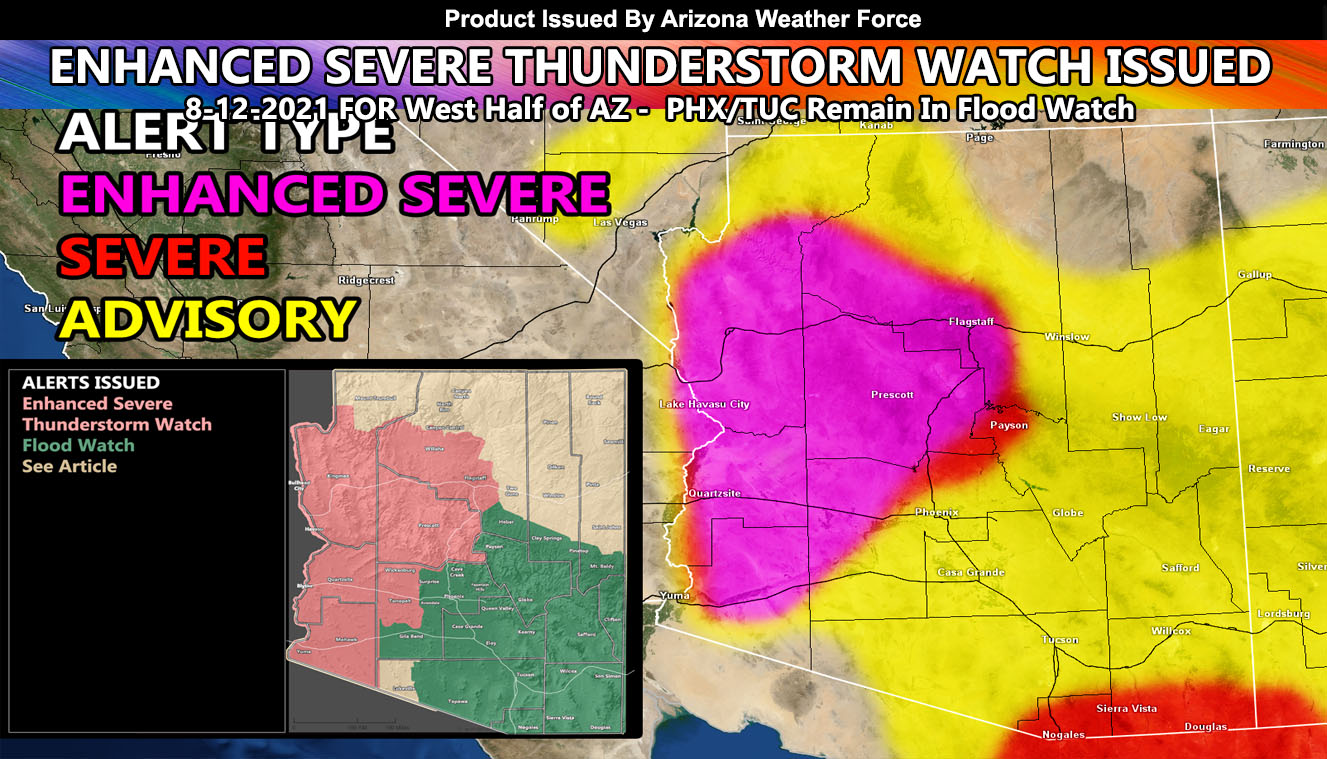 Arizona Weather Force has issued an Enhanced Severe Thunderstorm Watch for the Western Half of Arizona in the same areas that have been clobbered by severe storms for days now.  Outside of this watch, Phoenix and Tucson remain in the AZWF Flood Watch (CLICK HERE TO VIEW WATCH) with increased dynamics Friday on, so read on for details and see the larger model images provided …
It is August 12th and we are climbing that ladder for more widespread severe and flood events for the metro areas of Phoenix and Tucson. But for today, Severe thunderstorms are expected to form over or near Flagstaff.  These will work with an easterly wave that has been stuck over Maricopa County for a while now.  This is why on doppler radar loops you can see the activity rotating around Central County.  This very rare setup I have never seen in my over 22 years of forecasting so of course, something has to give.  A low-pressure center such as that easterly wave is blocking the monsoon ridge from making the storms die after sunset, some remerging overnight before sunrise.  A ridge of high pressure usually pops storms off in the day due to heating and then because high-pressure sinks, they die for the rest of the night.  However, since you have a low-pressure center, or easterly wave, over the state, that creates lift that overrides the sinking air of the ridge, a reason you have seen storms even when the Sun is not out.
Storms today forming over Flagstaff will utilize the northwest end of the low over Phoenix.  This will drive them southwest towards the Parker forecast area and eventually due south along or just east of the Colorado River Valley as they rotate around the west end this evening/night.   These storms will be capable of large hail, damaging winds, and even the risk of an isolated tornado, with the isolated tornado chance being mainly Yavapai County.  The AZWF models for wind and hail are clear, the wind is in the extreme category and because of that, the Enhanced Severe Thunderstorm Watch was issued.  The image in this post shows where in the state the most severe will be.  I did include the Northwest half of Maricopa County due to any activity forming northeast near I-17 that would bring outflow down through the Wickenburg forecast area as well.  It's all up in the air, but generally, that is the pattern should storms form there.
It does look like this will try to make a run at Havasu and Parker's forecast area, thus you also were included.  If you are out this afternoon, pay attention to the radar on whatever device you get it from.  You'll see the signs hours before it makes a run at you from Yavapai County.
As for the rest of Arizona, within the yellow area on this post.  That's where your notable but hit/miss storm activity will be.  It means it can storm on one side of the city while you remain dry, or you get hit while the other side is dry.  Those areas in yellow make a switch on Friday as the easterly wave opens up into an inverted trough in Southern Arizona tonight, making the flow storm circulating around Phoenix and brings both Phoenix and Tucson's forecast areas a due east to west flow.  Friday and Saturday are poised to be the most active days in the metros for widespread severe storms and/or flooding under rain shields.
Well, that is it, Linda has made it to a hurricane and will be the one responsible for influencing your weather over the next 5 days or so.
Here are your images from the AZWF model for today, lasting until sunrise tomorrow morning – and they ARE CLICKABLE to make them larger…
---
Get these alerts via your own e-mail control panel for your zone at 100% where social media IS NOT, or the closest to you as a full supporting member of this service that saves lives and property – here – https://arizonaweatherforce.com/azwf-discount-member-sign-up-page/
Join the Arizona Weather Force group for photos and pictures, and sometimes updates not posted on the main FB Page – here – https://www.facebook.com/groups/arizonaweatherforecasts
See ALL Active articles and alerts for Arizona here – https://arizonaweatherforce.com/
Arizona Weather Force is a custom weather alert service that began in September 2019 off of Southern California Weather Force and is regarded as the most accurate weather service in the state, offering custom alerts, maps, and models to help save life and property.  The work done here is never 100% accurate, but it comes pretty close.  Arizona Weather Force runs on zones, so if an event happens in a zone that is 10 miles from the border of your zone, the forecast is still valid to activate your zone's alert system.  A company quote to the public is that of "The Joker" and tells other agencies in weather this all the time… "This world deserves a better class of meteorologist… and I'm gonna give it to them"… out-forecasting even the National Weather Service with lead-time and precision, which makes this service a focus of ridicule and envy in the weather community due to having such accuracy. Alerts issued here are issued custom from this office and this office alone. You may not even hear it elsewhere, but if one is issued near or in your area, listen up because "if you do not wish to die in weather, follow, it'll save your life one day."
K.MARTIN
Meteorologist In Charge –
– is a consulting meteorologist for over 50 different companies, including large oil companies like BP. He has certs from MSU and PSU as a meteorologist.  Both short and long-range is very important to know in those jobs so you can bet on accuracy here. He is versed in fields like Western USA, Tornadoes, Floods, Hurricanes, High Winds, Fire Behavior, Snow and Blizzards, Short Range, Long Range, Seasonal, and Life-Threatening decisions with over 20 years experience, out-forecasting even the National Weather Service with lead-time and precision, which makes him a focus of ridicule and envy in the weather community due to having such accuracy.