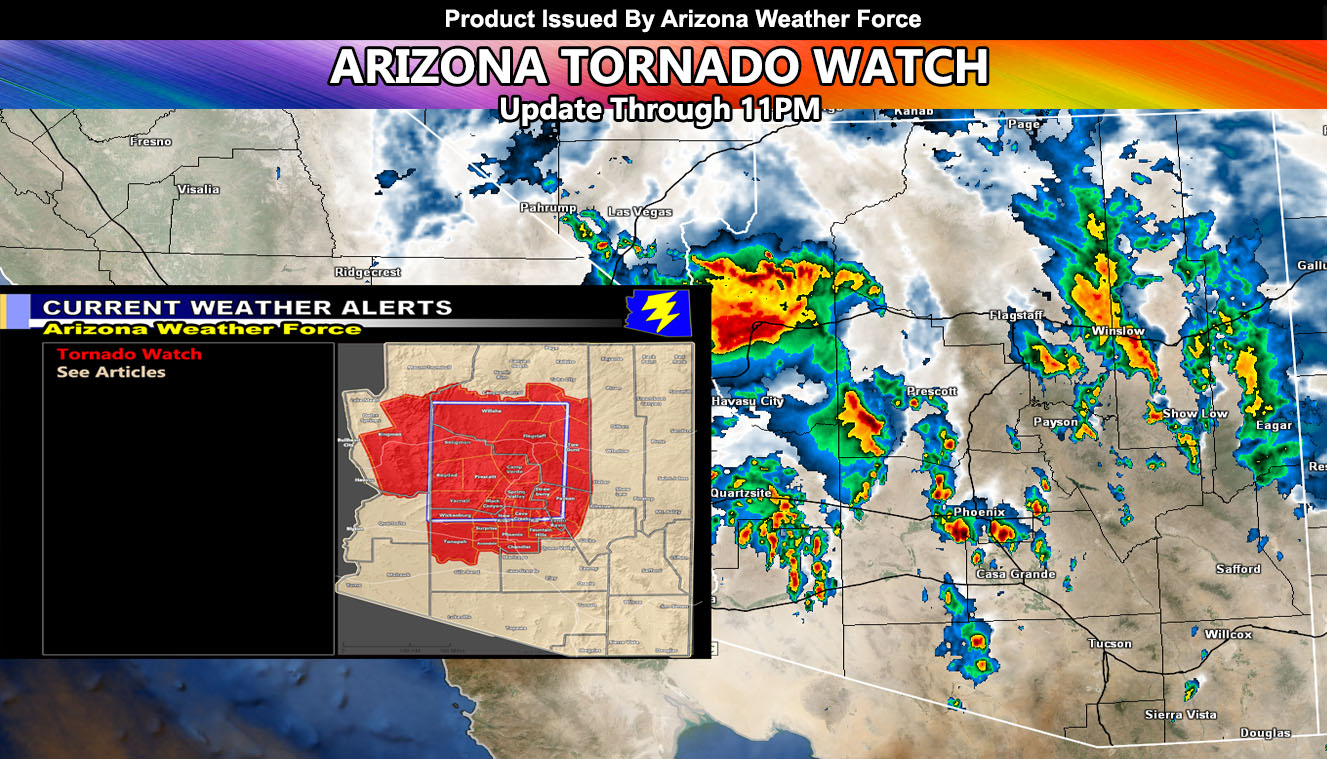 This morning at 7:00am Arizona Weather Force activated the official Tornado Watch product, a rare but not unheard of product.  Severe Storms have moved through the Western Arizona regions of the watch area, but indications are the storms will get stronger in and around the watch zone so read on for details …
The tornado watch centers Yavapai County southward to Maricopa County and up through Flagstaff.  Storms are expected to continue to strengthen as strong instability has developed over the region.  The watch ends just north of Phoenix at the Southern end, but it looks as if I will need to extend it to Downtown with the activity later on, which will cover the entire valley area from west to east.  Storms already are showing signs of rotation and this will continue to get stronger as we move through the 2PM hour, especially near the Central Yavapai zones.  Storms will continue to Flagstaff through the 5-6pm hour and finally exit the region after 11pm when the watch expires.
Storms today will continue to bring damaging winds and large hail, in addition to flooding, especially Northern Arizona.
IMAGE is clickable and of the tornado watch zone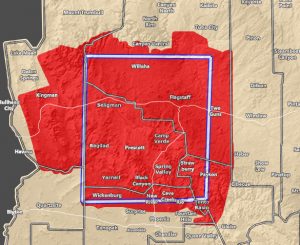 ---
Get these alerts via your own e-mail control panel for your zone, or the closest to you as a full supporting member of this service that saves lives and property – here – https://arizonaweatherforce.com/azwf-discount-member-sign-up-page/
Join the Arizona Weather Force group for photos and pictures, and sometimes updates not posted on the main FB Page – here – https://www.facebook.com/groups/arizonaweatherforecasts
See ALL Active articles and alerts for Arizona here – https://arizonaweatherforce.com/
———-
Raiden Storm
Master Meteorologist – is a consulting meteorologist for over 50 different companies, including energy, agriculture, aviation, marine, leisure, and many more areas. He has certs from Mississippi State for broadcast met and Penn State forecasting certs MET 101, 241, 341 and 361 as a meteorologist, but before then was completely self taught, barely learning a thing from the schools that he did not already know.
Both short and long-range is very important to know in those jobs so you can bet on accuracy here. He is versed in fields like Western USA, Tornadoes, Floods, Hurricanes, High Winds, Fire Behavior, Snow and Blizzards, Short Range, Long Range, Seasonal, and Life-Threatening decisions with over 22 years experience, out-forecasting all weather services available today with lead-time and precision, which makes him a focus of ridicule and envy.
NOTE: Alerts are posted on here, be it a tornado watch, etc, and these alerts are issued from this office and nowhere else. At times, which is often, you will see an alert forecast posted on here that you do not see elsewhere. That is fine, the track record of the main office is very high so maintain to follow an event when posted.