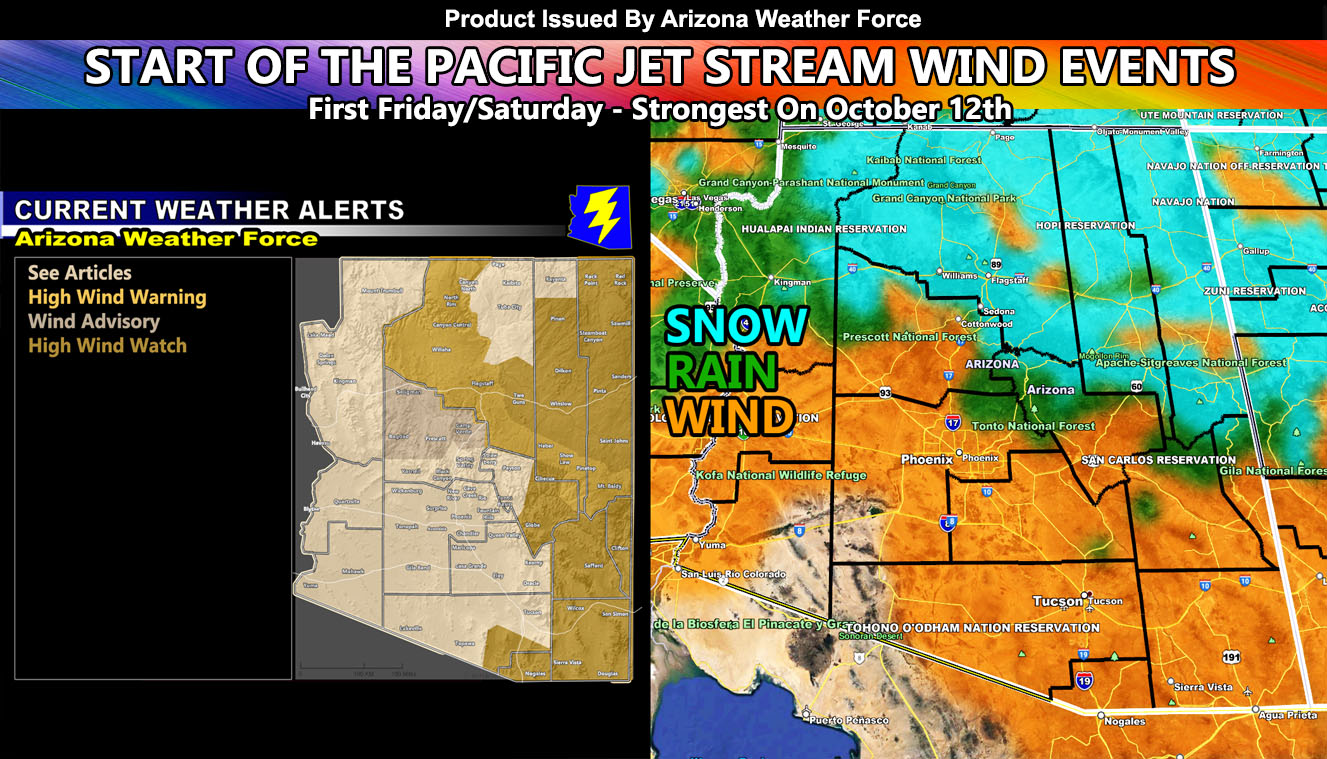 Fall is generally the time when Arizona starts to see powerful jet stream driven systems hit the state, and this next event will be no exception to the rule for some of you.  AZWF controls the entire state of Arizona and as we dip into Fall, Winter, and Spring Season, the AZWF high resolution models and forecasts come out, and these are highly different from monsoon season.  These can pinpoint with precision what to expect, the focus between now and the next six days will be two systems, and some of you will see gusty winds, others damaging, The rim the first snow (minor), and some even thunderstorms.  Depending where you are is what you will see so read on for details as Arizona Weather Force has issued a Special Weather Statement for the state, with wind alerts like advisories and warnings for the rim, along with watches for the Eastern State …
The Arizona Weather Force wind gust models have been updated and they are viewable below.  These models are simple, the dates are shown in the wording above them whether row 1, row 2, and so on.  There really is no discussion with them, so you have Friday and Saturday, October 8-9th, and then again on October 12th all for you below.  The Martin Wind Gust Intensity Scale will return again this year.  I do deal with MPH, I deal with the effects the winds will cause, such as traveling with a high profile vehicle, these models have and will continue to save lives with anyone wanting a route that is not to be the worst, such as truckers and campers.
Friday – The wind models are below, but on Friday the Northwest half of Arizona is expected to get the rain storm storm activity.  Nowhere else is expected.  For Friday and Saturday I have wind advisories for Prescott's forecast area, and High Wind Warnings for the Mogollon Rim cities from The Grand Canyon, Flagstaff, all the way across to the AZ/NM border along the rim, so this will be your first wind event from a Pacific Jet Stream this season.
October 12th – This will affect more of Arizona as it dips into the region.  But oh boy is Utah going to be hit good with it.  Arizona will be on the southern end of the system, however it is cold enough for Flagstaff"s first snow, even the rest of the Mogollon Rim cities, the snow-level then around 5,500 FT with sleet down to 4000-4500.  The strong winds through the entire state will bring 'onshore' flow into the southern rim, so areas like Rio, Fountain Hills, or anyone near the mountain/foothill zones (Tonto Basin) will see the chance of rainfall then, ,including the Phoenix Metro areas with a line of isolated thunderstorms during the night between 10-11 or 10-12.
NOTE: Micro-climate alerts for smaller areas that do not contain metros like Phoenix or Tucson are NOT posted on the main Arizona Weather Force Facebook Page, which can be found by clicking here.   They however ARE posted on the main Arizona Weather Force GROUP where members post photos and videos.  ALL alerts issued from this office are posted there and you can find it by clicking here
ALTERNATIVE PREMIUM SERVICES:  You can be a premium member and get your own control panel for your area to receive micro-climate alerts by email when issued.  This is a great way to not wait for social media.  We all know what happened at Facebook, but this website will always work to send emails.   Usually $20 a season for the start, it is $13 for service now through November 30th, a great deal.  On November 1st, it drops to $6 to finish the month.  On December 1st, the Winter Tier begins and it pushes back to $20.  So if you want service for these events for the rest of the Fall Tier until November 30th, CLICK HERE TO JOIN THE SERVICE …
---
Now for your wind images …
Martin Wind Gust Intensity Scale – Use for Wind Images Below

8. Extensive widespread damage.
7. Trees are broken or uprooted, building damage is considerable. – High Profile Vehicle Roll-Over CERTAIN.
6. SOME Trees are broken or uprooted, building damage is possible. – High Profile Vehicle Roll-Over Likely, Do NOT recommend Traveling in this zone
5. Slight damage occurs to buildings, shingles are blown off of roofs. HIGH WIND WARNING CRITERIA – High Profile Vehicle Roll-Over Possible if weight is not corrected.
4. Twigs and small branches are broken from trees, walking is difficult.
3. Large trees sway, becoming difficult to walk.  WIND ADVISORY CRITERIA
I control all the counties in Arizona so there is a lot to say for various areas. The best I can do is let the images below speak for themselves. They are separated into two rows of four. Four zones that I control. If you are in Arizona, you are in one of these. Each is identical so zone 1 is the same on all the rows and so on.  Here is the key to the rows below.  They are extremely detailed.  Zone 1 is NW AZ, 2 is NE AZ, 3 is SW AZ including Phoenix, and 4 is SE AZ including Tucson.
Row 1 – Wind Risk for Friday and Saturday 10-8-9-2021
Row 2 – Wind Risk for Tuesday, October 12th, 2021
NOTE:  You also can get e-mailed alerts/articles because if you do not want to miss my social media posts, and/or I issue a product not on my social media accounts, being a supporting website member is the way to go.  Click here if you are interested in reading more. 
Row 1 – Wind Risk for Friday and Saturday 10-8-9-2021
---
Row 2 – Wind Risk for Tuesday, October 12th, 2021
---
MAIN WEBSITE:  Don't forget.  If you hear rain or anything is coming to the area.  BOOKMARK THE MAIN WEBSITE BY CLICKING HERE.  The stream has the latest alert links, a map of alerts and where, and articles.  That is 100% free to view.  There should be no reason you shouldn't be informed.
As always, stay tuned to Arizona Weather Force for official forecasts and updates on weather across Arizona and if it says 'like page' below, hit the button and get future updates.  If it says liked, don't hit it because that's unfollowing and you won't get updates at AZWF page on your feed