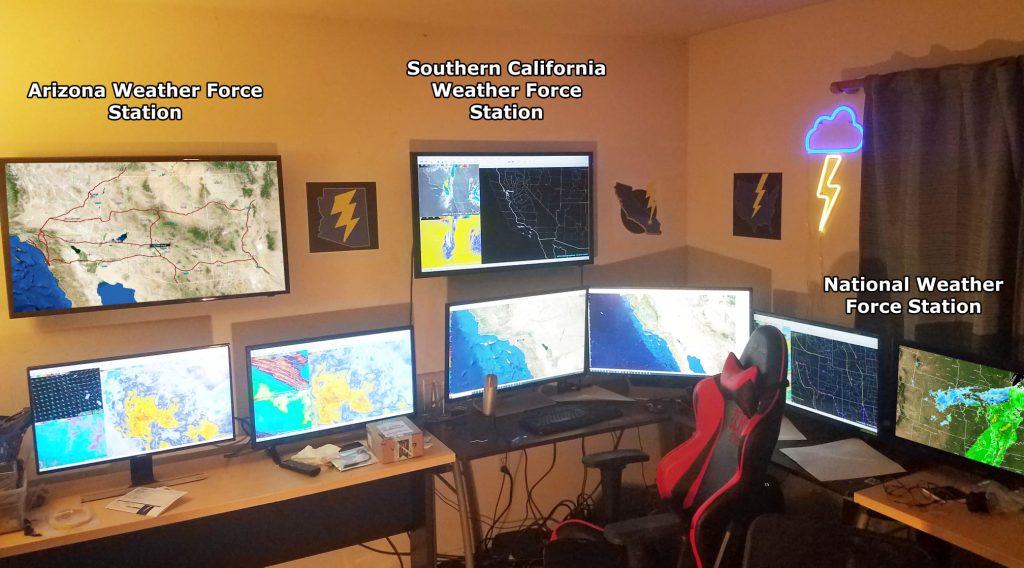 ABOUT THE 2021-2022 ANNUAL FUNDRAISER AND SUBSCRIBER SYSTEM
Greetings,
Every year around this time before September a fundraiser goes out that should last a year.  Each year the participants grows because each year these funds are put to good use to upgrade the servers, computers, software, studio for video and audio forecasts, advertising, and much more.  Each year these forecasts are getting more accurate and this is all because of you.  AZWF does not accept corporate sponsors and never will.  This service has been given to the people to help keep the lights on as long as they want it.  People like you have helped keep AZWF above ground.   I personally do not want to take another $30,000 loan from PayPal again like I've done in the past in order to keep this service and even make it better.  The weather models this year are in need of a stronger computer, and these are expensive.  This system will be over $10,000, and with that I will be able to bring the fall/winter/spring snow, rain, wind, flood models to a higher resolution that just might show what city will see what and which will not.  The difference between snow from Chino Valley to Prescott or Payson to Pinetop and so on.  This is the goal this year.
This year (2021) the main AZWF Facebook Page has grown to almost 40,000 people.  Predicting major monsoon events is what did it because no one else could do it.  I was awake for 20 hour days for 10 days trying to peg down which areas would see the worst of the event and to get these forecasts out in a timely manner.  Lead-time is very important to me and I know it is for you as well.  Lead-time is the strongest part of Arizona Weather Force, a reason people are remaining with the service today.  12 hours can be the difference of life or death for you, a loved one, or livestock.  I sat in the comment section on the main Facebook page and tried to answer as many questions as I could.  I do have multiple monitors so that's always a plus.
I may seem come off as 'odd' and many wonder why I do what I do.  A very tragic event happened to my best friend when I was 15, which made me dislike and despise NWS/NOAA to this day.  They made a wrong forecast.  I was looking over a few things and made my own forecast.  I said do not go… my friend did go, and stated because "NWS says clear skies".   Well that cost him his life.  Ever since then I vowed to create the largest and most accurate weather services the region has ever seen.  An actual service where it actually saves lives.  What was Southern California Weather Force become Arizona Weather Force in 2019 and the rest was history.  I'm here because viewers from SCWF moved to Arizona and a lot wanted me to forecast for the state.  So in September 2019 I gave in because I saw how I could get my foot in the door.  It was a tornado chance in the Phoenix areas somewhere.  I strapped a tornado watch out, it went viral, starting in Cave Creek and then spreading across the state that day.  Had a lot of naysayers like I always do when I am new to a region.  A tornado hit New River that day and then everyone started to pay attention.  Since then I have predicted every single major life threatening event the state has ever had, all people have to do is find me …
So that is it, enough of the rambling.  If I can just get half of my FB page to donate $1, $2, or $3 to the fundraiser links below, this service will skyrocket more than you've seen so far.  The goal I set is a high goal, in the mid five figures to get this where I know I can get it.  I'm confident that with everyone chipping in even the minimum that this can work in everyone's favor.
Here are the ways to help this service.  You can donate for nothing in return other than to help out or a thanks for any help given on the $1, $2, $3 bit, or you can subscribe to the e-mail alert system where you get the custom weather alerts delivered to you in a zone you are in or nearby.
PAYPAL DONATE – To donate via PayPal, Click Here
---
VENMO DONATE – To donate via Venmo, Click Here – or the username to donate is @NationalWeatherForce
---
GOFUNDME DONATE – To donate via the GoFundMe Campaign, Click Here
---
SUBSCRIBE TO THE ALERT SYSTEM – Monthly is ONLY available via PayPal Subscriptions at only $7/month – But Venmo is available for the flat rate tier pricing – non-monthly –
ABOUT SYSTEM:  AZWF has an e-mail alert system.  You can hook it to any e-mail that you want to receive alerts from in a control panel you control.  You checkmark zones near you in that system, hit update preferences at the bottom, and you are in.  You receive alerts directly from my office like flood watches, severe thunderstorm watches, high wind, snow, blizzard, long range, tornado, and regular articles.  You do not have to wonder if social media will show you these in your newsfeeds.  Many times they do not for days, which is just their algorithm process.  You are not left out.  AZWF alert system works in four quarterly tiers, each season starting at $20 for 3 months of service, which is extremely low and pays for itself in one event should you have lost property especially.  The price goes down each month throughout the four tier season.
Non-Monthly – Click Here To Join Via The Current Tier Price VIA PAYPAL
Non-Monthly – VENMO – Current tier price to send for service from January 1st through February 28th (Winter Quarter) is $13 to the Venmo.  Click here – or send to username @NationalWeatherForce – IMPORTANT:  When giving the amount listed, put in the subject "AZWF and your EMAIL ADDRESS you want on the system" – That is very important so I know it is for Arizona Weather Force and not Southern California Weather Force.
Monthly – Click Here To Join Monthly For $7/month – PayPal ONLY
---
Once again, thank you for being a part of this growing weather service, which should become the largest commercial weather service and alert system in Arizona within the year if we all work together …