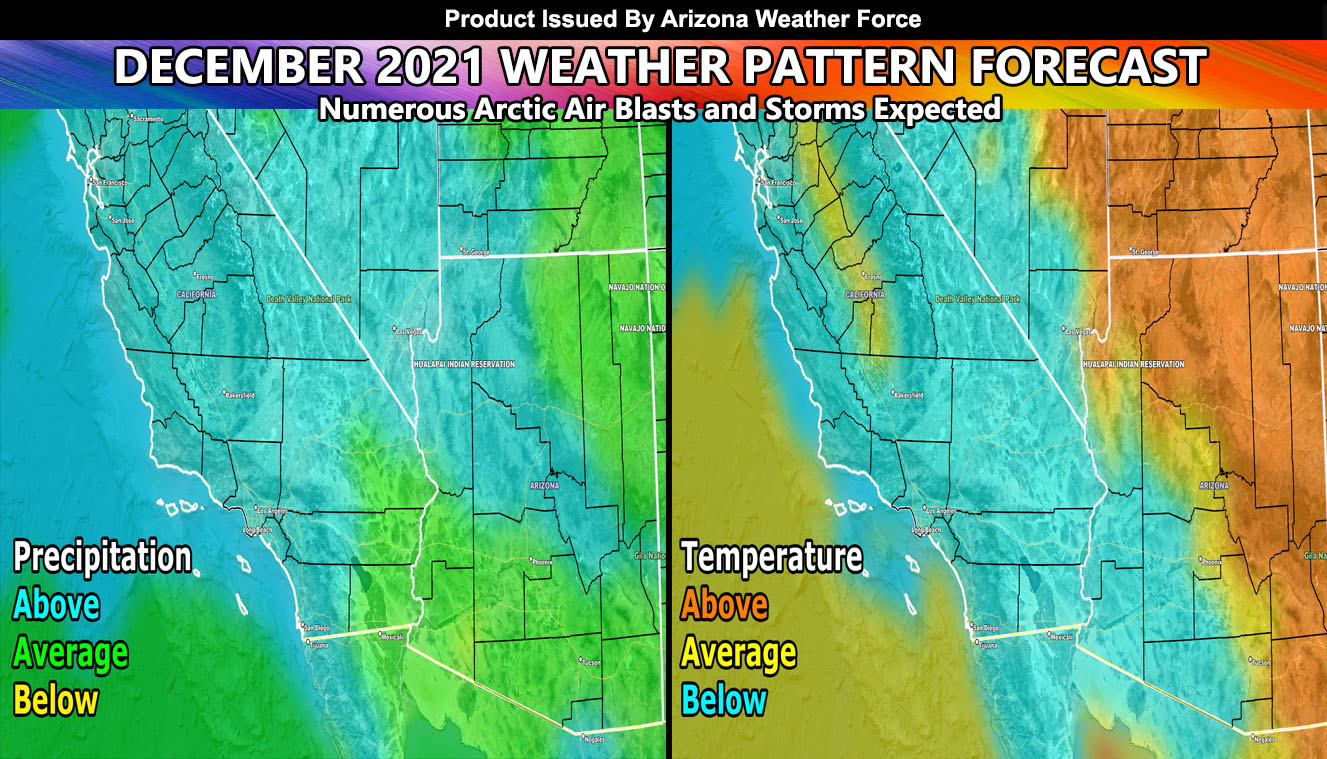 December 2021 remains to be seen as one of the most active months that this season will hold, given an eastern-based weakening La Nina.  The month will be completely 100% opposite of what this last month was, both precipitation and temperature-wise and this is for both Southern California and Arizona Weather Force so read on for details after the first paragraph
---
NOTE:  The Winter 2022 Tier for MEMBERS and ANYONE INTERESTED is OPEN.  This is when you get these delivered to your e-mail of choosing AND get your own micro-climate alert system based on your zone for my winter and storm alert products that are not posted on social media when issued.  You also get the member section, which has controllable models like rain, wind, snow, in high resolution along with a GPS feature which is updated when an event is in the area – 
CLICK HERE TO LEARN MORE AND SIGN-UP –
If you are a current member and NOT on a monthly plan, your Fall 2021 tier expires December 1st so renew today before the date to keep the service –
---
ARTICLE START
As you know, I was late on the November 2021 forecast, so my model extended to the end of the first week of December.  I did not predict rainfall for the entire month, but did predict a system sometime during the first week of December for that week is over.  I still see the pattern changing to bring a system near or over the area sometime around December 7th or so.  This, as always, will be closely monitored.
The month however, the rest of the month of December looks extremely active.  The ridge will breakdown and allow long-wave Pacific Ocean troughs to develop.  This will bring in both arctic air and moisture across the region mid-December with off and on systems through the end of the month.  We could very well see the snow on our mountains and the High Desert of Southern California during this period, which looks like a low elevation snow-level event coming.
Because some of the systems will be straight down into California, the cold air provided with them will also affect Arizona.  Arizona, at times, will be within the strongest sector, which would own to numerous snow events in the mountain areas and a couple low elevation snowfall events mixed within it along with thunderstorms.  However, because the ridge would be closer to Colorado, expecting above normal temperatures for the north and eastern half of the state, average to below average temperatures for the rest of the region.
I would highly encourage everyone to remain tuned to the forecasts I give in the future and to also get ready for flood events if in a flood prone zone or burn scar area …
So here is the breakdown –
---
Southern California
Precipitation: Above average
Temperatures: Below Average
Arizona
Precipitation: Average / Above Average
Temperature:  Equal chances use the map provided below.
---
NOTE:  You also get e-mailed alerts/articles because if you do not want to miss my social media posts, and/or I issue a product not on my social media accounts, being a supporting website member is the way to go.  You get your own control panel with hundreds of zones to choose from to receive my custom alerts from.  Click here if you are interested in reading more.  
---
MAIN WEBSITE:  Don't forget.  If you hear rain or anything is coming to the area.  BOOKMARK THE MAIN WEBSITE BY CLICKING HERE.  The stream has the latest alert links, a map of alerts and where, and articles.  That is 100% free to view.  There should be no reason you shouldn't be informed.
As always, stay tuned to Arizona Weather Force for official forecasts and updates on weather across Arizona and if it says 'like page' below, hit the button and get future updates.  If it says liked, don't hit it because that's unfollowing and you won't get updates at AZWF page on your feed