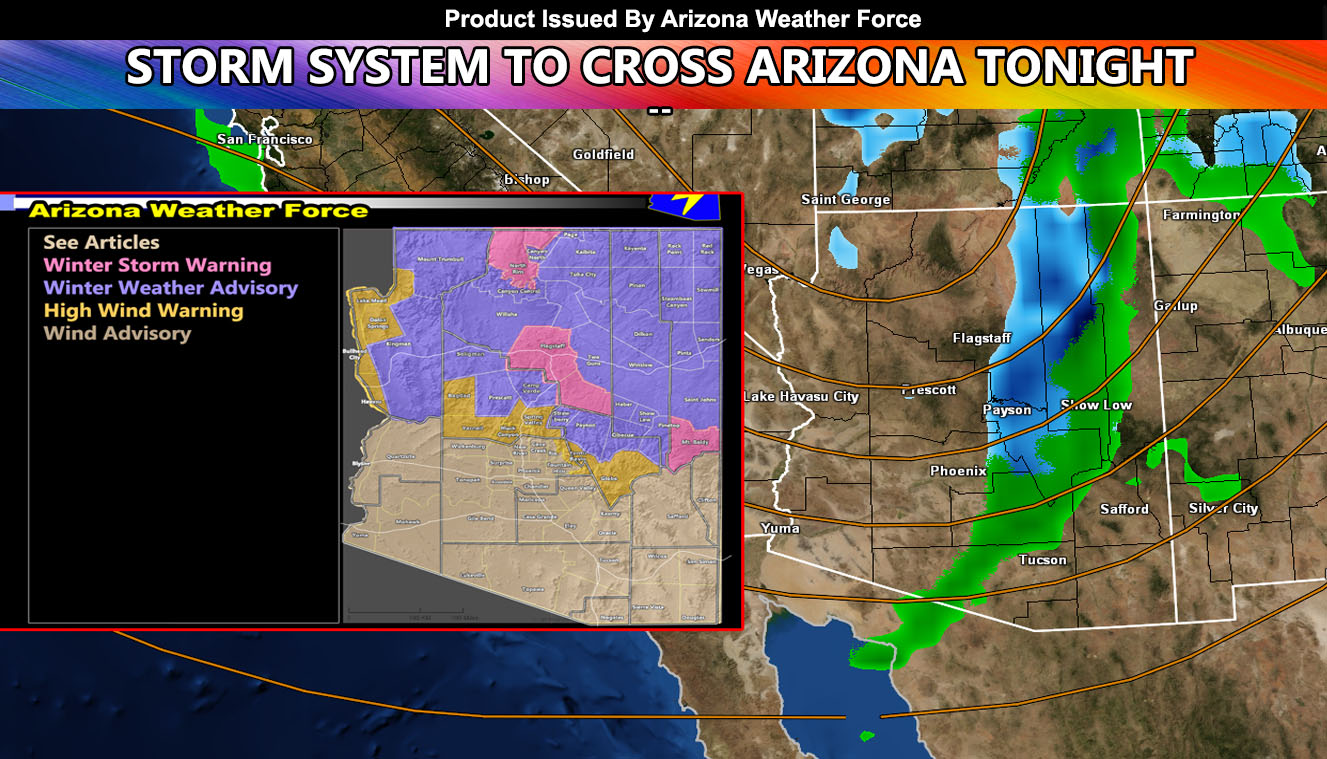 FULL IMAGE and GPS SUITE RELEASED FOR STORM, INSIDE ARTICLE:  The system will hit mainly on tonight and into Wednesday morning, The brunt overnight tonight will have damaging winds along a squall-line that will be capable of downing trees and power-lines.  There is a Heavy snow is also going to hit Flagstaff but the AZWF GPS Model Suite for rain, snow, and wind has been updated so for your area, read on and see the images within.
Things to note is that this is not a major rain maker in the Phoenix/Tucson areas.  This will bring some rain along a very thin squall-line, but the damaging wind potential in spots is the key in these areas.  I mean, even the Tucson area on the AZWF wind model below shows a gap in it, with most of the damaging winds south of Downtown.  Never-the-less, the system will bring those damaging winds to the area, but most of the heavier precipitation will be in Central/Northern Arizona where the strongest upper dynamics exist overnight.
Below are the AZWF models for tonight into Wednesday morning in the form of rain, snow, and wind.  They are clickable.  Image 1 is NW AZ, 2 is NE AZ, 3 is SW AZ, and 4 is SE AZ –
Rain – Valid Tonight into Wednesday morning
---
Snow- Valid Tonight into Wednesday morning
---
Wind – Valid Tonight into Wednesday morning
Martin Wind Gust Intensity Scale –
8. Extensive widespread damage.
7. Trees are broken or uprooted, building damage is considerable. – High Profile Vehicle Roll-Over CERTAIN.
6. SOME Trees are broken or uprooted, building damage is possible. – High Profile Vehicle Roll-Over Likely, Do NOT recommend Traveling in this zone
5. Slight damage occurs to buildings, shingles are blown off of roofs. HIGH WIND WARNING CRITERIA – High Profile Vehicle Roll-Over Possible if weight is not corrected.
4. Twigs and small branches are broken from trees, walking is difficult.
3. Large trees sway, becoming difficult to walk. POWER SHUTDOWN THRESHOLD DURING FIRE WEATHER / WIND ADVISORY CRITERIA
---
Snow-Level and intensity charts – How to read these maps provided. It shows you a line that goes from the title on the left. This line works with the time-line on the bottom so you can see it shows the Prescott line in the rain marker until tonight and then it crosses into the dark blue threshold. This is the sticking snow.  Match that with the color block intensity for that hour and you have the forecast.  It shows the snow-level drops at the end of the 'heavy' category and tapers off to convective showers, a reason I only have Downtown and the Prescott Valley in the dusting to 2″ category on the forecast model above.
---
FACEBOOK PAGES TO JOIN!
ARIZONA WEATHER FORCE MAIN:  Southern California Weather Force Office Main Page For updates
These maps in this article are also on the Member Section GPS that is open to the public until this storm has passed, then it goes to members only.  If you like the GPS feature, consider getting a membership this season.
Click Here for the GPS Member Section
---
LONG RANGE:  With the ridge shoved west to north of Hawaii, the door remains open for storm after storm through the end of the month for the region so stay tuned for updates …
---
If you are NOT receiving the e-mails and are a full member, your account is either expired or you need to troubleshoot.  To troubleshoot, here is the link to get situated.
NOTE:  You also get e-mailed alerts/articles because if you do not want to miss my social media posts, and/or I issue a product not on my social media accounts, being a supporting website member is the way to go.  You get your own control panel with hundreds of zones to choose from to receive my custom alerts from.  Click here if you are interested in reading more.  
---
MAIN WEBSITE:  Don't forget.  If you hear rain or anything is coming to the area.  BOOKMARK THE MAIN WEBSITE BY CLICKING HERE.  The stream has the latest alert links, a map of alerts and where, and articles.  That is 100% free to view.  There should be no reason you shouldn't be informed.
As always, stay tuned to Arizona Weather Force for official forecasts and updates on weather across Arizona and if it says 'like page' below, hit the button and get future updates.  If it says liked, don't hit it because that's unfollowing and you won't get updates at AZWF page on your feed