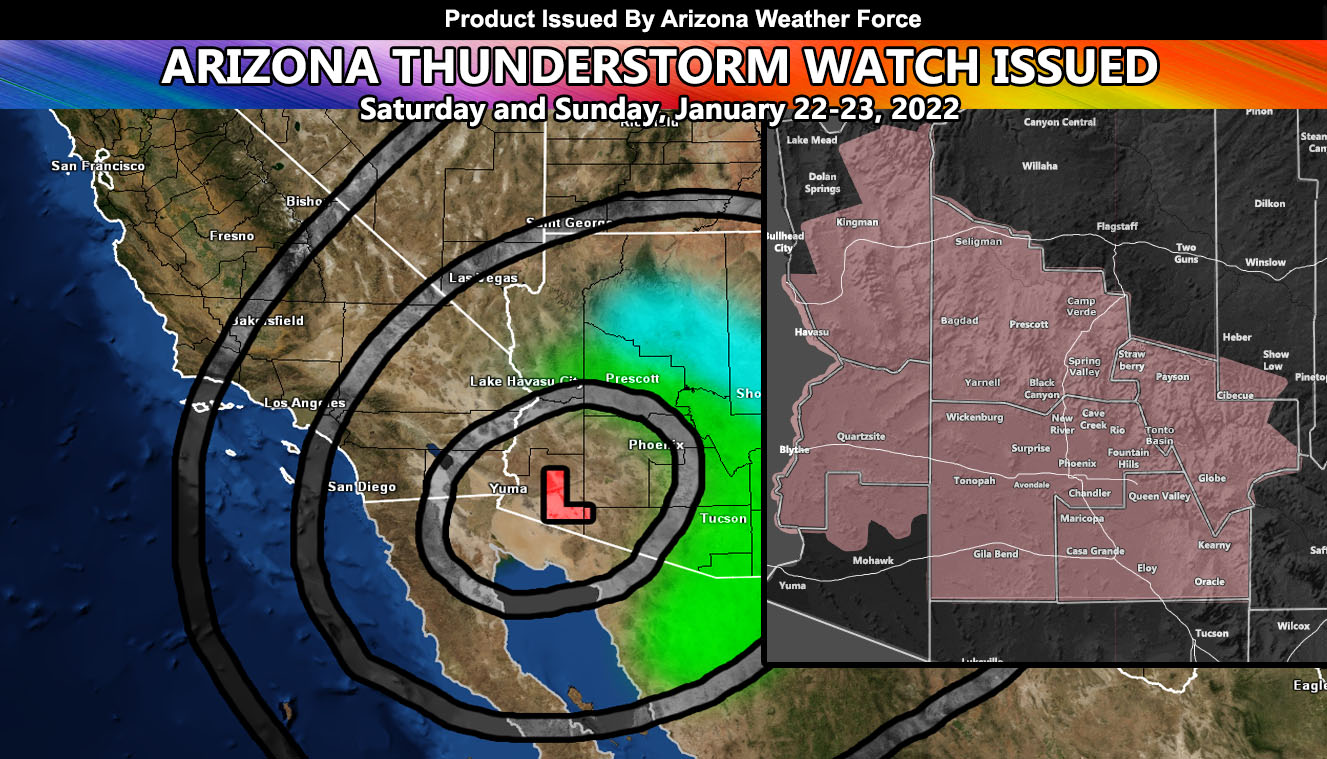 Arizona Weather Force has issued a Thunderstorm Watch effective Saturday and Sunday for Central and Western Arizona, including the Phoenix Metro zones and Mogollon Rim so read on for details …
A potent upper-level low now south of Las Vegas will drop to over Yuma by tomorrow (Saturday) and pick up moisture as it does so out of the south.  This moisture will become wrapped around it and provide the following regions with off and on shower AND thunderstorm activity starting Saturday early morning and going through the day, night, and even into Sunday.
The regions pinpointed for this on the northeast lifting sector of the storm will be; The Phoenix Metro, Colorado River Valley Havasu to Kingman and Quartzsite, all of Yavapai, Maricopa, Gila, and Pinal County …
Those are the areas of the most focus from the system this weekend.  Storms within it can contain gusty winds and some hail.  Snowfall will be light, but possible above 5,000 FT …
---
FACEBOOK PAGES TO JOIN!
ARIZONA WEATHER FORCE MAIN:  Arizona Weather Force Office Main Page For updates
These maps in this article are also on the Member Section GPS that is open to the public until this storm has passed, then it goes to members only.  If you like the GPS feature, consider getting a membership this season.
Click Here for the GPS Member Section
---
If you are NOT receiving the e-mails and are a full member, your account is either expired or you need to troubleshoot.  To troubleshoot, here is the link to get situated.
NOTE:  You also get e-mailed alerts/articles because if you do not want to miss my social media posts, and/or I issue a product not on my social media accounts, being a supporting website member is the way to go.  You get your own control panel with hundreds of zones to choose from to receive my custom alerts from.  Click here if you are interested in reading more.  
---
MAIN WEBSITE:  Don't forget.  If you hear rain or anything is coming to the area.  BOOKMARK THE MAIN WEBSITE BY CLICKING HERE. The stream has the latest alert links, a map of alerts and where, and articles.  That is 100% free to view.  There should be no reason you shouldn't be informed.
As always, stay tuned to Arizona Weather Force for official forecasts and updates on weather across Arizona and if it says 'like page' below, hit the button and get future updates.  If it says liked, don't hit it because that's unfollowing and you won't get updates at AZWF page on your feed