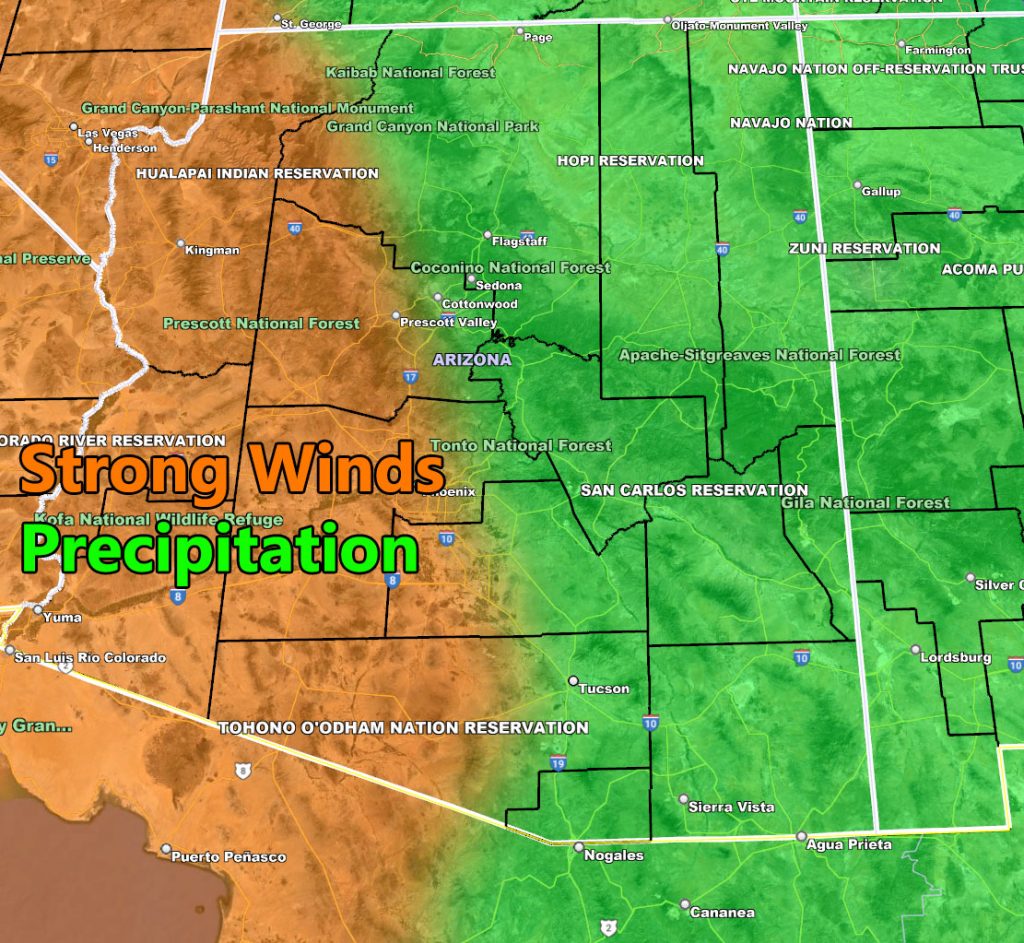 Discussion: I will be touching on this more tomorrow, but what I do have for you is a system that will dive into Arizona on Wednesday, splitting the state into two separate weather events…
The Eastern half of Arizona will see some precipitation and mountain snow. We're still a 2-3 days out so this will shift around some as the final track of the upper system is calculated.
The Western half of Arizona will see the strong winds on the western edge of the system diving in. This means that the Colorado River Valley will see 50-60 mph gusts, possibly stronger… and Phoenix to Tucson would get in on the high wind gust action as well … The chances this changes is higher for Tucson/Phoenix than the Colorado River Valley because of how the system is trending. If it remains on the current course, then all I said in here stands the best chance at happening.
The system's final track if I had to go ahead and go for it now for your planning purposes is exactly how I type it out in here from the precipitation to the strong northerly winds and where they would be.  This track puts snowfall on the Mogololon Rim fr om Flagstaff through Payson and into the Pinetop areas as well as Mt. Baldy.  I would prepare for wintry conditions on Wednesday in those areas and gusty to damaging winds for the Western half of the state …
---
FACEBOOK PAGES TO JOIN!
ARIZONA WEATHER FORCE MAIN:  Arizona Weather Force Office Main Page For updates
---
If you are NOT receiving the e-mails and are a full member, your account is either expired or you need to troubleshoot.  To troubleshoot, here is the link to get situated.
NOTE:  You also get e-mailed alerts/articles because if you do not want to miss my social media posts, and/or I issue a product not on my social media accounts, being a supporting website member is the way to go.  You get your own control panel with hundreds of zones to choose from to receive my custom alerts from.  Click here if you are interested in reading more.  
---
MAIN WEBSITE:  Don't forget.  If you hear rain or anything is coming to the area.  BOOKMARK THE MAIN WEBSITE BY CLICKING HERE. The stream has the latest alert links, a map of alerts and where, and articles.  That is 100% free to view.  There should be no reason you shouldn't be informed.
As always, stay tuned to Arizona Weather Force for official forecasts and updates on weather across Arizona and if it says 'like page' below, hit the button and get future updates.  If it says liked, don't hit it because that's unfollowing and you won't get updates at AZWF page on your feed