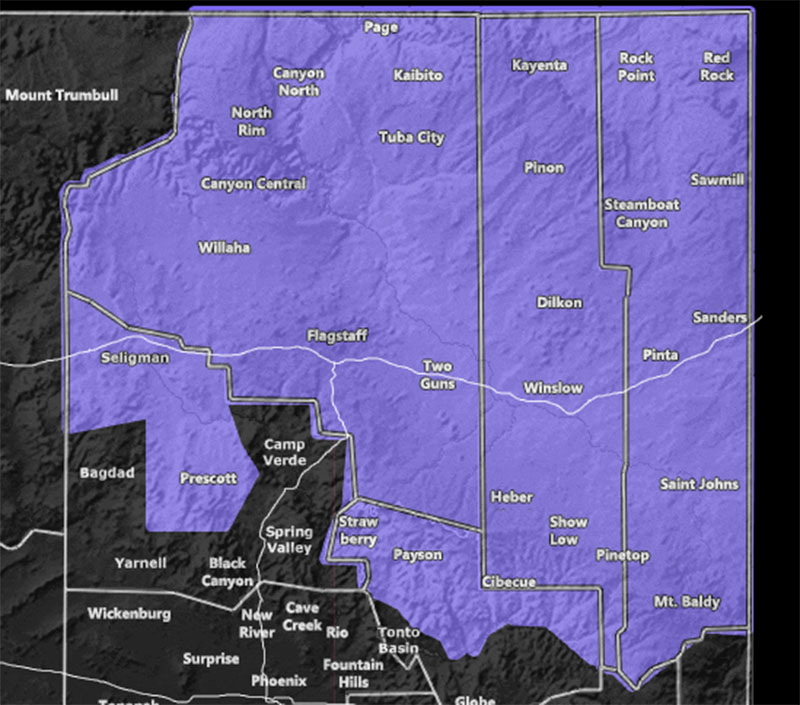 ---
Issued Zones:  All Northern/Eastern Arizona, especially along the upper Grand Canyon (north rim) and along the Mogollon Rim …
Site:  Arizona Weather Force has issued a Winter Weather Advisory effective today (Monday) and then again Thursday 3-10-2022
Date:  3/7/22 at 9:00am local
Forecast: A cold system will bring light snowfall amounts to Northern/Eastern Arizona, especially in higher rim elevations starting this afternoon.  Another system will bring a similar amount from today, maybe a bit stronger, for Thursday.   Thus, this Winter Weather Advisory will be in effect today and then again on Thursday … Use the model images below for your areas across the state for snowfall amount.  Also below, the GPS models are enabled for members for this event.

GPS MODELS ENABLED FOR MEMBERS:  CLICK HERE FOR THE MEMBER SECTION

THIS WAS A MEMBER ONLY POST:  Remember when I said only members will get this post and it would not be posted on social media?  Only 50% of posts will be posted so this will show you that your membership is important if this helps, because you would not get this post without a membership.

---
How to get these alerts with a premium subscription via e-mail by micro-climate zone AND/OR Get the GPS models for this event on your device enabled? (100 percent delivery time)
Click Here To Join The Season Tier
Join The Main Arizona Weather Force Facebook Group (50 percent delivery time) – You can join the main AZWF page as well through that group.
Click Here To Join The Page Today

VALID MONDAY 3-7 AND THEN AGAIN THURSDAY 3-10-2022

---
---
10 mile rule:  These alerts issued on this site
means that within your zone and 10 miles from you will see the event
forecast for.  You may or may not see the event but it means you are in
the zone or 10 miles from where someone will.
Forecaster: Raiden Storm
MODE