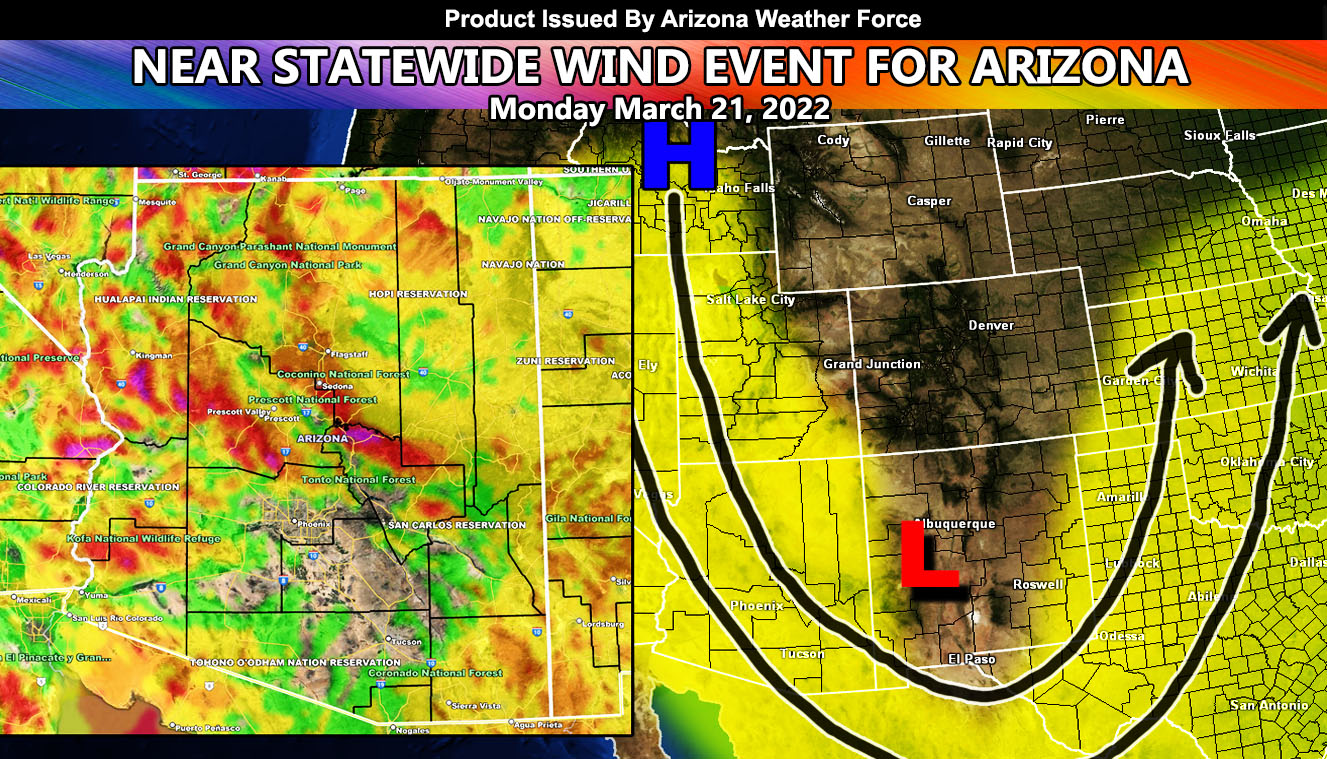 Arizona Weather Force has issued a near statewide Wind Watch effective Monday March, 21, 2022 across 90% of Arizona with Payson and Prescott especially in the higher risk zones so read on for details and see the mapping sectors within …
---
ALWAYS GET THE UPDATES ON FB AT …
ARIZONA WEATHER FORCE MAIN:  Arizona Weather Force Office Main Page For updates
---
FORECAST:  An inside slider trough will move through the region on your Sunday.  This will put a coating of snow on the Mogollon Rim (not much at all) and also hit and miss showers in Phoenix's forecast area and Tucson eastward, especially across Cochise County.  That is all that can be said about the precipitation factor as this is more of a high wind producer for some of you.
First I will go ahead and say this will rely heavily on whether the winds surface off a mountain or through a mountain pass out of the north.  If the mountains are too far from you in the northerly direction you will not see much wind.  This is why the AZWF wind model clearly shows most of Phoenix, Pinal County, and Tucson under the level 3 wind advisory criteria.  It literally is a big 'hole' of just some gusts but not strong enough for an advisory period on your Monday.
As the storm system move into New Mexico on Monday morning after 1am, a surface ridge will develop over Southeastern Idaho and the north to south surface pressure gradients will skyrocket and this is what will start the wind event.  You will wake up to very gusty conditions in the watch areas.  If you are in the Prescott areas you are in the level 5 High Wind Warning criteria.  If you are in Payson you are even worse at the second to the highest criteria of my scale … at a Level 7…  which means Trees are broken or uprooted, building damage is considerable. – High Profile Vehicle Roll-Over CERTAIN…
Below are the AZWF models in the form of rain, snow, and wind, snow-levels, or whatever is available for this forecast. They are clickable. Image 1 is NW AZ, 2 is NE AZ, 3 is SW AZ, and 4 is SE AZ –
GET TO KNOW YOUR MAP BECAUSE THESE NEVER CHANGE LOCATIONS
Wind Model – Valid Monday March 21, 2022 – PREMIUM MEMBERS CLICK HERE FOR YOUR GPS MODELS IN THE MEMBER SECTION
VALID MONDAY MARCH 21, 2022

Martin Wind Gust Intensity Scale –
8. Extensive widespread damage.
7. Trees are broken or uprooted, building damage is considerable. – High Profile Vehicle Roll-Over CERTAIN.
6. SOME Trees are broken or uprooted, building damage is possible. – High Profile Vehicle Roll-Over Likely, Do NOT recommend Traveling in this zone. This zone also is the starting zone where trees and powerlines will fall and damage cars and even kill people near or in them!
5. Slight damage occurs to buildings, shingles are blown off of roofs. HIGH WIND WARNING CRITERIA – High Profile Vehicle Roll-Over Possible if weight is not corrected.
4. Twigs and small branches are broken from trees, walking is difficult.
3. Large trees sway, becoming difficult to walk. POWER SHUTDOWN THRESHOLD DURING FIRE WEATHER / WIND ADVISORY CRITERIA
---
If you are NOT receiving the e-mails and are a full member, your account is either expired or you need to troubleshoot.  To troubleshoot, here is the link to get situated.
NOTE:  You also get e-mailed alerts/articles because if you do not want to miss my social media posts, and/or I issue a product not on my social media accounts, being a supporting website member is the way to go.  You get your own control panel with hundreds of zones to choose from to receive my custom alerts from.  Click here if you are interested in reading more.  
---
MAIN WEBSITE:  Don't forget.  If you hear rain or anything is coming to the area.  BOOKMARK THE MAIN WEBSITE BY CLICKING HERE. The stream has the latest alert links, a map of alerts and where, and articles.  That is 100% free to view.  There should be no reason you shouldn't be informed.
As always, stay tuned to Arizona Weather Force for official forecasts and updates on weather across Arizona …