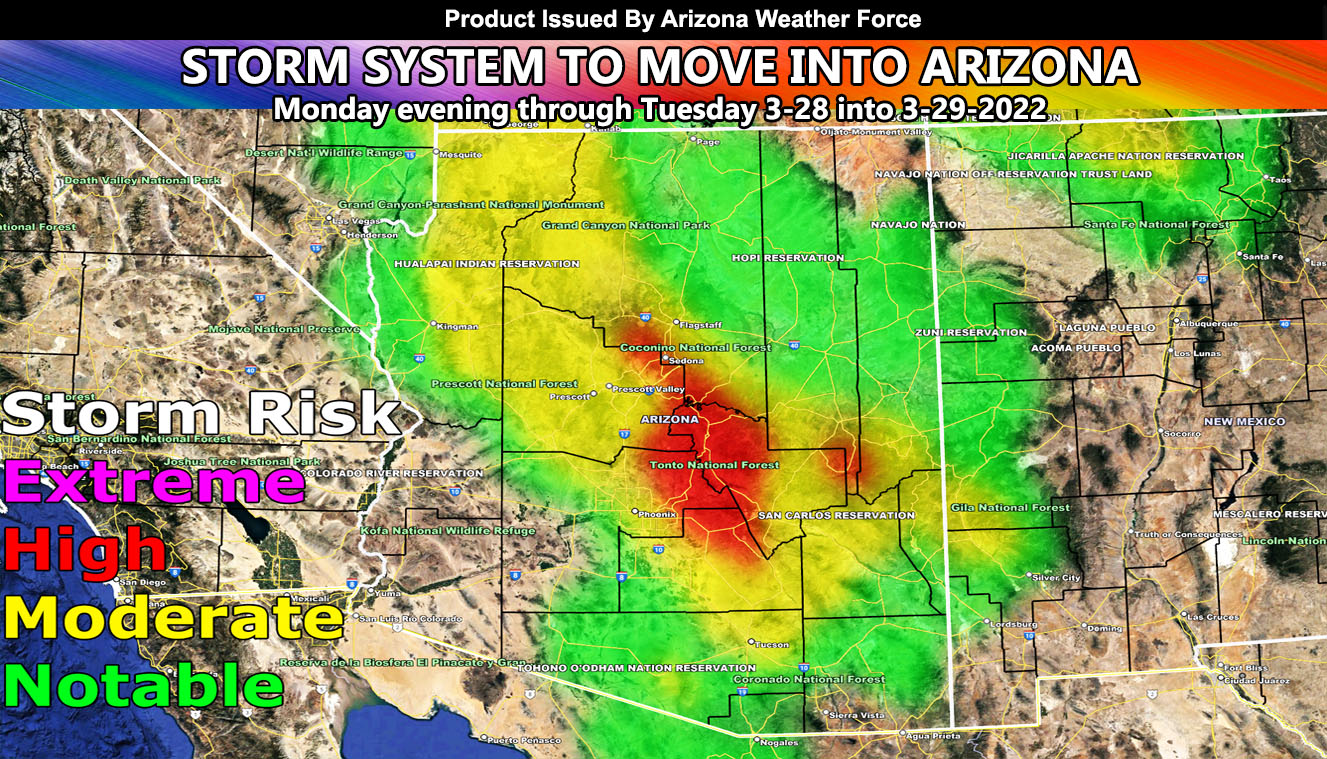 A storm system moving out of Southern California will affect Arizona Monday evening into Tuesday with rain, a chance of thunderstorms, and a bit more mountain snowfall so read on for the first outlook …
The system will start to affect the risk areas sometime on Monday evening, increasing through Tuesday morning.  Based on the AZWF storm risk model above, this is telling me that Southwest Arizona will have next to nil precipitation with it and the Tonto National Forest shaded in a high risk means you need to be closer to the mountains on the southern end, or within them, to get a higher chance of rain/snow with this system.
The snow-level will be around 6,000 FT with it or just above it so I am not projecting a lower snow-level event.  The Mogollon Rim however will get a few inches, depending on which cells pass over you  but to be safe I'll probably go 1-3″ for the most part within the rim as an average with the highest at the Mt. Baldy Ski Resort.
Gusty winds will hit the risk zones on Monday, out ahead of the main frontal zone.  I do not see the frontal zone + gusty winds happening at the same time.  So you're looking at gusty winds on Monday followed by calmer conditions and rain/snow across the region Monday evening/night and into Tuesday …
Updates will be made to this system as it nears through the weekend for the passage this next week …
---
If you are NOT receiving the e-mails and are a full member, your account is either expired or you need to troubleshoot.  To troubleshoot, here is the link to get situated.
NOTE:  You also get e-mailed alerts/articles because if you do not want to miss my social media posts, and/or I issue a product not on my social media accounts, being a supporting website member is the way to go.  You get your own control panel with hundreds of zones to choose from to receive my custom alerts from.  Click here if you are interested in reading more.  
---
MAIN WEBSITE:  Don't forget.  If you hear rain or anything is coming to the area.  BOOKMARK THE MAIN WEBSITE BY CLICKING HERE. The stream has the latest alert links, a map of alerts and where, and articles.  That is 100% free to view.  There should be no reason you shouldn't be informed.
As always, stay tuned to Arizona Weather Force for official forecasts and updates on weather across Arizona …