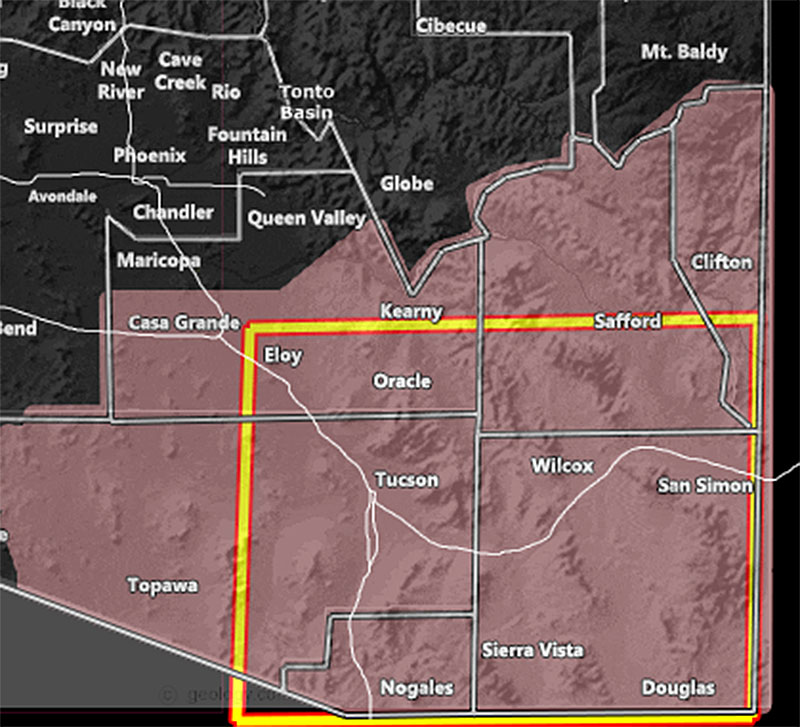 ---
Issued Zones:  Southeastern Arizona, including Tucson …
Site:  Arizona Weather Force has issued a Thunderstorm Watch effective today, Tuesday March 29, 2022 until later this evening …
Date:  3/29/22 at 6:45am local
Forecast: A pacific storm that brought thunderstorms to parts of Maricopa and Pinal County this morning and the Northwest half of the state last night will bring a frontal zone through the watch area today, starting around 9am or so and then strengthening as the day moves along.  Storms are expected to form west of Tucson and then move eastward through the city and then onward through the rest of the watch area.   The boxed area indicates where the most activity will be. 

This Thunderstorm Watch is for strong wind gusts mainly, but some hail below severe limits but above pea-sized will happen with the storms today.  Wind gusts easily can top 35-45 mph with the strongest cells, the Tucson through Cochise County at the center of the gusts …

Storms will exit into New New Mexico later this evening, ending the watch …

An AZWF Thunderstorm Watch is issued when conditions are favorable for thunderstorms to develop in and around the watch area …

---
How to get these alerts with a premium subscription via e-mail by micro-climate zone AND/OR Get the GPS models for this event on your device enabled? (100 percent delivery time)
Click Here To Join The Season Tier
Join The Main Arizona Weather Force Facebook Group (50 percent delivery time) – You can join the main AZWF page as well through that group.
Click Here To Join The Page Today

---
10 mile rule:  These alerts issued on this site
means that within your zone and 10 miles from you will see the event
forecast for.  You may or may not see the event but it means you are in
the zone or 10 miles from where someone will.
Forecaster: Raiden Storm
MODE