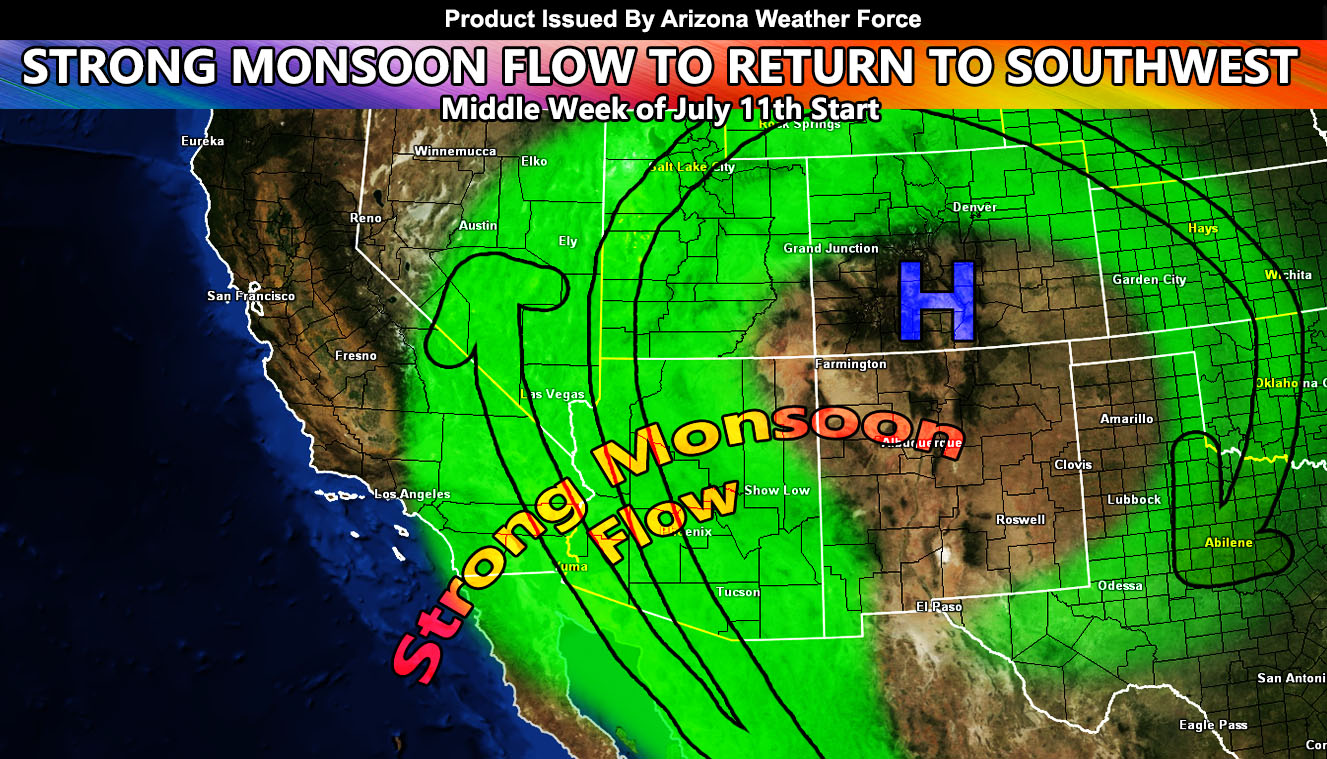 The low-pressure system that has kept the monsoon moisture east of most of the Arizona Metros will erode, bringing a ridge of high pressure over Colorado for the return of deep monsoon moisture to the Southwestern United States by mid-month so read on for details …
Join the Facebook Page for Further Updates If You Have Not Yet!
ARIZONA WEATHER FORCE MAIN:
It will be another 5-7 days for this to fully establish, but the ridge of high pressure developing over Colorado will be in a position to bring a strong southeasterly flow in the low/mid/upper levels across the region after around July 12th but become more established after July 13-14th.
Because of how it is developing, kinks within the edges of this system will cause easterly waves or focus spots for the thunderstorm activity to be strongest.  This should easily go as far as even the areas of Southern California, which signals this will be a strong intrusion event.  We had a lot of activity in the state for June, but we have not seen much in July.  This will fulfill the wonder on where the monsoon went as all metro zones, even the Colorado River Valley will see this activity.
Arizona Weather Force will continue to bring the latest during those times, including any alerts over the page, group, or the community supported e-mail alert system you can sign-up for freely below so stay tuned.
This was a follow-up to the following articles – You can read them and see how this forecast is evolving from Day 1.
June 1, 2022
FINAL MONSOON FORECAST: Southwestern United States Monsoon Forecast Finalized as Stronger Than Normal; FREE Memberships Now Open
---
Want these delivered to your e-mail and also the many other alerts for your area that area custom forecast for that you won't see elsewhere?  Sign-up for your free community paid for memberships for this season by going to this link – follow the terms of service directions as well –  – https://arizonaweatherforce.com/?/register/BKNmp3
TWITTER:  Join the AZWF Twitter For Articles By Clicking Here