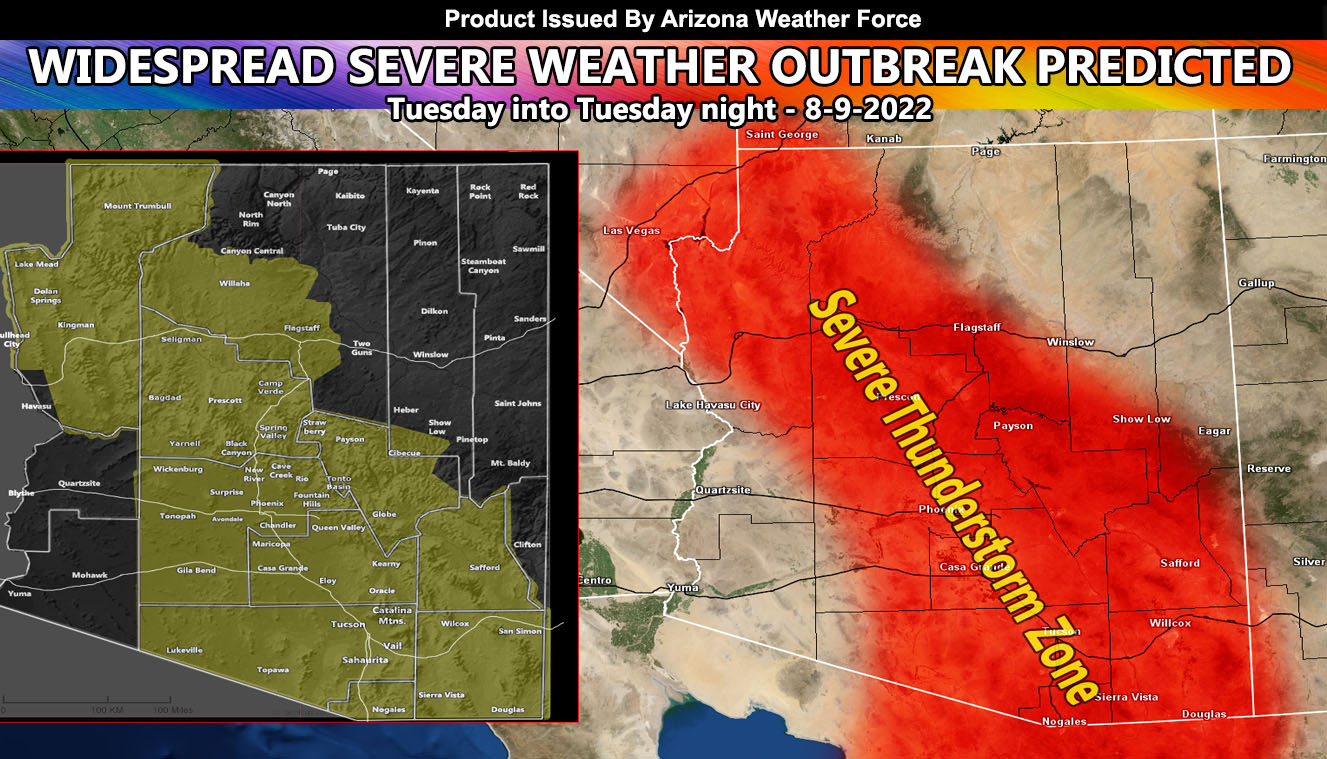 Arizona Weather Force has issued a Severe Weather Statement effective now for Tuesday into Tuesday night that will affect all the main Arizona Metro areas, including the Phoenix zones that have not been hit for several days now so read on for details and take today and some of tomorrow to prepare …
Join the Facebook Page for Further Updates If You Have Not Yet!
ARIZONA WEATHER FORCE MAIN:
The ridge of high pressure that is responsible for the current monsoon activity now will migrate into prime position to bring severe thunderstorms Tucson through Northwest Arizona (Las Vegas included) Tuesday into Tuesday night. Thunderstorms will ride an easterly wave from south and east to north and west across the state.  Now Tucson you have had a lot of activity lately and you will again today (Click here for today's forecast, 8-8-2022).
But, the Central/Eastern Phoenix zones, including the San Tan Valley have not lately.  The last strong system was last Thursday morning.  This will change with the passage of the easterly wave.
Numerous alerts will be needed in the Severe Weather Statement zones in the image above for this timeframe.  If you are in that area, prepare today as widespread damage is in this forecast with damaging winds, large hail, flash flooding, and even that chance of a tornado, which will be addressed on the final forecast on Tuesday morning.
Here is a larger image of the affected area – it is clickable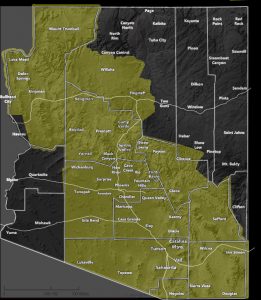 Want these delivered to your e-mail and also the many other alerts for your area that area custom forecast for that you won't see elsewhere?  Sign-up for your free community paid for memberships for this season by going to this link – follow the terms of service directions as well –  – https://arizonaweatherforce.com/?/register/BKNmp3
TWITTER:  Join the AZWF Twitter For Articles By Clicking Here