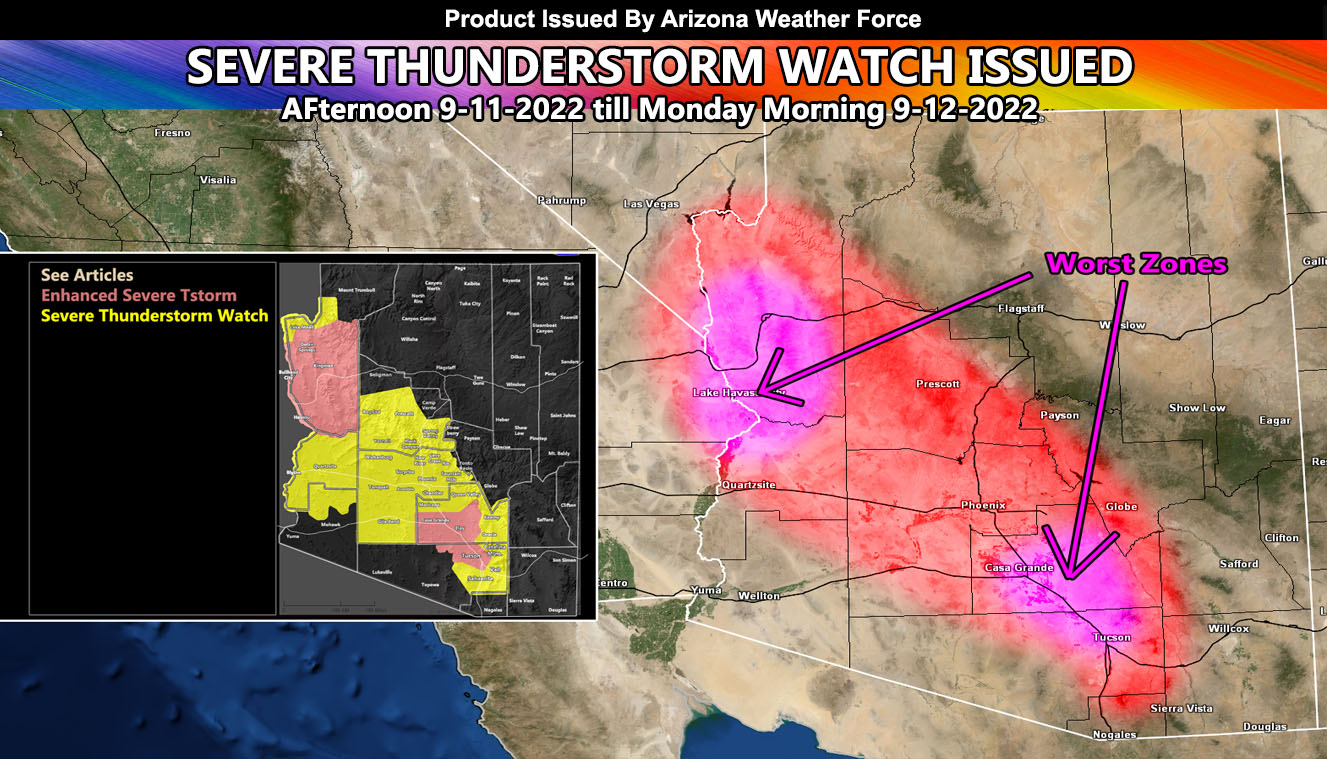 Arizona Weather Force has issued a Severe Thunderstorm Watch effective this afternoon through sunrise Monday morning that stretches from Pima County through Phoenix and into the Colorado River Valley cities so for details and timing read on …
Join the Facebook Page for Further Updates If You Have Not Yet!
ARIZONA WEATHER FORCE MAIN:
Former Hurricane Kay is sitting southwest of the Southern California coast.  She will begin moving eastward soon as the pacific starts to move her within the nominal upper-level jet stream.  She has sat off the coast long enough to gather moisture out of Mexico and most importantly she has developed her own upper-level jet stream.
Tucson's forecast area will be hit first this afternoon, and this is where the strongest dynamics are within the watch zone for both hail and wind.  This zone into Pinal County is where you will find the highest risk for that during the daytime.  This impulse will move along an arc into the Phoenix area through the evening producing thunderstorms there, but not on the level of concentration as you will see on MONDAY.  Phoenix is scheduled by my weather services to have numerous severe storms on MONDAY so remember this.  
This will arc even more along Kay's outer periphery toward the Parker and Havasu areas, including Kingman.  This will be well into the overnight.  I do not know what the criteria is for you to get to shore, but the storms would not have much hail, but they will have extremely damaging winds with them.  These winds are enough for the Enhanced Severe Thunderstorm Watch from Parker/Havasu to Kingman.  Winds over 70+ mph will be likely with this flow.
So those are the focus spots and your forecast for today/tonight within the AZWF Severe and Enhanced Severe Thunderstorm Watches.  The map below is a larger image of the zones.  But remember, this for the Phoenix area is not your major event, Monday will be.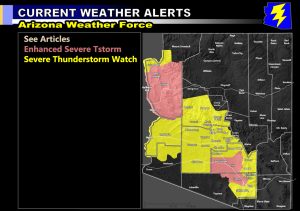 How to get these alerts with a premium subscription via e-mail by micro-climate zone AND/OR Get the GPS models for this event on your device enabled?  If you read this from the website or social media links, this option is the best to go so you get them delivered every single time without having to look for them (100 percent delivery time) https://arizonaweatherforce.com/arizona-weather-force-membership/
TWITTER:  Join the AZWF Twitter For Articles By Clicking Here