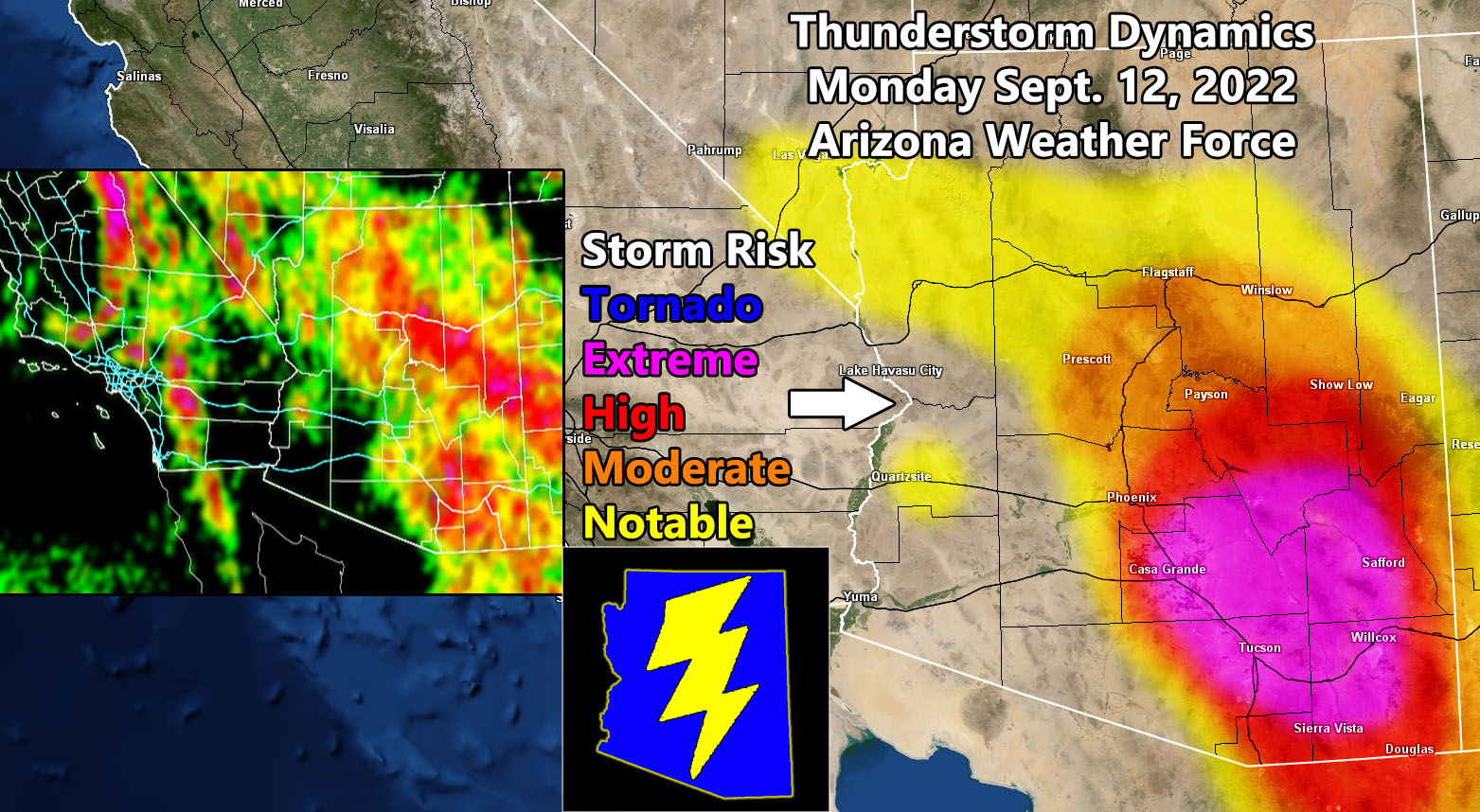 Arizona Weather Force has issued three alerts for the most active day statewide with the peak of former Hurricane Kay's upper level dynamics.  Those alerts are the highest class Enhanced Severe Thunderstorm Watch, Severe Thunderstorm Watch, and Thunderstorm Watch so read on for details and see the AZWF monsoon models below for this event …
Join the Facebook Page for Further Updates If You Have Not Yet!
ARIZONA WEATHER FORCE MAIN:
How to get these alerts with a premium supporter subscription via e-mail by micro-climate zone AND/OR Get the GPS models for this event on your device enabled?  If you read this from the website or social media links, this option is the best to go so you get them delivered every single time without having to look for them (100 percent delivery time) https://arizonaweatherforce.com/arizona-weather-force-membership/
ENHANCED SEVERE THUNDERSTORM WATCH:  Storms are expected to rapidly for across the watch area, centering the Tucson/Vail forecast area and along the Catalina Mountains.  As you can see, Tucson is well within the numerous to even complete coverage category, the first time this season Downtown is being targeted for such high values.  These storms will further develop and/or spread north and eastward through Pinal and Graham County, stretching southwest from there to Cochise County.  Large hail, damaging winds, and even an isolated tornado chance is in the forecast, the chances for tornadoes being spotted would be Pima County.  In Graham County, Safford is a target today for storms within city limits.  Flooding will also be likely.
SEVERE THUNDERSTORM WATCH:  The AZWF Severe Thunderstorm Watch will be reserved for the Phoenix Metro zones.  There will be a noticeable split of the valley where west valley would not see much and east valley getting nailed by storms.  This is in part due to a strip of dry air at 18,000 FT, which can remove storm chances.  This watch will extend to Prescott and east through I-17 and into the Mogollon Rim, including Flagstaff, Payson, Show Low and the Mt. Baldy area.  The Prescott and Camp Verde zones have an isolated tornado chance today as well.
THUNDERSTORM WATCH:  This watch will be for further northwest of the Severe Thunderstorm Watches above.  Kingman to Flagstaff along I-40 will be favored in this forecast pattern, including at or near the Bullhead City areas along the Northern Colorado River Valley.
LONG RANGE:  An upper level low may drop into the forecast area after September 18th.  Should this happen, we can expect a sharp increase in moisture.  Upper-level lows like this can produce severe weather, including tornadoes.
You need to compare the AZWF models below for coverage of activity first and then the rest can follow.
---
Coverage Of Activity – Image is clickable
Complete
Numerous
Scattered
Widely Scattered
Hit and Miss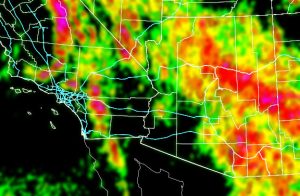 ---
Hail Risk – Image is clickable
Extreme
High
Moderate
Notable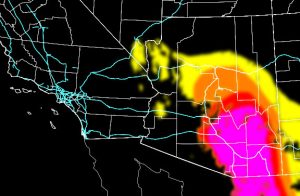 ---
Wind Damage Risk – Image is clickable
Extreme
High
Moderate
Notable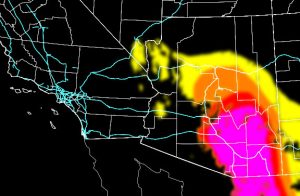 ---
Alert Type Proposed – Image is clickable
Tornado Watch
Enhanced Severe Thunderstorm Watch
Severe Thunderstorm Watch 
Severe Thunderstorm Watch 
Thunderstorm Watch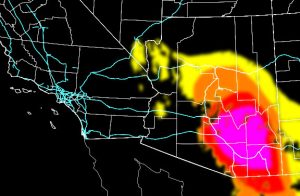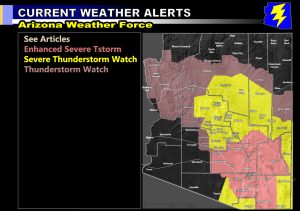 TWITTER:  Join the AZWF Twitter For Articles By Clicking Here