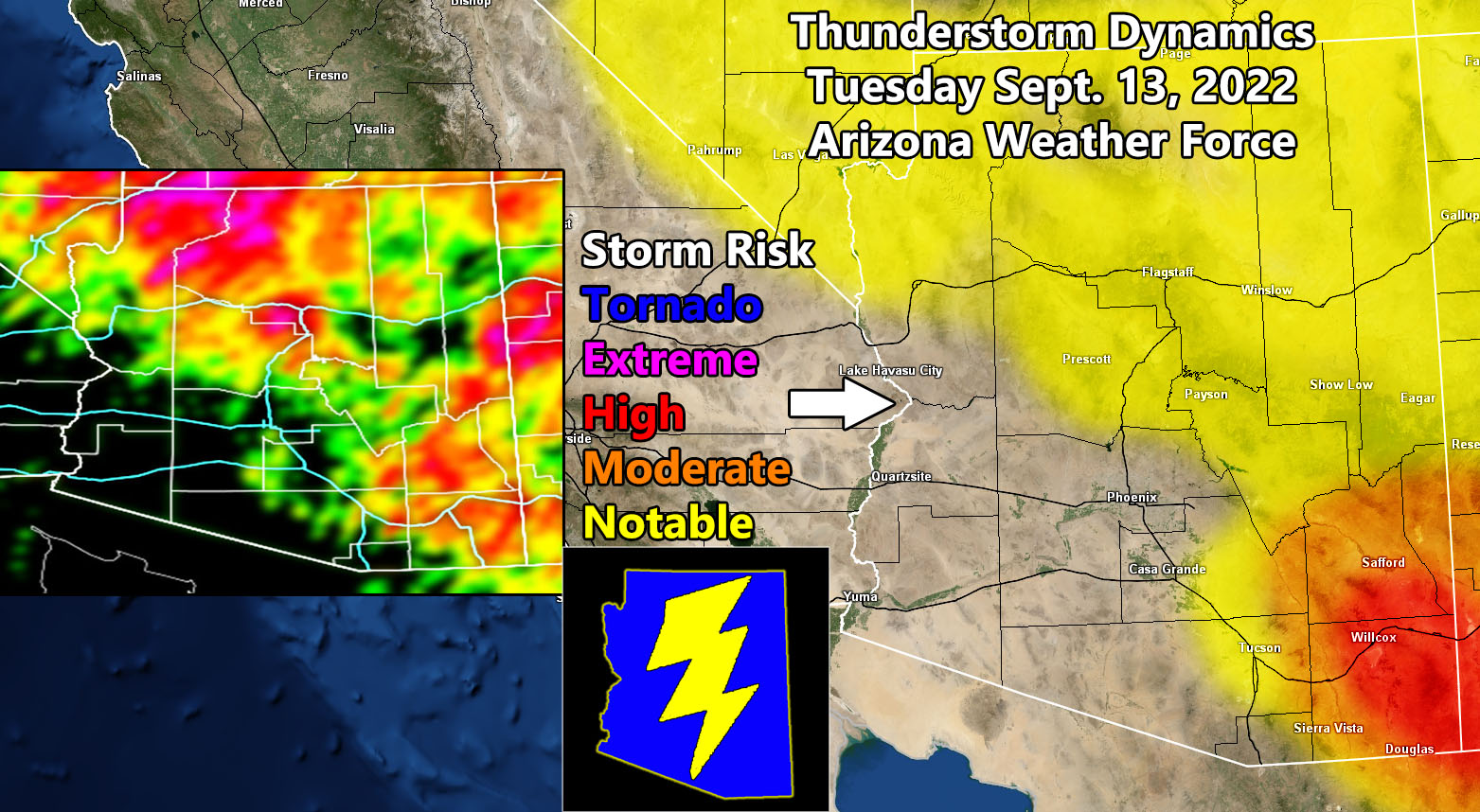 Arizona Weather Force has issued Three alerts for the most active day statewide with nearly the last day of former Hurricane Kay's upper level dynamics. Those alerts are the highest class Enhanced Severe Thunderstorm Watch, Severe Thunderstorm Watch, and Thunderstorm Watch so read on for details and see the AZWF monsoon models below for this event …
Join the Facebook Page for Further Updates If You Have Not Yet!
ARIZONA WEATHER FORCE MAIN:
How to get these alerts with a premium supporter subscription via e-mail by micro-climate zone AND/OR Get the GPS models for this event on your device enabled? If you read this from the website or social media links, this option is the best to go so you get them delivered every single time without having to look for them (100 percent delivery time) https://arizonaweatherforce.com/arizona-weather-force-membership/
ENHANCED SEVERE THUNDERSTORM WATCH: Storms are expected to form in the Cochise County area and move northeastward with time.  These storms will be capable of large hail, damaging winds, and the northern half of the county will even have a tornado risk.  Storms here will eventually move into the Southern Graham County areas and then further into the next watch area across Safford/Clifton so read below.
SEVERE THUNDERSTORM WATCH: This is an interesting watch, where Downtown Tucson on the coverage model clearly shows less activity than areas along I-10 further east still within Pima County where the Pantano forecast area is.  Storms in this will move northeast toward and at the Safford area, where Safford looks to be hit hard with these storms today.  They will continue on to Greenlee County, the Clifton forecast area, within this watch area.  Storms here will have large hail/damaging wind potential.
NOTE:  I will note that the model does not show Santa Cruz County as a location of development, Sierra Vista is downstream from nothing so while you may be in the watch zone, the direct city area may remain with nothing major or at all in terms of severity of storms, but you could easily see cells moving through off the mountains to the southwest.
THUNDERSTORM WATCH: This watch will be for Tucson's metro areas.  Isolated/Widely scattered hit and miss storms will be the story down there.  While along the Mogollon Rim and extreme Northwest Arizona will have the thunderstorm watch dynamics.  Storms here have a risk of notable hail, but could also have damaging downburst wind potential.  All of North/Northeast Arizona are also in this watch.
CURVEBALLS:  The coverage model in this post shows a yellow value near Phoenix, likely the hills to the south, and the near the city of Maricopa.  While you are not in the thunderstorm watch, the model does think something will pop in those areas during this event.  The rest of the Phoenix area will not see the activity today unless you are really lucky.
LONG RANGE: An upper level low may drop into the forecast area after September 18th. Should this happen, we can expect a sharp increase in moisture. Upper-level lows like this can produce severe weather, including tornadoes.  This is from a developing tropical system down near Mexico.  This is not yet a sure thing on who will see what, but I can see this pushing moisture into the state, whether the entire state of just the eastern half, details will remain sketch as I continue to monitor the possible track.
You need to compare the AZWF models below for coverage of activity first and then the rest can follow.
---
Coverage Of Activity – Image is clickable
Complete
Numerous
Scattered
Widely Scattered
Hit and Miss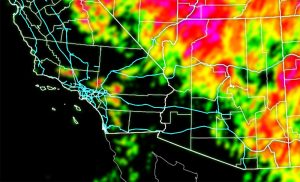 ---
Hail Risk – Image is clickable
Extreme
High
Moderate
Notable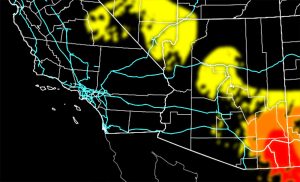 ---
Wind Damage Risk – Image is clickable
Extreme
High
Moderate
Notable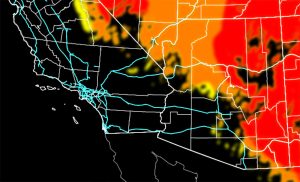 ---
Alert Type Proposed – Image is clickable
Tornado Watch
Enhanced Severe Thunderstorm Watch
Severe Thunderstorm Watch
Severe Thunderstorm Watch
Thunderstorm Watch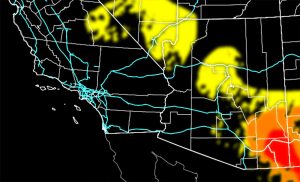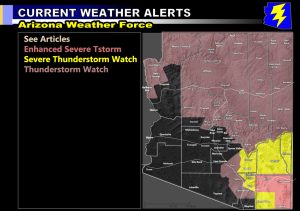 TWITTER: Join the AZWF Twitter For Articles By Clicking Here