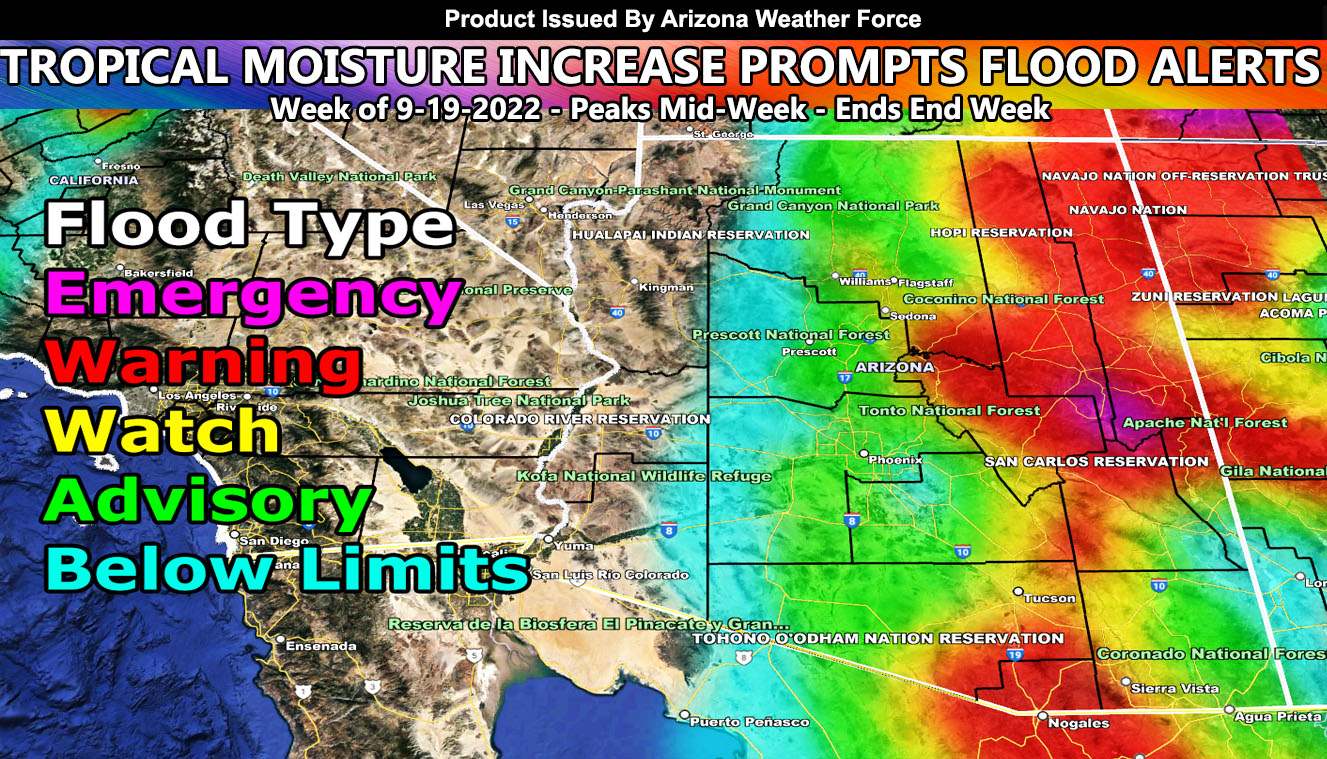 Arizona Weather Force has issued three Flood Alerts, which contains the Flood Emergency, Flood Watch, and Urban Flood Advisory.  Remember back on September 12th I said an upper system would hit California and it would increase the moisture across Arizona after the 18th?  Well today is the 19th and we will start to see this in the southeast part of the state, increasing through Tuesday and peaking around mid-week so once again this was a long range pattern calculation that will happen and confidence is 100% in such so read on for details and see what your area is within …
Join the Facebook Page for Further Updates If You Have Not Yet!
ARIZONA WEATHER FORCE MAIN:
How to get these alerts with a premium supporter subscription via e-mail by micro-climate zone AND/OR Get the GPS models for this event on your device enabled? If you read this from the website or social media links, this option is the best to go so you get them delivered every single time without having to look for them (100 percent delivery time) https://arizonaweatherforce.com/arizona-weather-force-membership/
Flood Emergency – This is for mainly Tuesday through mid-week for a small section of the Eastern Mogollon Rim (map below), which contains Mt. Baldy Resort, Pinetop, and Show Low's forecast zones.  An increase in storms is especially expected on Tuesday with high rainfall rates and the risk of thunderstorms.
A Flood Emergency is issued here at Arizona Weather Force when conditions are favorable for extreme damage from heavy rainfall in a short period of time, which can damage buildings/houses and even roads.  If you are in this warning, you must prepare now, which means power can go out and you need to be prepared for such.
Flood Watch – This starts today in Cochise County, but mainly increases Tuesday/Wednesday across the state (map below).  Areas within this would be the Tucson/Sierra Vista/Nogales forecast zones, Graham/Greenlee County, Gila County, Flagstaff/Sedona, and the nations of Northeast Arizona within Apache and Navajo Counties.
A Flood Watch is issued here at Arizona Weather Force when conditions are favorable for the risk of mudslides, especially with ongoing or past fire/burn scars and can produce flash flooding in the elevated areas that will create rock-slides.  This also can put the power out so prepare for the risk of this …
Urban Flood Advisory – This one is mainly for mid-week as the moisture finally shoves west into the Phoenix/Pinal County forecast zones, including up in the Prescott to Grand Canyon zones.
An Urban Flood Advisory is issued here at Arizona Weather Force when conditions are favorable for moderate to sometimes heavy rainfall that can lead to street flooding, which would impact travel due to hydroplaning under slick road conditions.
Curve-ball Forecasts:  As always with the AZWF model, individual cells that can cause flooding in small areas is not calculated and those are taken care of the morning of the day/night of the event predicted for so west of the advisory zone could see storms.
SEVERE WEATHER:  As further stated back on September 12th, an upper-level low can produce severe weather, including hail, damaging winds, and yes even tornado dynamics.  This all will be addressed the morning of the events expected.
Below (Clickable) this line is the official AZWF Weather Alert Map for the coming event, showing the zones in the forecast area that have which alert-
SUPPORTING MEMBERS:  Click Here For The GPS Model Of The Flood Risk Zones For Your Area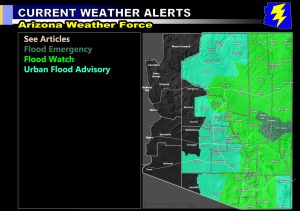 TWITTER: Join the AZWF Twitter For Articles By Clicking Here