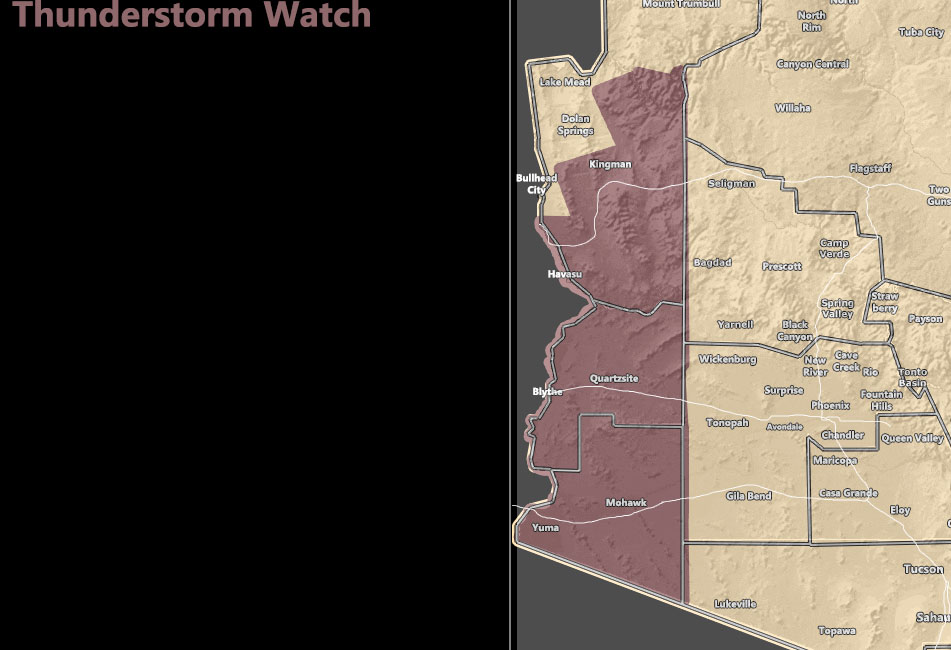 Issued Zones:  Western Arizona including the Colorado River Valley zones from Havasu to Yuma …  
Site:  Arizona Weather Force has issued a Thunderstorm Watch effective now through the evening …
Date:  10/8/22 at 11:15am PT
Forecast: Monsoon moisture will interact with a cutoff low to the east of the region through the rest of today.  Storms will move from north-northeast to south-southwest during this period, off the higher terrain locations into the CO River Valley zones, including Parker/Havasu.  
Some of the storms will contain some hail and gusty winds up to 50 mph.  This falls below severe limits for a watch;, but the strongest winds look to be around the Havasu/Parker forecast zones.
---
How to get these alerts with a premium supporter subscription via e-mail by micro-climate zone AND/OR Get the GPS models for this event on your device enabled? If you read this from the website or social media links, this option is the best to go so you get them delivered every single time without having to look for them (100 percent delivery time) https://arizonaweatherforce.com/arizona-weather-force-membership/
Join The Main Arizona Weather Force Facebook Group (50 percent delivery time) – You can join the main AZWF page as well through that group.
Click Here To Join The Page Today
10 mile rule:  These alerts issued on this site
means that within your zone and 10 miles from you will see the event
forecast for.  You may or may not see the event but it means you are in
the zone or 10 miles from where someone will.
Master Meteorologist:  Raiden Storm