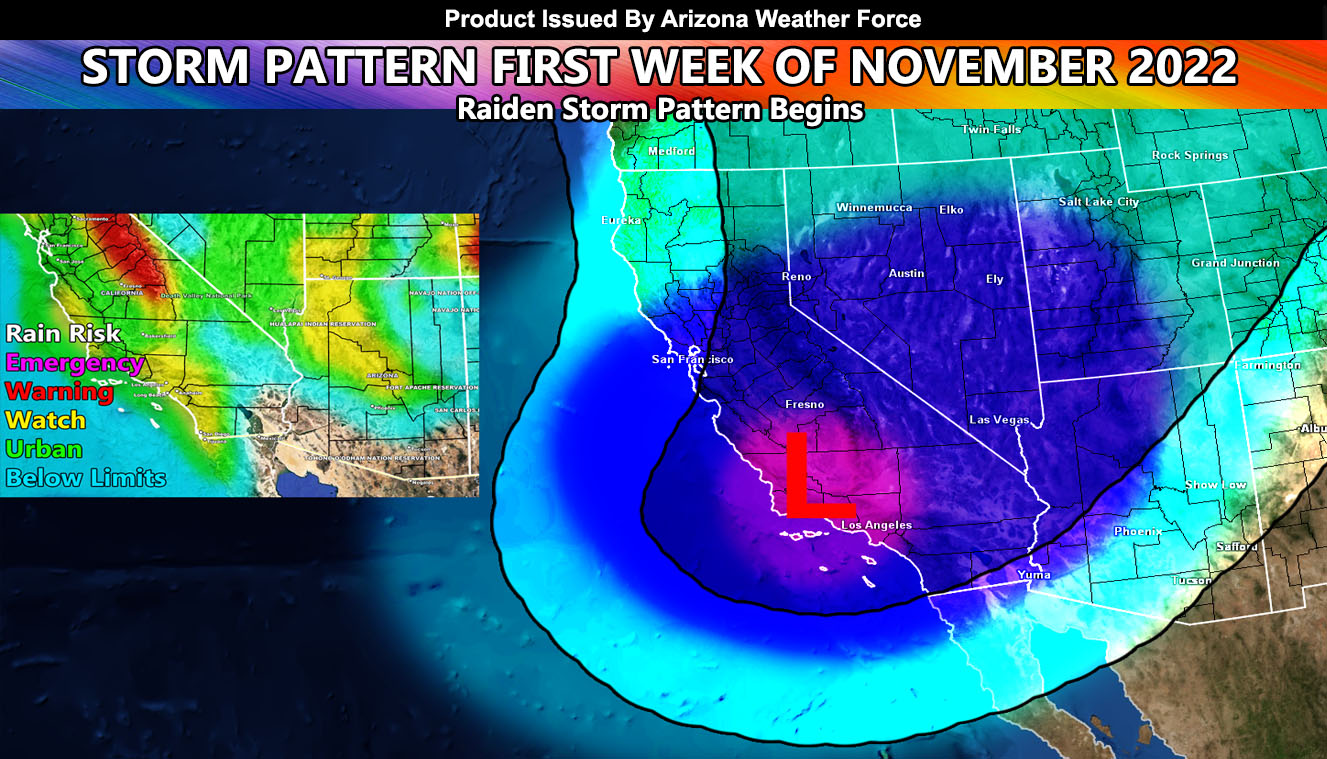 Arizona Weather Force has issued a Special Weather Statement effective now for the first week of November as the storm pattern is set to begin in what is still predicted to be a cold and stormy season so read on for details …
Join the Facebook Page for Further Updates If You Have Not Yet!
ARIZONA WEATHER FORCE MAIN:
In the 2022-2023 seasonal forecast I finalized the forecast area as cold and stormy, vs warm and dry (Click Here For That Forecast).  This maintains to be the original forecast thought from over 6 months ago, so confidence is high in this becoming reality.
As such, the Raiden Storm Pattern; or a pattern predicted ahead of time from this service; will begin the first week of November with a storm system out of the northwest.  This system is targeting the November 2nd-3rd time-frame.  The system is also a colder one.  With the cold air in the area in early November, calculations of snow-levels at or even below 5,000 feet is certainly a possibility.
Given the cold air aloft with it, along with the early season low-level temperatures, instability will be enough to warrant thunderstorms accompanying it.
For Southern California and Arizona, the image below shows the significant rainfall potential as of now.  This is getting stronger with each passing day, so I do expect these values to increase on the next update.
You can note that in Southern California it is a typical southwest to northeast flow, affecting a lot of LA/OC/IE and San Diego zones, with neighboring mountains receiving the snowfall as well.
With Arizona you'll note the rim zones, especially Prescott's forecast zone to the Grand Canyon, will have the strongest precipitation risk, some of that easily snowfall.
As I said, this system is getting stronger so these values will get stronger as a result so stay tuned to Arizona Weather Force on social media, your supporting member patreon updates, or however you receive them from this office.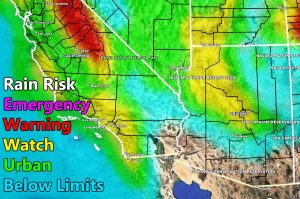 ---
WANT THESE DELIVERED VIA THE APP? JOIN THE PATREON COMMUNITY TODAY FOR ALL THOSE PERKS INCLUDING BEING ON THE MICRO-CLIMATE ALERT SYSTEM BECAUSE NOT EVERY ALERT IS POSTED ON SOCIAL MEDIA FROM THIS WEATHER OFFICE – https://www.patreon.com/weatherforce
TWITTER: Join the AZWF Twitter For Articles By Clicking Here