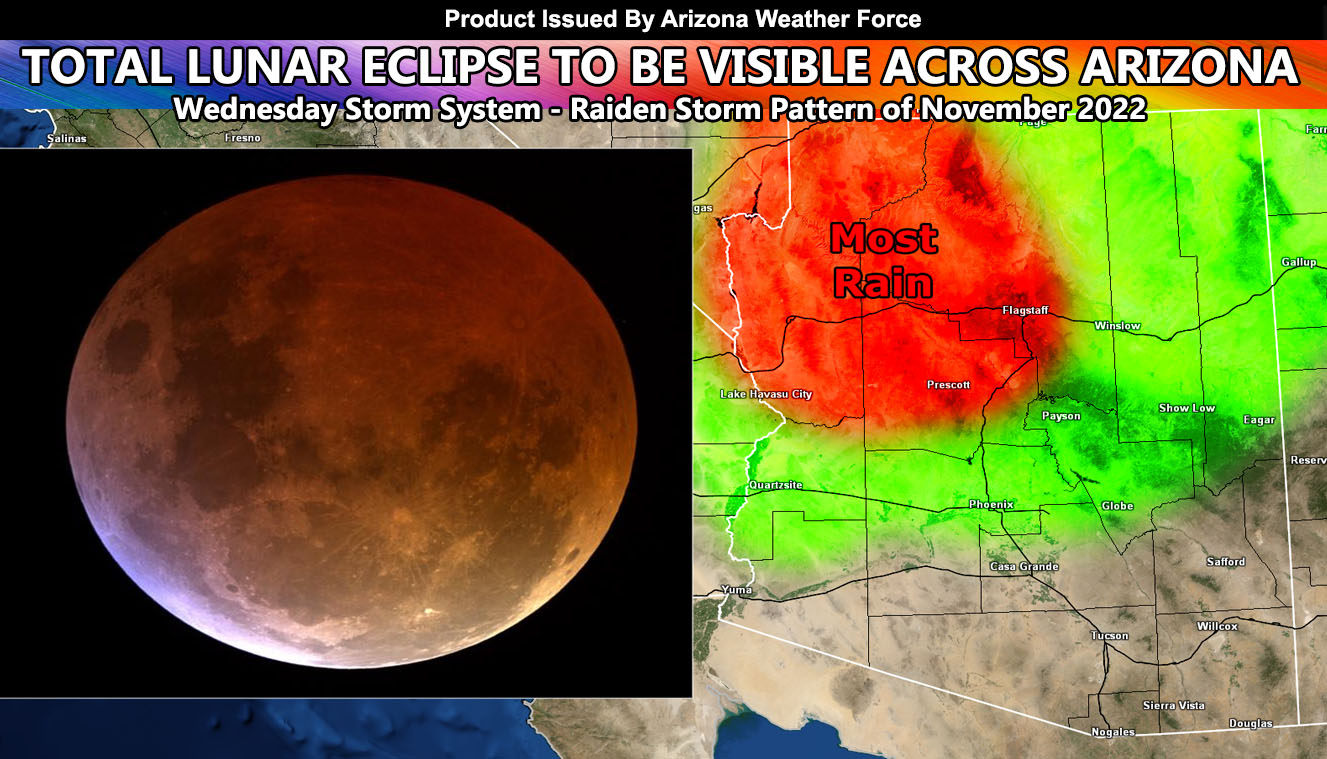 A storm system will cross the northern half of Arizona on Wednesday, but not before a Total Lunar Eclipse will be seen the previous day, Tuesday morning so read on for details …
---
WANT THESE DELIVERED VIA THE APP? JOIN THE PATREON COMMUNITY TODAY FOR ALL THOSE PERKS INCLUDING BEING ON THE MICRO-CLIMATE ALERT SYSTEM BECAUSE NOT EVERY ALERT IS POSTED ON SOCIAL MEDIA FROM THIS WEATHER OFFICE – https://www.patreon.com/weatherforce
Join the Facebook Page for Further Updates If You Have Not Yet!
ARIZONA WEATHER FORCE MAIN:
---
Not much to say other than it is a total lunar eclipse and that means a red moon to come.  The last one however happened at 9-10pm local time, this one early, peaking at 4:00am local time.  Those that get up that early will be able to see it in the western skies.  So, what about the weather for that time?
A storm system will be hitting Southern California by then, only giving the far Eastern Deserts clearer skies.  Scattered areas of high clouds will be present across Western, Central, and Northern Arizona during the peak hours.  It does look like it won't be thick enough to ruin the view for the Phoenix areas, unless the thicker high cloud that will be over Tonopah runs the angled view.
The clearest zone will be Tucson's metro areas into Graham, Greenlee, and most of Cochise County.  You will have very clear skies, that of which would be the best spot for astrophotography.
Areas along the Rim and into much of Northern Arizona will have scattered high clouds, at times thicker due to mountain wave activity ahead of Wednesday's system with increasing wind gusts.
WEDNESDAY – As for this period, a system out of Southern California will move across mainly the Central/Northern half of the state.  Heaviest precipitation will be from Prescott to the UT/AZ border and snow-levels will be higher with only around an inch in the Flagstaff zones and a dusting elsewhere on the upper rim.  This is not a major winter storm to deal with snow as it will be mostly tropical in nature.   A Special Weather Statement issued yesterday over the micro-climate e-mail alert system also outlines the NW AZ thunderstorm risk zones so Click Here For That.
Use the model below to see the peak zones.  Note that the redder the color within the maps, the thicker the cloud cover in that area for 4:00am local time Tuesday morning for the peak Total Eclipse Time…
---
WANT THESE DELIVERED VIA THE APP? JOIN THE PATREON COMMUNITY TODAY FOR ALL THOSE PERKS INCLUDING BEING ON THE MICRO-CLIMATE ALERT SYSTEM BECAUSE NOT EVERY ALERT IS POSTED ON SOCIAL MEDIA FROM THIS WEATHER OFFICE – https://www.patreon.com/weatherforce
TWITTER: Join the AZWF Twitter For Articles By Clicking Here
Join The Main Arizona Weather Force Facebook Group (50 percent delivery time of micro-climate alerts not posted on the main AZWF page) – You can join the main AZWF page as well through that group.
Click Here To Join The Page Today