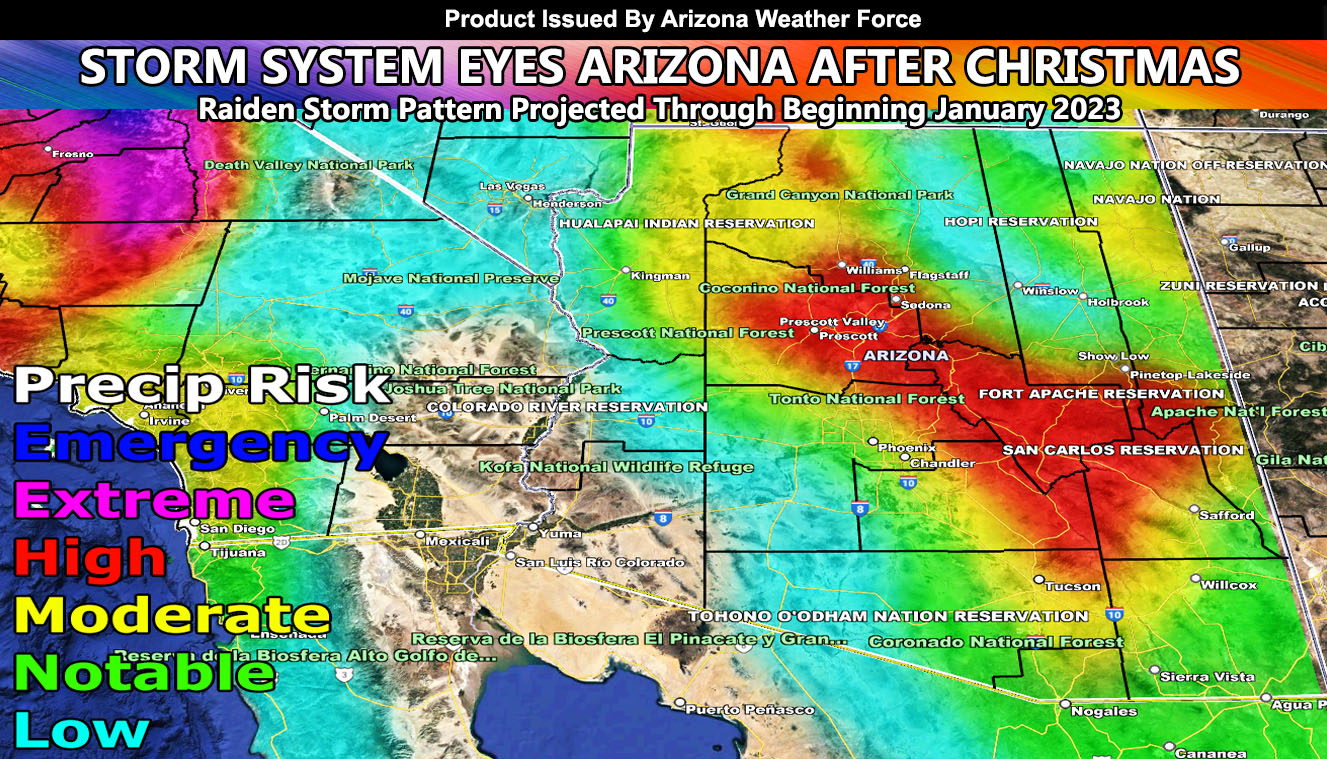 Arizona Weather Force has issued a Long-Range Weather Advisory for the next Raiden Storm Pattern, effective now for the week of December 26th, 2022, centering Wednesday into Thursday of that week with a series of storm systems thereafter so read on for details …
As stated in previous forecasts, around or after Christmas would be the return of the jet stream, after a mild period, which we are experiencing now.  This mild period will yield similar conditions to Thanksgiving with warmer than normal temperatures for the metro zones with offshore flow present on Christmas Eve and Christmas.
---
WANT THESE DELIVERED WITH ALL THOSE PERKS INCLUDING BEING ON THE MICRO-CLIMATE ALERT SYSTEM AND MODELS DURING EVENTS BECAUSE NOT EVERY ALERT IS POSTED ON SOCIAL MEDIA FROM THIS WEATHER OFFICE – JOIN TODAY BY CLICKING HERE – Arizona Weather Force Fundraiser and Subscriber System – Arizona Weather Force
Join the Facebook Page for Further Updates If You Have Not Yet!
ARIZONA WEATHER FORCE MAIN:
---
So, after Christmas is all said and done, we will start to see the west coast troughs return to California, which will bring the state more rainfall and heavy mountain snow in the Sierra Nevada Range.  This will translate into higher risk rainfall chances in the Southern California metro zones as well.  This would be the first in a series of systems through the beginning of January.
For Arizona, this same system will move in a day later.  As you can see from the graphic in this article, higher risks exist for along the higher terrain zones, but risks are also elevated for the Phoenix, Tucson, and Pinal areas, the populated areas.
Based on how the AZWF long range risk assessment model is showing, it looks like the system will washout over the Riverside and San Diego Mountains of Southern California and then regenerate in the metros a day later, Wednesday the 28th.
SNOW:  Snow-levels in the beginning will be 10,000 FT, so this will be a warmer type system with tropical moisture entrained.  Toward the end of the system however is when the snow-levels will drop to and below 7,000 FT for the Flagstaff areas and higher elevations of the Mogollon Rim to see snowfall.  This does not look colder than the system that dropped some snow in Prescott and Payson as of recent, but I will continue to monitor the snow-levels as the system gets closer.
So, sit back and relax, I'll handle the forecast alerts when the time comes.  Arizona Weather Force long range models continue to show an active season to come.
---
WANT THESE DELIVERED WITH ALL THOSE PERKS INCLUDING BEING ON THE MICRO-CLIMATE ALERT SYSTEM AND MODELS DURING EVENTS BECAUSE NOT EVERY ALERT IS POSTED ON SOCIAL MEDIA FROM THIS WEATHER OFFICE – JOIN TODAY BY CLICKING HERE – Arizona Weather Force Fundraiser and Subscriber System – Arizona Weather Force
TWITTER: Join the AZWF Twitter For Articles By Clicking Here
Join The Main Arizona Weather Force Facebook Group (50 percent delivery time of micro-climate alerts not posted on the main AZWF page) – You can join the main AZWF page as well through that group.
Click Here To Join The Page Today