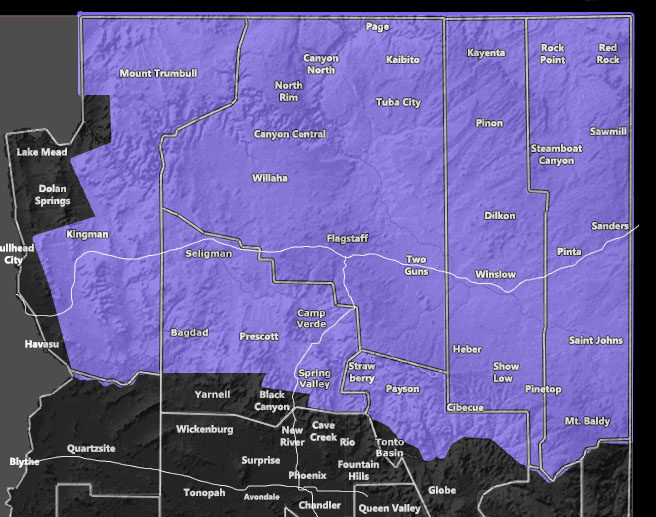 ---
Issued Zones:  Northern half of Arizona, excluding near and at the CO River Valley zones … 
Site:  Arizona Weather Force has issued a Winter Weather Advisory effective tonight through Friday …
Date:  1/19/23 at 9:15am local
Forecast:  A frontal zone will move through the Northern half of Arizona tonight and into your Friday.   Heavy snow at times will be expected in the Flagstaff advisory zone.  As stated in previous forecasts, this will bring some snow down into Payson and Prescott as well, but it is not expected to accumulate too much, unless you are in a higher elevation within both city zones.   
Use the images below to see what the AZWF snow model is predicting.  Members you can click the link below and see your GPS model.  Non-members can see the static images.

GPS MODELS ENABLED FOR MEMBERS:  CLICK HERE FOR THE MEMBER SECTION

---
WANT THESE DELIVERED WITH ALL THOSE PERKS INCLUDING BEING ON THE MICRO-CLIMATE ALERT SYSTEM AND MODELS DURING EVENTS BECAUSE NOT EVERY ALERT IS POSTED ON SOCIAL MEDIA FROM THIS WEATHER OFFICE – JOIN TODAY BY CLICKING HERE – Arizona Weather Force Fundraiser and Subscriber System – Arizona Weather Force

Join the Facebook Page for Further Updates If You Have Not Yet!
ARIZONA WEATHER FORCE MAIN:
TWITTER: Join the AZWF Twitter For Articles By Clicking Here
Join The Main Arizona Weather Force Facebook Group (50 percent delivery time of micro-climate alerts not posted on the main AZWF page) – You can join the main AZWF page as well through that group.
Click Here To Join The Page Today
VALID THROUGH FRIDAY 1-20-2023
---
10 mile rule:  These alerts issued on this site
means that within your zone and 10 miles from you will see the event
forecast for.  You may or may not see the event but it means you are in
the zone or 10 miles from where someone will.
Forecaster: Raiden Storm
MODE