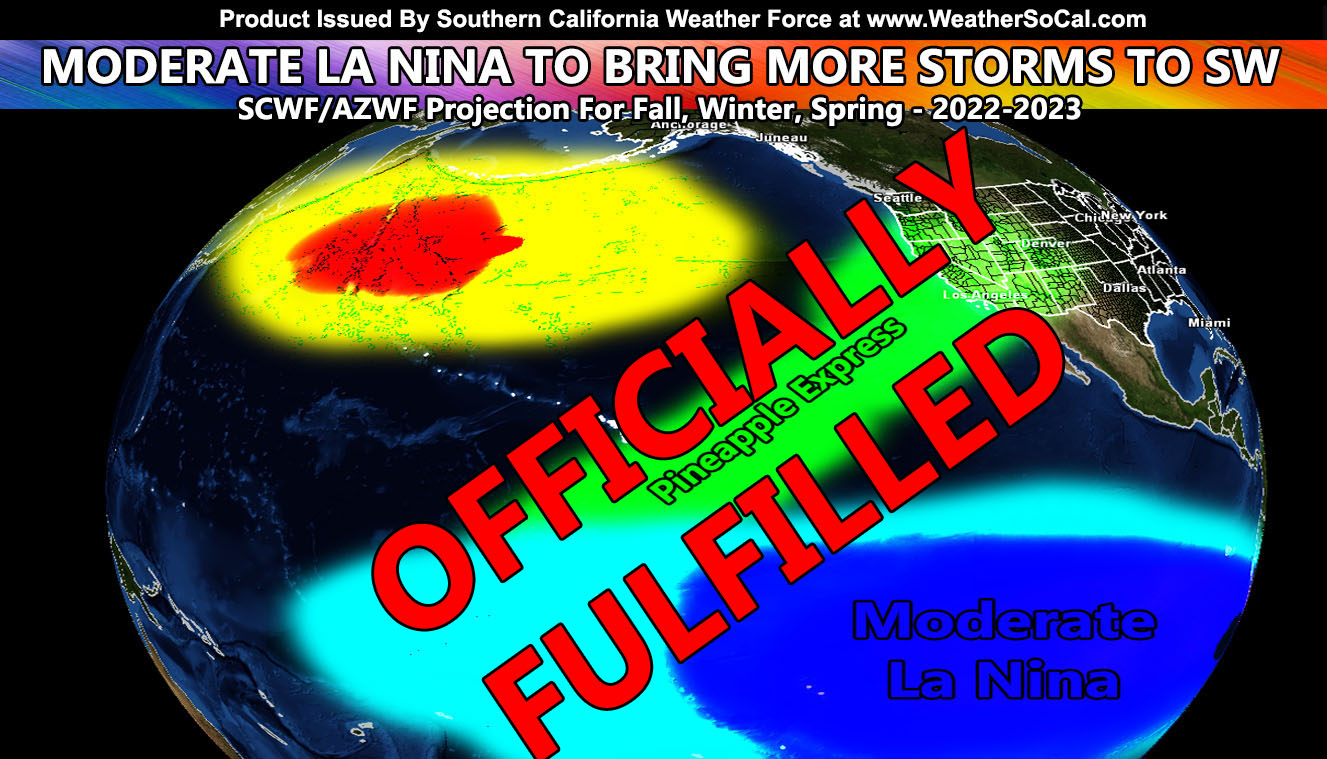 For the past 30 years California and Arizona has been in a major drought on and on again.  But the indications are that we have been out of it for the last few years and will continue for the next near 30 years so read on for details …
A number of you have wanted me to touch on this and so I will now.  This last storm system as predicted in the February forecast has brought us above normal in precipitation.
Click here for that – https://www.southerncaliforniaweatherforce.com/2023/01/31/february-2023-weather-pattern-forecast-for-the-southwestern-united-states-released/
Furthermore, the Fall 2022 forecast challenging the rest of the meteorologists went colder and wetter than normal while they went warmer and drier.  This has finally been fulfilled ahead of schedule.
Click here for that – https://arizonaweatherforce.com/2022/10/24/breaking-azwf-2022-2023-seasonal-weather-forecast-released-not-a-normal-la-nina/
It is to my research that La Nina and El Nino simply do not matter.  While they can play a role like all organs of the body, they are not the end all be all to what will happen, just like the government weather (NOAA) is not the end all be all to your forecasts, when others like me exist out there in different regions.
The 30-year cycle I speak of is a variety of different things ranging from solar cycles to the temperature of all the oceans of the planet.  While I cannot say exactly how I do it due to prying eyes in the field, we have entered a cycle where the Southwestern United States will have much more weather activity in terms of both damaging winds and precipitation whereas the years between at least 1995 and 2020 on average did not.
Here is not to say that the coming years will always be the way I am saying, but on average we will have more rain/snow in the winter season and more monsoon in the Arizona summer season for the next 30 years.
That is a good thing because I will be active through the climb to my retirement and when my retirement happens we will become the Desert Southwest once again and I will go …
---
Join the Facebook Page for Further Updates If You Have Not Yet!
ARIZONA WEATHER FORCE MAIN:
WANT THESE DELIVERED VIA THE APP? JOIN THE PATREON COMMUNITY TODAY FOR ALL THOSE PERKS INCLUDING BEING ON THE MICRO-CLIMATE ALERT SYSTEM BECAUSE NOT EVERY ALERT IS POSTED ON SOCIAL MEDIA FROM THIS WEATHER OFFICE – https://www.patreon.com/weatherforce
TWITTER: Join the AZWF Twitter For Articles By Clicking Here
Join The Main Arizona Weather Force Facebook Group (50 percent delivery time of micro-climate alerts not posted on the main AZWF page) – You can join the main AZWF page as well through that group.
Click Here To Join The Page Today