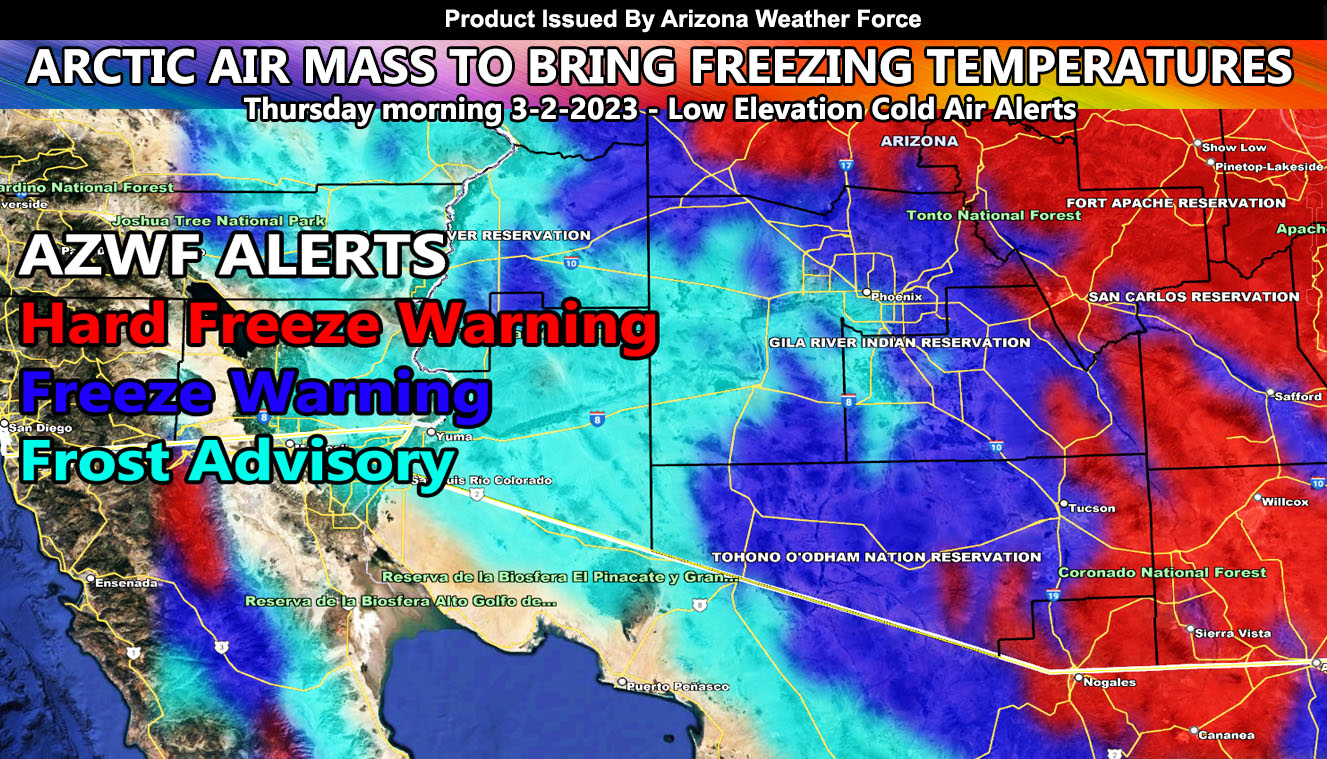 Arizona Weather Force has issued three cold air alerts for parts of Arizona.  The Frost Advisory, Freeze Warning, and Hard Freeze Warning are now officially activated for overnight Wednesday and into Thursday morning, which in part includes Yuma, Phoenix, Pinal County, Tucson, Santa Cruz County, La Paz County and Cochise County for the most part so to see what alert you are in then read on for details …
The coldest system this season will move in on Wednesday and into Wednesday night.  It will vacate parts of the advisory/warning zones overnight on Wednesday and into Thursday morning, leaving the cold airmass in.   This cold airmass is pegging parts of the metro Phoenix zones around Mesa, Scottsdale, and Fountain Hills as going to or below freezing by Thursday morning.  This airmass will also affect the metro regions down through I-10 corridor from Phoenix through Pinal and into the Tucson forecast areas.
The airmass is so cold that even the Yuma and Parker forecast zones will see frost advisory temperatures, which is anything between 33 and 38F.  To put it short in these zones, it will be cold on Thursday morning so bundle up, protect your plants/animals, and yourself.
Those of you in the mountains do not need the alert on the e-mail alert system due to the fact you always are below freezing this time of year during these storms, so it is not a surprise nor a need to issue it, but the model does label you anyhow.
NOTE:  For the storm dynamics maps for rain, snow, and wind during this event, visit this link – https://arizonaweatherforce.com/2023/02/28/final-forecast-alaskan-storm-system-to-move-through-arizona-wednesday-into-wednesday-night-detailed-maps-inside/
Use the information source below for your area's maps.
Cold Air Alert Model – VALID THURSDAY MORNING 3-2-2023
SUPPORTING MEMBERS:  Click Here To See The GPS Version Of This Model In Your Member Section Tab.
---
Join the Facebook Page for Further Updates If You Have Not Yet!
ARIZONA WEATHER FORCE MAIN:
WANT THESE DELIVERED VIA THE APP? JOIN THE PATREON COMMUNITY TODAY FOR ALL THOSE PERKS INCLUDING BEING ON THE MICRO-CLIMATE ALERT SYSTEM BECAUSE NOT EVERY ALERT IS POSTED ON SOCIAL MEDIA FROM THIS WEATHER OFFICE – https://www.patreon.com/weatherforce
TWITTER: Join the AZWF Twitter For Articles By Clicking Here
Join The Main Arizona Weather Force Facebook Group (50 percent delivery time of micro-climate alerts not posted on the main AZWF page) – You can join the main AZWF page as well through that group.
Click Here To Join The Page Today