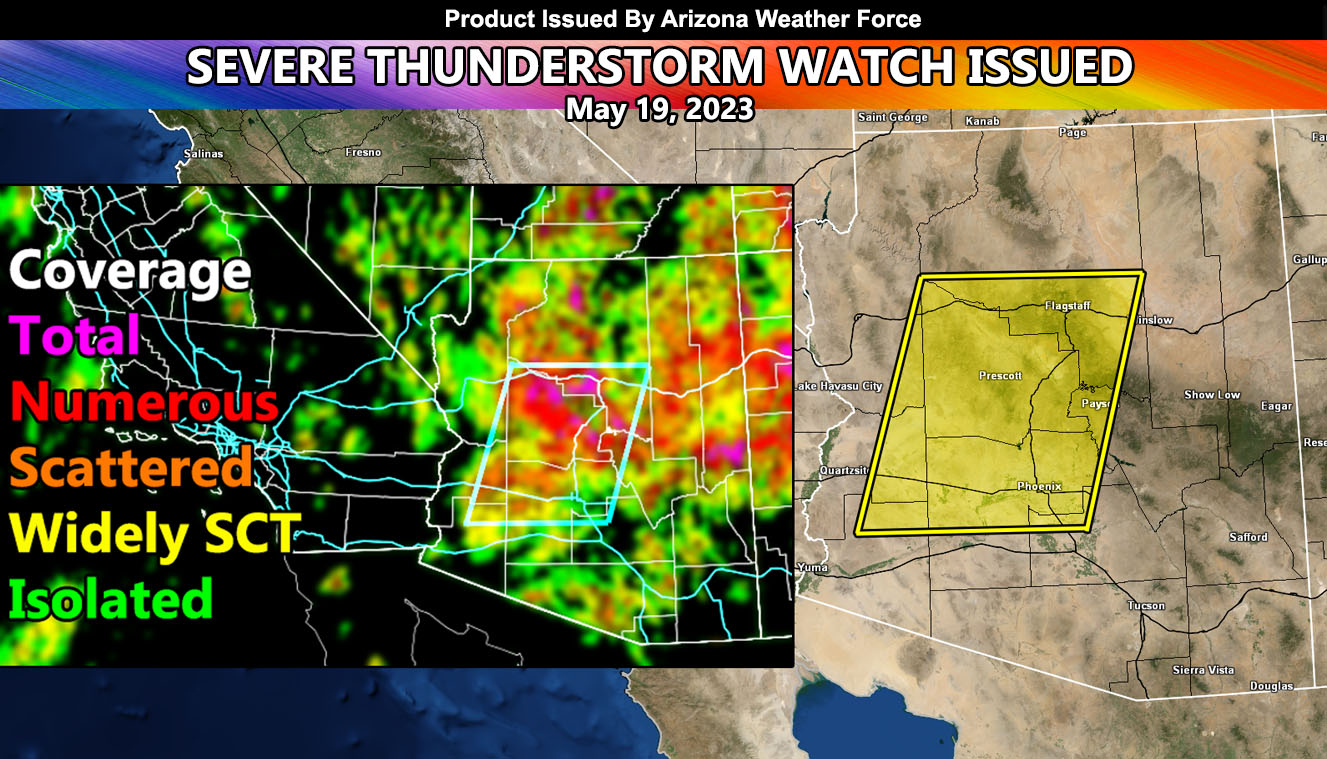 Arizona Weather Force has issued a Severe Thunderstorm Watch for the Phoenix, Prescott, and Payson forecast zones, west to La Paz County.  This Severe Thunderstorm Watch is the final upgrade from the issued Severe Weather Statement yesterday on this event.
From yesterday's alert – https://arizonaweatherforce.com/2023/05/18/severe-weather-statement-issued-for-phoenix-prescott-and-payson-forecast-zones-with-severe-thunderstorm-watch-friday/
Today's dynamics in the watch area will make yesterday look like child's play, especially for Prescott / Chino Valley.
A classic Mogollon Rim event is scheduled here at Arizona Weather Force.  An event like this is when northeasterly flow off the Mogollon Rim is strong enough to send strong outflow boundaries southwest into the metro areas, which typically have more instability due to being hotter in the low levels.
Today, I am expecting the ridge of high pressure to be centered over Central California.  This, with an upper-level low to the south will combine forces and sandwich the watch areas above in-between air-masses.  This will develop storms along the Mogollon Rim and then the storms will shove southwestward.  Damaging winds will be the main factor within this, but some will contain larger hail at times.
I am keeping the areas south of Central Pinal County out of this due to the southerly flow influence of the low to the south that would block any activity from moving due west.  This is a complex atmosphere, but the coverage map shows where the hardest hit zones will be.  There is a chance it will target Northern Maricopa County more than southern, but all in all this will be the coup de grace in this rare week of storms that have hit the region.