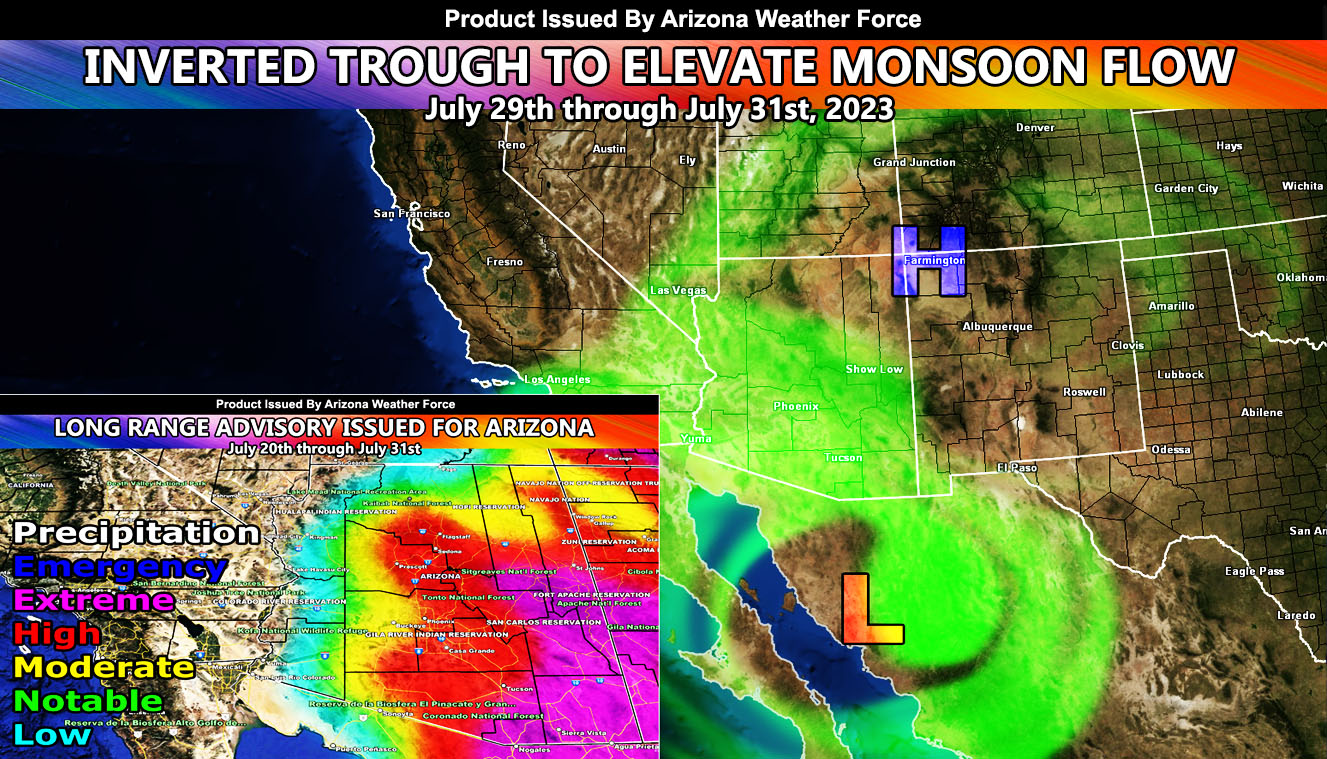 An inverted trough located over the Gulf of Mexico will migrate westward through the rest of this week, ending up in the Arizona area over the weekend.  An inverted trough means that a lot of lift will be associated with the coming event.  Storms forming across the high terrain would move down into the metro zones as a result.
Back on July 13th, I issued a Long-Range Weather Advisory for the state.  We have yet to see a high-risk event in the Pinal and Maricopa County zones, but my long-range model clearly painted this.  This inverted trough is enough to bring that to come true between July 29th and July 31st.
Go here for the Long-Range Weather Advisory –  https://arizonaweatherforce.com/2023/07/13/long-range-weather-advisory-issued-ahead-of-high-risk-monsoonal-influence-includes-arizona-metro-areas/
So, if you are in an area in Pinal and Maricopa County that has yet to see any storms this month, you should prepare for large hail, damaging winds, flooding, and a chance of tornadoes as well.  This push to the west is not a gentle one, thus it will be a damaging event that can shove storms all the way into California as well, meaning the Colorado River Valley areas have a chance of storms as well this weekend.
Arizona Weather Force will issue the official thunderstorm alerts each morning so look for that between 9am and 11am …
Get these alerts over the new Android and Iphone app and/or e-mail service by becoming a full member subscriber today and never miss an update from this office.  Remember, you cannot just make an account on the app and get notifications.  You must select your zones and then go through the payment process.
Click here to learn more.