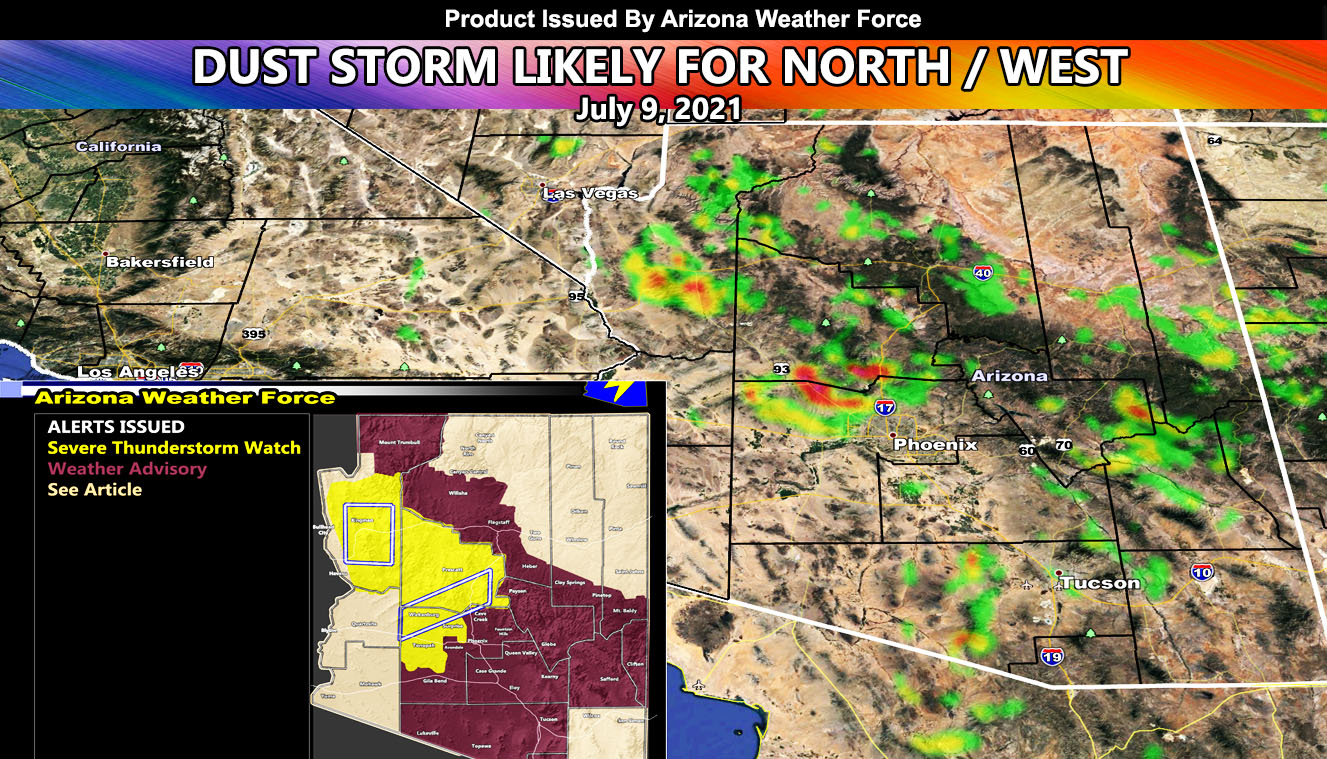 As you know, monsoon season forecasting for backyards is not too possible right now.  One of my main goals is to get as close as possible on the main focus spots, or ones that cause the most damage.  Arizona Weather Force has issued two Severe Thunderstorm Watches in the state, small zones of focus.  One watch affects Kingman head-on and the other from Rock Springs to Wickenburg so read on for details …
Yesterday went extremely well in predicting 'backyards'.  The article (CLICK HERE) stated that the north and east of Phoenix Metro would have two separate areas of storms.  They crossed the correct path assigned per my model.  Furthermore, Tucson was scheduled to have no activity in that zone, again correct.  So confidence is high that today's events will happen so let's get onto the focus spots.  The focus spots have the highest chance of you being hit without hit-and-miss activity.
Focus Spot Number One – This is the Kingman forecast area.  As per the article written on July 5th, this are would have the strongest activity on July 9th, which is today.  You can click here for that article.  Storms forming east of the area along Highway 93 south of Interstate 40 would work with the due west flow and send outflow directly for Kingman.  Grids do support damaging wind potential and blowing dust.  This will be an area for Severe Thunderstorm Activity, which does include flooding in spots and hail between 0.50 and 1.00″ inches, thus Severe Thunderstorm Potential.
Focus Spot Number Two – A nominal convergence zone between Phoenix and Flagstaff will set off today along Highway 17th.  This will go west-southwest through Black Canyon/Rock Springs and directly into the Wickenberg areas.  the South end of the outflow would affect slightly the Cave Creek areas, but the focus spots for blow dust would go as far south as Surprise, with Wittmann well within a damaging wind zone.
---
Non-Focus Spots…  Anywhere there is a weather advisory is where your hit and miss storm activity will be, which includes all metros from Flagstaff to Phoenix and down to Tucson.
Use the clickable map below for the focal and not focal zones today.  The boxes are where severe thunderstorms will be the most concentrated.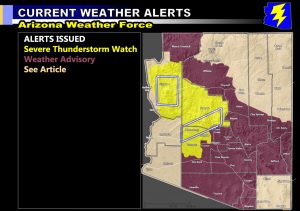 ---
Now onto the zoom-in maps of the focus spots of Mohave, Yavapai, and Maricopa Counties.  They again… are clickable –
The Martin Wind Gust Intensity Model below has values as followed; The map below is clickable.
8. Extensive widespread damage.
7. Trees are broken or uprooted, building damage is considerable. – High Profile Vehicle Roll-Over CERTAIN.
6. SOME Trees are broken or uprooted, building damage is possible. – High Profile Vehicle Roll-Over Likely, Do NOT recommend Traveling in this zone
5. Slight damage occurs to buildings, shingles are blown off of roofs. HIGH WIND WARNING CRITERIA – High Profile Vehicle Roll-Over Possible if weight is not corrected.
4. Twigs and small branches are broken from trees, walking is difficult.
3. Large trees sway, becoming difficult to walk. – WIND ADVISORY CRITERIA
---
As stated on the 5th, again, we ramp up after July 12th for the Phoenix/Tucson metro areas where more of you would see what is probably the first 'monsoon' look with widespread precipitation developing with numerous areas of lift and possibly an easterly wave moving through.  Like today, those details come the day of the event…
---
NEW FLAT RATE TIER PROGRAM – GET CUSTOM EMAIL WEATHER ALERTS IN YOUR AREA AND ENTER THE MEMBER SECTION ON THE SITE:  Summer 2021 rates – If you get in after June 1st it is only $10, if after July 1st only $6. If after August 1st only $3 to finish off the Summer Quarterly Tier.  Fall, Winter, and Spring will have their own tiers.
Both Southern California Weather Force and Arizona Weather Force have a cheap Summer 2021 discount to supercharge this service you already get on social media for free.  If you do not want to miss any articles this season because social media does not show you for hours or even days (common) and want to get custom email alerts such as thunderstorm, severe thunderstorm, flood, heat, or tornado alerts along with a controllable member section model for each during the events in YOUR area, sign-up for the premium member package, which is only $10 for the Summer.   Read below for details on how to join this offer.
---
REMEMBER… your continued want for this service is what keeps the server running and paid for.  Thanks for your help!
---
ARIZONA WEATHER FORCE – Click here to Join Arizona Weather Force's package