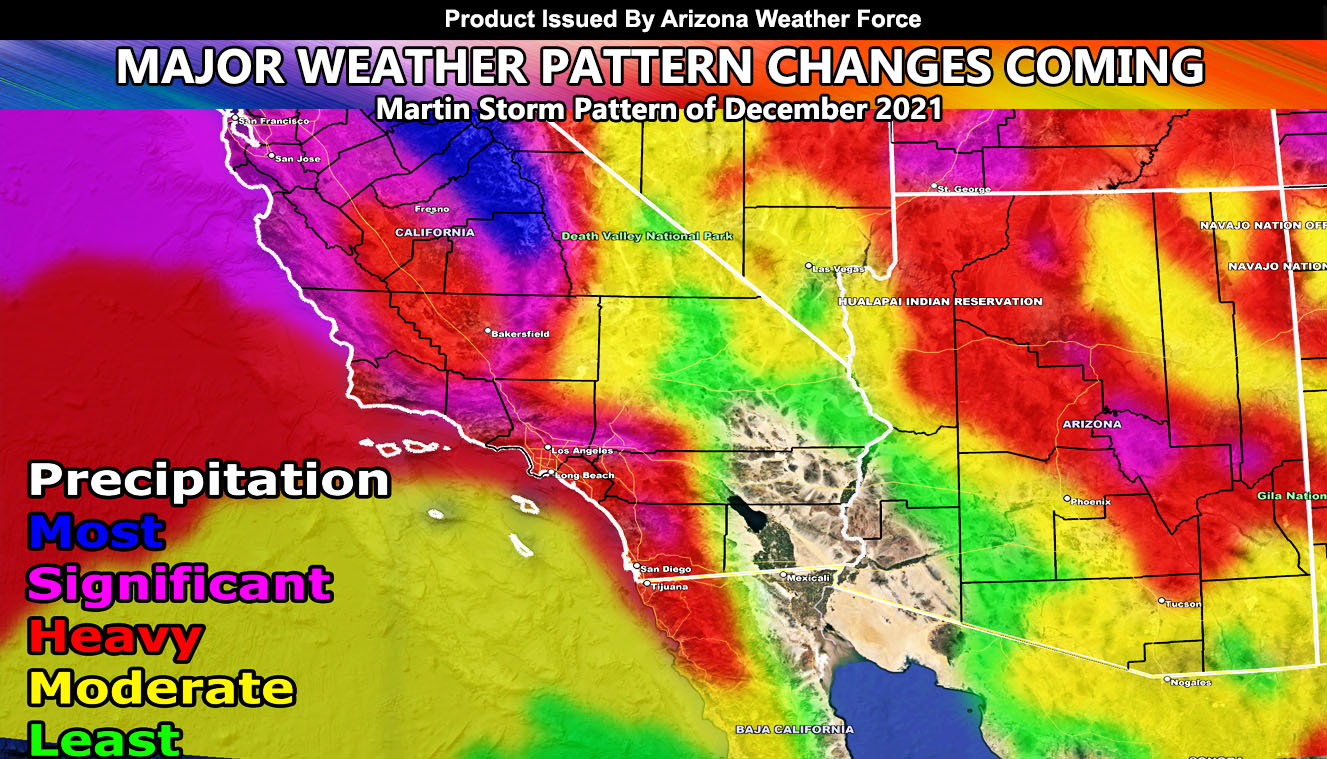 On November 30th, 2021, an article was released here at Arizona Weather Force stating that December would become an active storm month and the latest in office models show this remaining to be the case, the first real system coming in toward the end of this next week.  Since it is still a bit away, all I can do are models and a bit of discussion so read on for details and see the models within this article …
The week will go along with a glancing blow on Tuesday for both Southern California and Arizona.  Now, Arizona will see more across mostly the northern/eastern half of the state, but very little as this system will be further north.  The stronger system comes later on Thursday, likely Thursday night into some of Friday.  This would put the first stronger rain events for the Southern California and Arizona areas.  These two systems combined look to have STICKING snow above around 6,500 – 7,000 FT for Southern California and around 5000 – 6,000 FT for Arizona.
The next series comes around the 12th or 13th give or take forward a day.  This, again, looks like a stronger pattern for the Southwestern United States.  This follows a break and then we turn toward around the 20th of the month.  Now, in the November 30th article it did state that we will have wetter than normal conditions for December with a number of systems for the region (CLICK HERE TO READ THAT ARTICLE).  This looks to try to continue off and on through the end of the month.  Long range values indicate arctic air blasts at times, and especially into January.  We could very well be looking at a statewide crop failure to those who are not prepare for the season to come so remember I said that and prepare now if that is what you do in your job.
All systems combined will put a healthy snow-pack on the Sierra Nevada.  I estimate that before the 20th we will see near 60-80 inches of snow at mammoth and over 100 inches of snow by the time this month is over.  If you're planning on hitting mammoth, this pattern is the one to do it.
NOTE:  The images below can be discussed right now.  These are my models.  You will note the pattern of the strongest rainfall matches that of mainly southwest to northeast flow.  You can see in the Southern California images far less in the deserts than the valleys and coasts, or the mountains themselves.  This is a classic pattern of non-inside slider events after the 11-12th of the month so if you are in a significant value (magenta) or higher, I would suggest getting sandbags early for the coming pattern.
You can see this same pattern in the Arizona images.  You can note that not much rain is over the southwest half of the state and that Phoenix and Tucson is split where most of the rainfall is where the communities near the foothills/mountains area, including the Mogollon Rim.  Northeast of the Mogollon Rim there are sections of 'yellow' or moderate precipitation risk zones, again signalling that most of this will be reliant on southwest to northeast flows and what is known is orographic lifting.
All systems will reinforce colder air with the lack of the ridges, so it will feel finally like winter out there this month, as further promised in the November 30th article for December 2021's pattern.
A Martin Storm Pattern means that the pattern was predicted before apps or government/private sources, and since my last name is Martin, like a person who discovered a comet, it is only fair this coming pattern is the Martin Storm Pattern of December 2021.  There will be MANY Martin Storm Patterns due to my ability to go longer range in weather.
FORECAST OUTLOOK TO COME:  This is only a general outlook.  My work will contain micro-climate alerts and images for snow, rain, wind etc as the events near.  As long as you continue to remain checking wherever you do to find the latest you will not be out of the loop.   You also have the option to join the member section where you can have a GPS option for all my models when events are in progress.  You also get these articles AND my micro-climate emails delivered to you for the season you sign-up for along with your own control panel to pick the zones you wish to receive from.
If you are interested or were a member for Fall 2021 then CLICK HERE TO READ HOW TO JOIN
If you are NOT receiving the e-mails and are a full member, your account is either expired or you need to troubleshoot.  To troubleshoot, here is the link to get situated.
IMAGES:  These are the images for both Southern California and Arizona below.  They are clickable and contain the counties, landmarks, freeways, and cities to know where you are.  We will take one event at a time so confusion does not set in.  This is only the first look of the general pattern to come.
ARIZONA IMAGES – VALID Tuesday through December 21st, 2021
---
SOUTHERN CALIFORNIA IMAGES – VALID Tuesday through December 21st, 2021
---
NOTE:  You also get e-mailed alerts/articles because if you do not want to miss my social media posts, and/or I issue a product not on my social media accounts, being a supporting website member is the way to go.  You get your own control panel with hundreds of zones to choose from to receive my custom alerts from.  Click here if you are interested in reading more.  
---
MAIN WEBSITE:  Don't forget.  If you hear rain or anything is coming to the area.  BOOKMARK THE MAIN WEBSITE BY CLICKING HERE.  The stream has the latest alert links, a map of alerts and where, and articles.  That is 100% free to view.  There should be no reason you shouldn't be informed.
As always, stay tuned to Arizona Weather Force for official forecasts and updates on weather across Arizona and if it says 'like page' below, hit the button and get future updates.  If it says liked, don't hit it because that's unfollowing and you won't get updates at AZWF page on your feed