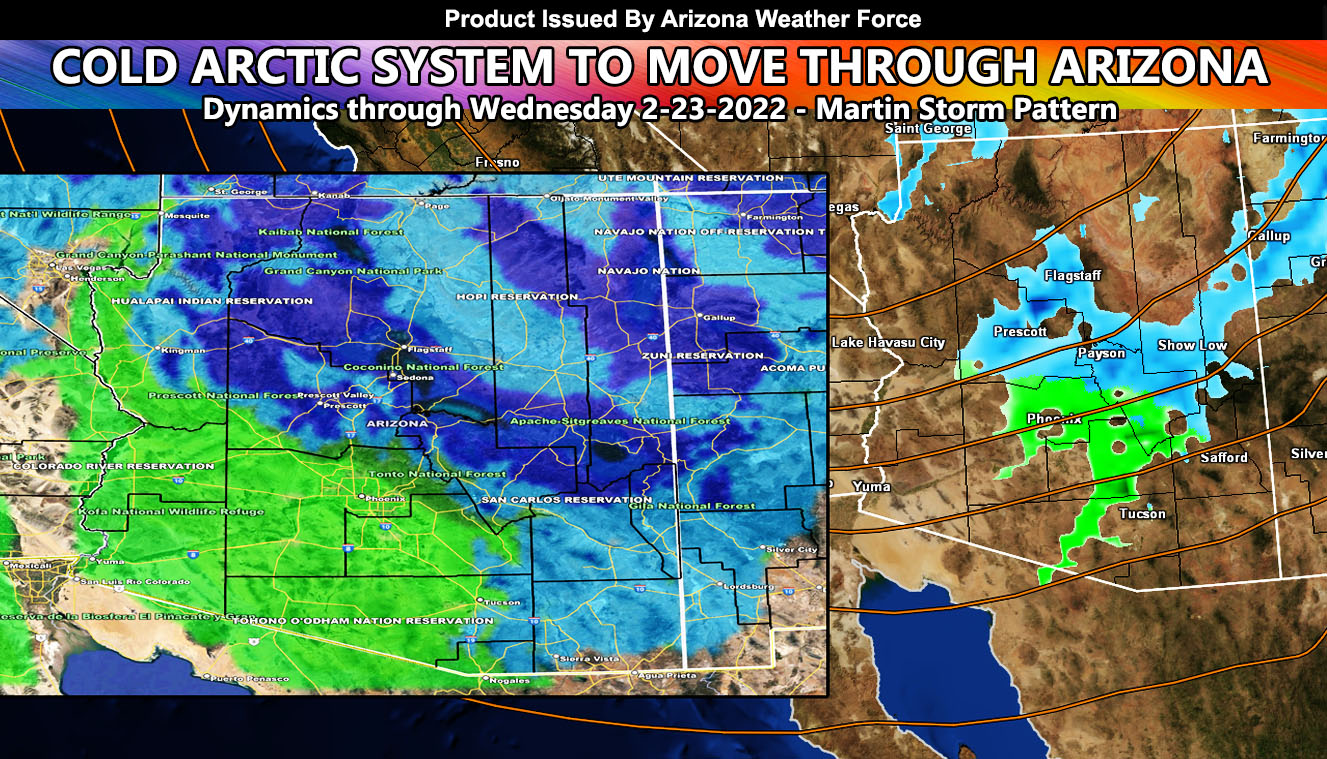 Back on February 18th, a Special Weather Statement was issued here at Arizona Weather Force on the arctic air-mass to move through the area, giving some of you rain, snow, wind, or a combination of either.  From here on out, Arizona Weather Force will take full control and head the forecast operations for this system for all of Arizona …
FACEBOOK PAGES TO JOIN!
ARIZONA WEATHER FORCE MAIN:  Arizona Weather Force Office Main Page For updates
The commanding article worked on the system back on February 18th.  You can find the article below this write-up.  Absolutely nothing has changed from it.  It labeled who would see the most, the least, and how low the snow-levels will go.  If you cannot find that article, CLICK HERE –  otherwise continue scrolling down until you see the images for rain and snow.  These images are preliminary meaning a hint at what is to come, the final being released tomorrow (Tuesday) …
All product alerts look good right now.  The Winter Storm Watch covered the mountain areas … Nothing has changed except officially I will upgrade those to the final alerts on the final forecast tomorrow (Tuesday) …
The Mountain towns to be most impacted will be Flagstaff under that heavy snowfall category … Payson well within the 2-6″ area, likely on the higher end and even isolated 7″+ in spots … Prescott you are snug in the 2-6″ margin, Camp Verde you can see you are still in the 0-2″ section so not as much as the others.  HOWEVER, I will say that a coating of ice will happen for you with this so roads will be slick even when precipitation is falling.  Sedona look at you in the higher category amounts.  Had a viewer talk about photographing that area with snow on the red rocks.  You can bet that to happen and those photographs will turn out great.   Hey even some light snowfall showing up down in Cochise County.
NOTE:  If your area does not get much, do not go to my pages and be whiner babies.  You need to understand the model images below.  For example, Colorado River Valley you will not see as much as Phoenix or Tucson.  You have a west-northwest flow which isn't that good for that zone.
I will monitor for thunderstorm dynamics, but from what I can see, the instability area I look for thunderstorms in would be the northern half of the state.  Those will be updated on in the AZWF group (not page) and/or the premium member email alert system zones …
Just use the images below for this forecast and the final coming up…  ALL AZWF alerts issued look good so far …
NASCAR SUNDAY IN FONTANA 2/27:  Sunday looks to have temperatures in the low to mid 70s, likely 74-75F under mostly cloudy to overcast skies in terms of thick high clouds and airline contrails, not low clouds.  Light offshore flow will also accompany the event.  Overall, a great weekend – but don't expect bluebird skies for Sunday –
2022 Monsoon Season Preliminary Outlook – With a calming La Nina and going into neither La Nina or El Nino, I expect yet again an above average Hurricane Season in the Pacific Ocean, which translates the real possibility that the Monsoon will once again be above average … The final outlook will be given toward June, but you have your pre-outlook and may very well have a similar season to last year if the trends continue …
---
The following articles pertained to the analysis and prediction of this forecast …
February 18, 2022
Arctic Air Mass To Return Tuesday night into Wednesday For A Near Repeat Of Last Weather Pattern; Winter Storm Watch Issued For Mogollon Rim
---
Below are the AZWF models in the form of rain, snow, and wind, snow-levels, or whatever is available for this forecast. They are clickable. Image 1 is NW AZ, 2 is NE AZ, 3 is SW AZ, and 4 is SE AZ –
GET TO KNOW YOUR MAP BECAUSE THESE NEVER CHANGE LOCATIONS
Rain Model – Valid Through February 23, 2022 – PREMIUM MEMBERS CLICK HERE FOR YOUR GPS MODELS IN THE MEMBER SECTION
---
Snow Model – Valid Through February 23, 2022 – PREMIUM MEMBERS CLICK HERE FOR YOUR GPS MODELS IN THE MEMBER SECTION
---
If you are NOT receiving the e-mails and are a full member, your account is either expired or you need to troubleshoot.  To troubleshoot, here is the link to get situated.
NOTE:  You also get e-mailed alerts/articles because if you do not want to miss my social media posts, and/or I issue a product not on my social media accounts, being a supporting website member is the way to go.  You get your own control panel with hundreds of zones to choose from to receive my custom alerts from.  Click here if you are interested in reading more.  
---
MAIN WEBSITE:  Don't forget.  If you hear rain or anything is coming to the area.  BOOKMARK THE MAIN WEBSITE BY CLICKING HERE. The stream has the latest alert links, a map of alerts and where, and articles.  That is 100% free to view.  There should be no reason you shouldn't be informed.
As always, stay tuned to Arizona Weather Force for official forecasts and updates on weather across Arizona and if it says 'like page' below, hit the button and get future updates.  If it says liked, don't hit it because that's unfollowing and you won't get updates at AZWF page on your feed